Republicans on Capitol Hill are putting the kibosh on Democrats' desires to swiftly pass another stimulus aimed at combating the impact of the novel coronavirus that's forced economic activity in the United States to grind to a halt.
This comes despite the pandemic causing a record 6.6 million Americans to file for unemployment benefits last week, on top of the previous week's record 3.3 million.
"I don't think that's appropriate at this time," House Minority Leader Kevin McCarthy (R-Calif.) told reporters Thursday of the push for a fourth relief measure.
Rather than doling out additional federal funds in the wake of three stimulus packages—the most recent of which topped $2 trillion—Republicans want to first ensure that money already allocated is properly distributed. They said they also want to analyze which shortcomings to address before turning their attention to more spending.
"We just passed three bills, the largest in history," McCarthy said. "We gotta make sure this is implemented correctly. We should have the data and knowledge to make sure we get [the next one] right."
Senate Majority Leader Mitch McConnell has labeled the push by House Speaker Nancy Pelosi (D-Calif.) for an infrastructure-focused stimulus upwards of $750 billion as "premature."
"There is the reality of how you pay for it," the Kentucky Republican told The Washington Post. "We just passed a $2 trillion bill, and it would take a lot of convincing to convince me that we should do transportation in a way that's not credibly paid for after what we just passed last week."
"She needs to stand down," McConnell continued, "on the notion that we're going to go along with taking advantage of the crisis to do things that are unrelated to the crisis."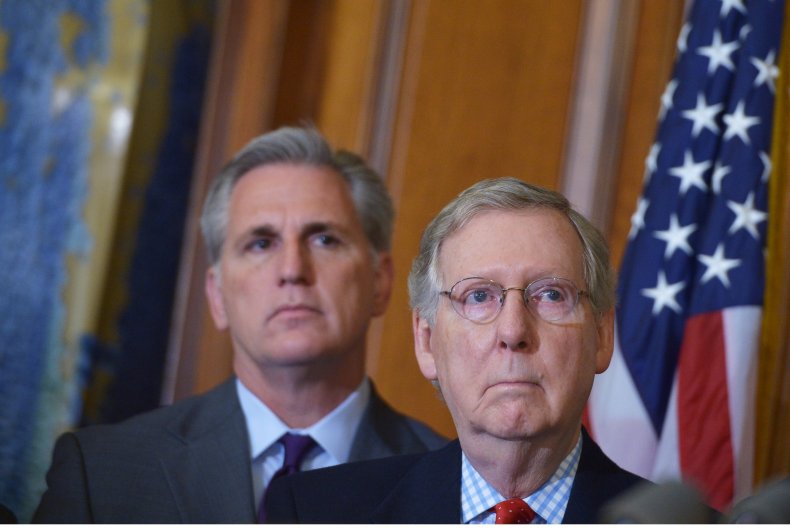 The position of congressional Republicans is a departure from recent comments made by President Donald Trump, who endorsed the idea of a $2 trillion infrastructure stimulus to be dispersed over the coming decade. Democrats say their proposal is in the "ballpark" of the president's, but would instead focus on the next five years.
"It's time that we start spending on our roads and our bridges and our schools, and all of the things that we're supposed to be spending on," Trump told reporters Wednesday at the White House's daily coronavirus briefing.
McCarthy argued that the president was not suggesting Congress should be "writing it today" and would prefer to see how the economy reacts to the most recent legislation.
"Let's give it a couple weeks before we have some rush to some other piece of legislation," Patrick McHenry (R-N.C.), the top Republican on the Financial Services Committee, said Thursday. "Let's see how this is implemented, how effective it is, how we combat the virus and how to get people back to work."
Pelosi said they'll also consider extending the beefed-up unemployment benefits of $600 per week that they've already provided for out-of-work Americans and to make rent relief "much stronger."
"It's frightening to people because there's shelter-in-place and then they're evicted," she told reporters Thursday. "We certainly must do more."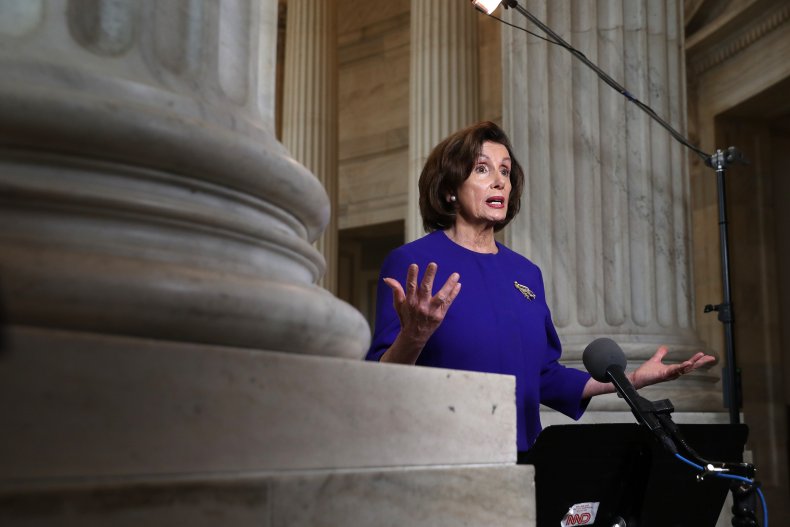 Democrats are eyeing major digital infrastructure upgrades to broadband and 5G to improve America's remote connectivity, on top of the traditional projects such as roads and bridges. Economists say that while the technological advances may not provide an immediate economic boost, they're aimed at long-term investments that would help the country weather the next health crisis.
Pelosi is also advocating for billions more for vote-by-mail and election security efforts as the virus threatens to upend political contests as we know them. In addition, she wants to establish a bipartisan select committee to provide oversight of the $2 trillion stimulus package and to create a panel similar to that of the commission for the 9/11 terror attacks to probe how the Trump administration handled the onset of the virus. Trump has received ridicule for the government's delayed response and inability to provide the needed test kids and medical supplies.
McCarthy batted down those ideas, pointing to oversight measures included in the massive bill and suggested she lacked faith in one of her fellow Democrats whose task it is to provide government supervision, Oversight Committee Chairwoman Carolyn Maloney (D-N.Y.).
With or without Republicans and the White House jumping on board, Pelosi signaled that her chamber will take the initiative on a fourth stimulus—a move that could mean the legislation passes the House to die in the Senate.
"We'll have our bill," she said. "I'd hope we can do it together."