House Report Calls Out Billions in PPP Loan Fraud; Mnuchin Says Treasury Working to Recover Funds
Congressional Republicans appeared unfazed Tuesday after learning that billions of dollars in forgivable business loans may have succumbed to waste or been improperly used amid the coronavirus pandemic.
A report led by Democrats on the House Select Subcommittee on the Coronavirus Crisis outlined nearly $3 billion in potential Paycheck Protection Program (PPP) loan fraud, waste or abuse due to "a lack of oversight and accountability" from the Treasury Department and the Small Business Administration.
Still, GOP lawmakers showed little concern during a hearing with Treasury Secretary Steve Mnuchin, with the Trump administration official vowing that the agency would recoup most of the lost funds and Republicans criticizing their Democratic colleagues for highlighting the waste in an otherwise successful initiative that saved millions of jobs.
The Republicans' reactions contrasted previous bipartisan frustration when it was discovered this summer that one million stimulus checks—worth $1.4 billion—were mistakenly sent to deceased Americans.
"It's unfortunate that [Chairman James Clyburn (D-S.C.)] criticizes your work in the unprecedented time we find ourselves," Rep. Jim Jordan (R-Ohio) said. "When you approve $3 trillion and expect the federal government to get it out the door and to people in a matter of days, of course there may be a few mistakes."
Rep. Blaine Luetkemeyer (R-Mo.) said it was important to "keep perspective" on the amount of fraud that occurred.
More than 11,000 out of 5.2 million PPP loans likely should not have been doled out, according to the Democratic report, which equates to roughly 0.21 percent. About 10,800 loans—more than $1 billion—went to companies that received multiple loans; 600 loans—$96 million—went to companies barred from doing business with the government; and 350 loans—$195 million—went to contractors previously flagged for integrity issues. The total potential fraud was about $3 billion out of roughly $660 billion, or 0.45 percent.
"Error ratio or fudge factor or whatever the problem is there, that's a pretty good rate," Luetkemeyer said. "That's well beyond what we'd expect for the government to be able to do."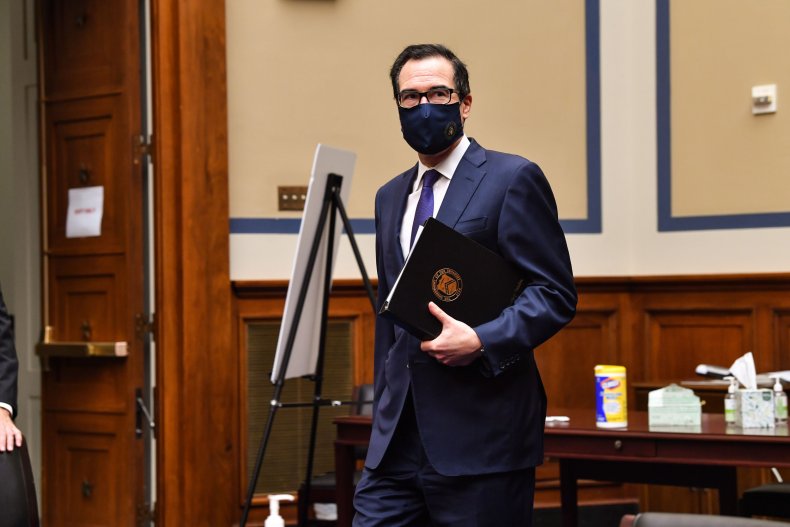 Republicans on the committee also released a report of their own, which lauded the program as a "resounding success" and saved some 51 million jobs from disappearing amid the height of the economic crisis.
Democrats, such as Clyburn, ridiculed Mnuchin over an alleged lack of oversight.
"Secretary Mnuchin has previously testified that, given the need to get relief money out quickly, it was inevitable that Treasury 'ran into a lot of issues.' That is a false dichotomy," Clyburn said. "Taxpayers should not have to choose between quickly getting aid to those who need it and wasting federal funds, and there are simple steps that could have been taken to improve oversight and reduce fraud."
Mnuchin said that Treasury "recovered the majority" of the checks that went to dead people and planned to do it again with the PPP loans by working with the SBA to audit the aid disbursements.
"Let me just emphasize: These loans were based upon certifications. Obviously, all the certifications that were wrong, we'll get the money back," Mnuchin said.
In a statement to Newsweek, a Treasury Department spokesperson reiterated the hiccups that were to be expected from such a large and fast-paced program, as well as the agency's commitment to providing further oversight of all loans.
"We worked around the clock and launched the program in record time, under one week, because Americans needed immediate economic relief. Any program of this scope and size will encounter issues, and we have moved quickly to respond as they arise," the spokesperson said. "Treasury and SBA are committed to rooting out fraudulent activity so abusers of this important program can be held appropriately accountable."
To prevent future fraud and abuse, the committee recommended that the Treasury develop internal controls to identify potential suspicious activity to prevent duplicate loan addresses or suspended government contractors from being approved, expand the manual audit plan to encompass beyond loan borrowers above $2 million (smaller loans only undergo an automated review) and "fully cooperate with inspectors general, congressional oversight and the Government Accountability Office."
Republicans touted the program's success during Tuesday's hearing. And the panel's top Republican, who was absent for Mnuchin's testimony, said in a statement that Democrats were engaging in partisan politics.
"Democrats should end their partisan investigation of this successful program and instead work with Republicans to extend it so more small businesses can keep their workers employed and paid," Minority Whip Steve Scalise (R-La.) said, along with the GOP report's release.
Update 9/2: A statement was added from a Treasury spokesperson and the headline was updated to more accurately reflect the content of the story.