Republicans Struggle to Explain $1.75 Billion Trump Demand for New FBI HQ in Stimulus
There's a $1.75 billion question that top Republicans on Capitol Hill can't seem to answer.
The decision to include nearly $2 billion in a coronavirus stimulus package to build the FBI a new headquarters in the nation's capital left top GOP senators searching for words Monday evening as they tried to pin the blame for the unrelated spending on the White House.
"I'm not sure that it is. Is it?" Senate Majority Leader Mitch McConnell responded to a reporter's question after a lengthy pause about the allocation of $1.75 billion tucked into legislation meant to combat the economic fallout from coronavirus, initially appearing unaware of the money. The bill states that such construction would help "prevent, prepare for, and respond to coronavirus, domestically or internationally."
"They'll have to answer the question on why they insisted on that provision," McConnell said, referring to the White House.
The construction of a new FBI headquarters in downtown Washington, D.C., has been personally pushed by President Donald Trump since he nixed plans in July 2017 to build a more secure, up-to-date facility in a Maryland or Virginia suburb just outside the city, a move that prompted an internal Justice Department watchdog to launch an investigation.
Trump has advocated that the FBI's headquarters should be torn down and rebuilt where it is currently located, close to the Justice Department, a notion he conveyed as recently as last week at the White House. The structure, named the J. Edgar Hoover Building, is just blocks away from the White House.
However, its location across the street from the Trump International Hotel also means it's perched on a prime piece of downtown real estate, posing a potential opportunity for competition to take hold of the property. Democrats and left-leaning watchdog groups have alleged the president wants the bureau's main address to go unchanged for personal and business-related motives.
McConnell later pointed to the White House for answers, reiterating to reporters that they will "have to ask them why they insisted that be included."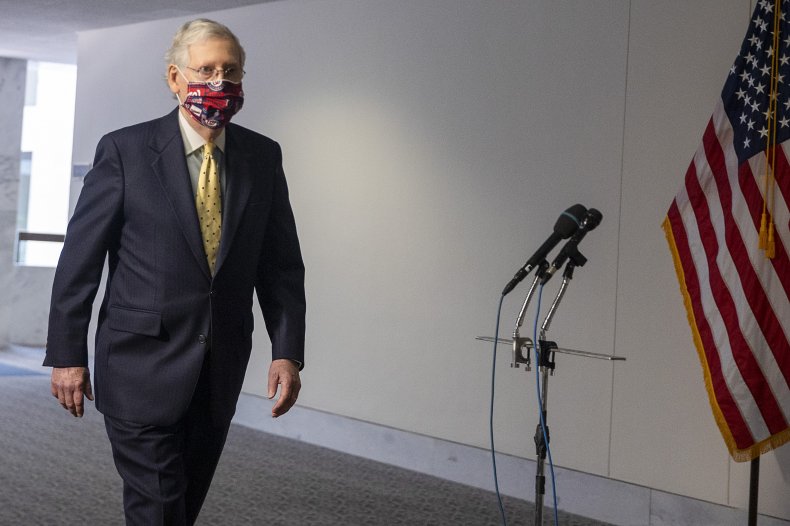 "Regardless of that proposal, we had to have an agreement with the administration in order to get started," the Kentucky Republican added.
Other top GOP lawmakers involved in crafting the bill also appeared either confused or dodged direct questions from reporters. Senator Lindsey Graham (R-S.C.), a Trump confidant, and Appropriations Committee Chairman Richard Shelby (R-Ala.) failed to offer much clarity.
Graham said he was "not particularly" supportive of the building funds but ultimately gave a wavering response. "It doesn't have to be technically COVID-related. I just don't know why we're doing that," Graham said.
Asked how the FBI money was related to the helping an economy hamstrung by the pandemic, Shelby responded: "Well, that's a good question."
"This is an administration proposal to move on with the FBI. They need a new FBI building," he expounded. "It's not safe to work in and they're talking about downsizing it anyway."
In a statement to Newsweek, Deputy White House Press Secretary Judd Deere said the federal money was "critical."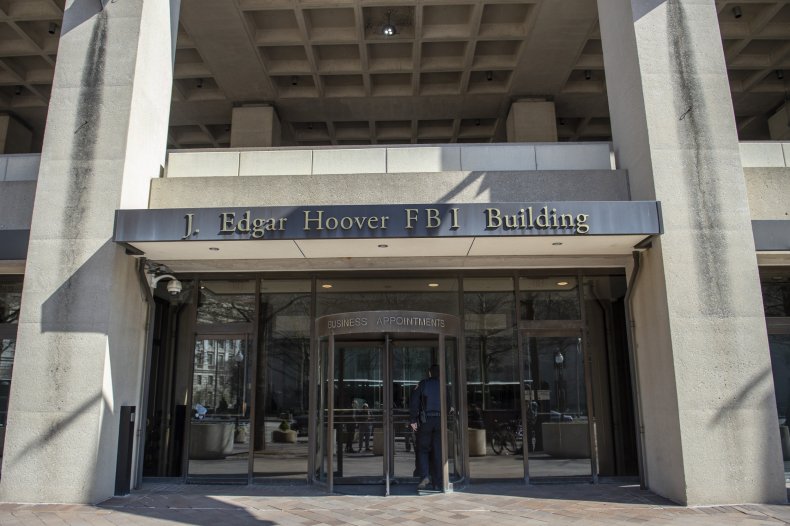 "As President Trump has said, the FBI desperately needs a new building and this measure provides critical funding for this project that would keep the building responsibly near the Department of Justice," Deere said.
Senate Republicans released their long-awaited stimulus proposal Monday afternoon, marking the conclusion of roughly two weeks of intense negotiations between the White House and congressional Republicans. Leaders in Washington from both sides of the aisle will now scramble to reach a bipartisan consensus on how the federal government should lift the U.S. economy out of a recession amid the worst global health crisis in modern history.
But a final deal isn't expected for weeks, as Democrats immediately came out swinging against the "totally inadequate" Republican bill. While it includes a second round of individual checks, it ties more education funding to whether schools reopen and significantly reduces unemployment insurance enhancement from the federal government—two major sticking points for Democrats.
Washington Correspondent Elizabeth Crisp contributed to this story.