Majority of Republican Voters Support Roe v. Wade as GOP Continues Crackdown on Abortion Rights
A majority of Republican voters do not support overturning the nation's landmark Supreme Court ruling legalizing abortion—but there is little sign of that from those representing the GOP, either in Congress or the White House.
A poll released byNBC News and the Wall Street Journal Tuesday indicated that support for Roe v. Wade, which gave women the right to legal abortions, is at an all-time high amid growing concern that President Donald Trump's conservative Supreme Court nominee Brett Kavanaugh may decisively affect the 1973 decision.
The survey indicated that 71 percent of American voters back the high court decision. Predictably, nearly 90 percent of Democrats polled believed that the decision should be upheld. That demographic was followed by independent voters, 76 percent of whom said Roe v. Wade should remain.
More surprising was that Republican support of the ruling was in the majority, with 52 percent of GOP voters responding that they wanted the ruling to remain intact. Only around four in every 10 Republicans said that the decision should be changed.
Meghan Milloy, a co-founder of the group Republican Women for Progress, said that it was interesting that the poll is coming out now, nearly two years after the presidential election that saw Trump win over Hillary Clinton. During a debate with Clinton, Trump promised to appoint Supreme Court justices to overturn Roe v. Wade, saying that if he were elected it would "happen automatically."
"I think that Republicans have rethought about their loyalty to the party," Milloy told Newsweek on Tuesday. Milloy said that the poll is "reflective of how the party is hopefully kind of shifting demographically despite the current Trump administration."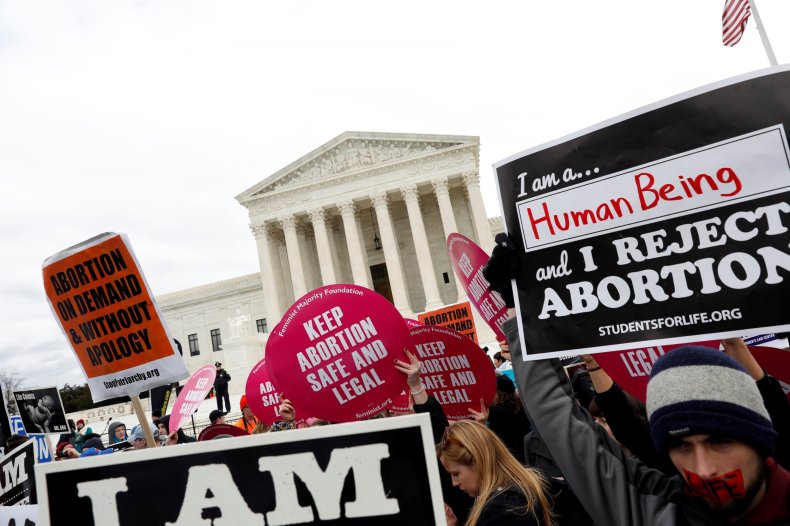 The survey also arrived as Congress gears up to vote on Trump's second Supreme Court justice nomination in two years—Kavanaugh, a conservative federal judge. If he were to be appointed to the high court, Kavanaugh would give the bench a solid conservative majority, making it more likely that decisions like Roe could be reversed with the absence of Justice Anthony Kennedy's swing vote.
Pro-choice organizations have denounced Kavanaugh's nomination. Shortly after Trump's announcement that the federal judge was his top pick, Planned Parenthood released a statement saying that if Kavanaugh gets appointed that "generations of women, especially women of color, will be affected. And generations of people have grown up only knowing a country where they have the right to access safe, legal abortion. We cannot allow our children and grandchildren to have fewer rights than we do today."
And even as Republican voters express majority support for Roe v. Wade, very few GOP lawmakers have taken a pro-choice stance on abortion. A recent New York Magazine article highlighted that Republicans in Congress who believe in abortion rights are "near-extinction."
Two Republican representatives who are pro-choice advocates, Charlie Dent and Rodney Frelinghuysen, will be leaving Washington at the end of their terms after both decided not to run for re-election. Their absence will leave only two Republican senators who support abortion rights: Susan Collins of Maine and Lisa Murkowski of Alaska.
The two women have not yet said how they will vote during Kavanaugh's confirmation hearing, but both voted in favor of Trump's previous Supreme Court pick Neil Gorsuch.
The lack of congressional representation of pro-choice advocates has forced some of the biggest Republican abortion rights groups to leave the GOP. Last month Susan Bevan and Susan Cullman, the two leaders of the Republican Majority for Choice, announced they were leaving the GOP and that their group would cease operations.
The women penned an opinion article in the The New York Times last month stating that their abdication from the party is a "result of the hostility to women within the Republican culture."
When asked why Republican lawmakers don't mirror the pro-choice stance of a majority of their voters, Milloy pointed to the 2018 midterm elections and the difficulties of winning a primary race.
"The majority of Republican candidates running in primaries are all very moderate," Milloy said. "But you have so many districts that are so far to the right that lawmakers have to go further to the right than they actually are."
While Milloy said that moderate Republican candidates have a "good chance" to win their elections in November, getting out of the primaries requires them to take a tougher, more traditional stance on abortion than they would like.
"There's a major disconnect between voters and who they voted for," she added. "And that will play out in the elections in November and in 2020."