These 18 Republicans Voted Against Sweden and Finland's Accession to NATO
Although the U.S. House of Representatives overwhelmingly approved a resolution expressing support for Finland and Sweden to join NATO, 18 Republicans lawmakers voted in opposition.
Monday's vote came two months after the Nordic countries applied to join NATO in the face of Russian aggression in Ukraine and three weeks after the alliance had officially invited them to join.
The resolution cleared the House in a 394-18 vote, with only GOP lawmakers voting in opposition. Two Democrats and 17 Republicans did not vote.
The bipartisan measure backed Finland and Sweden's move to join NATO and opposed any attempt by Moscow to obstruct their membership. It also called for NATO members to meet a pledge made in 2014 to spend at least two percent of their GDP on defense.
"We cannot add Finland and Sweden to NATO," tweeted Rep. Andy Biggs (R-AZ), who was among those who opposed the measure. "The United States should not expand alliances that will further require us to serve as the military for the world. Virtually all NATO members routinely ignore the required military spending guidelines."
Here is a list of the GOP lawmakers who voted "no"
Andy Biggs, Arizona
Dan Bishop, North Carolina
Lauren Boebert, Colorado
Madison Cawthorn, North Carolina
Ben Cline, Virginia
Michael Cloud, Texas
Warren Davidson, Ohio
Matt Gaetz, Florida
Bob Good, Virginia
Marjorie Taylor Greene, Georgia
Morgan Griffith, Virginia,
Thomas Massie, Kentucky
Tom McClintock, California
Mary Miller, Illinois
Ralph Norman, South Carolina,
Matt Rosendale, Montana
Chip Roy, Texas
Jefferson Van Drew, New Jersey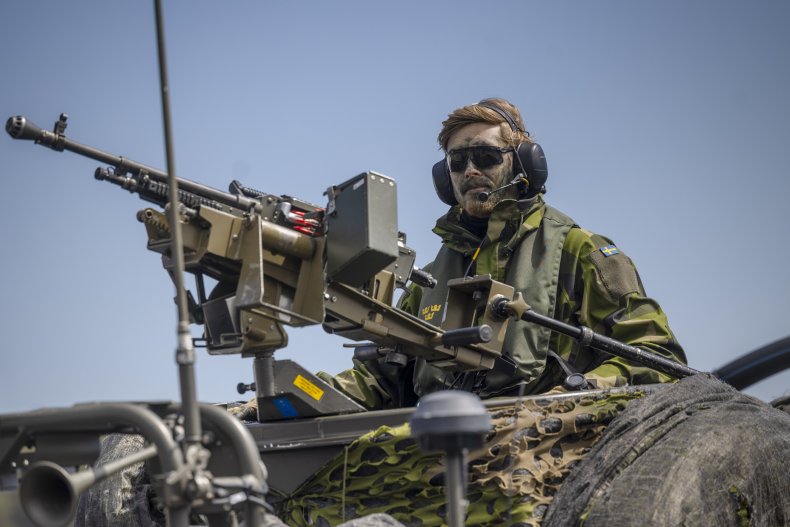 "This historic step will add value to our alliance and strengthen our global partnership, tweeted Rep. Cheri Bustos (D-IL). "I hope to see our NATO allies quickly ratify their membership."
Rep. Eric Swalwell (D-CA) described it as "a historic moment for transatlantic unity in the face of Russian aggression."
Some of those who opposed the resolution had previously voted against other measures supporting Ukraine in the chamber and their stance sparked criticism from some on social media.
"Patriots. Putin patriots," Russian opposition activist and former chess champion Garry Kasparov tweeted. "What possible American value would lead you to vote 'no' to extending NATO membership to Finland and Sweden?" tweeted author and former FBI agent Peter Strzok.
Earlier this month, Kremlin spokesman Dmitry Peskov had warned of a response from Russia to the addition of Sweden and Finland to NATO, saying that "options are being worked out" in the Ministry of Defense.
Meanwhile, Turkish President Recep Tayyip Erdogan said on Monday that his country could still scupper the membership bid of the Nordic countries unless they met Ankara's security demands.
He said that if the countries "do not take the necessary steps to fulfill our conditions, we will freeze" the accession process, the Associated Press reported.
Turkey had initially objected to the countries' membership aspirations which required the approval of all the bloc's members. But a joint memorandum signed last month during a NATO summit signaled that Ankara was warming to their membership bids if its security demands are met.
Turkey has accused the Scandinavian countries of harboring extremist Kurdish groups and supporters of Fethullah Gülen, the U.S.-based preacher whose supporters Ankara says carried out a coup attempt in 2016, which he and his supporters reject.
In a statement to Newsweek, the Swedish foreign ministry said "that the agreement with Turkey will be honored," and that "support for the resolution in the House of Representatives was overwhelming, which of course we appreciate."
Newsweek has contacted the Finnish foreign ministry for comment.
Update 07/19/2022 at 12:53 p.m. ET: This article was updated with additional material.
Update 07/20/2022 at 11:00 am. ET: This article was updated with a Swedish foreign ministry response.