Some Republicans Wanted Tammy Duckworth to Vote With Her Baby From Senate Cloakroom
A Senate rule change to allow Senator Tammy Duckworth to bring her newborn daughter onto the floor passed on Wednesday without any formal objections—but privately, some members of Congress had misgivings.
Notably, some Republican senators wondered why Duckworth, the first person to ever give birth while serving in the Senate, couldn't make some other kind of arrangement.
Senator Tom Cotton of Arkansas told the Associated Press that while he hadn't taken issue with the resolution, some of his colleagues had—"so the cloakroom might be a good compromise," he suggested, referencing the lounge off the Senate floor. Cotton himself is a father of two children.
Fellow Republican Senator Pat Roberts, of Kansas, said that he'd never object to such a rule change "in this day and age," though he added that he didn't think allowing infants into the Senate chambers "is necessary." After all, he argued, it's indeed possible for a senator to cast a vote from the cloakroom. "I've done it," he told the AP.
Senator Amy Klobuchar, who spearheaded the legislation as the ranking Democrat on the Rules and Administration Committee, quashed the Republican senators' recommendations for Duckworth, who is also the first disabled women to be elected to Congress.
"Yes, you can vote from the doorway of the cloakroom, but how is she going to get to the cloakroom when it's not wheelchair accessible?" Klobuchar asked.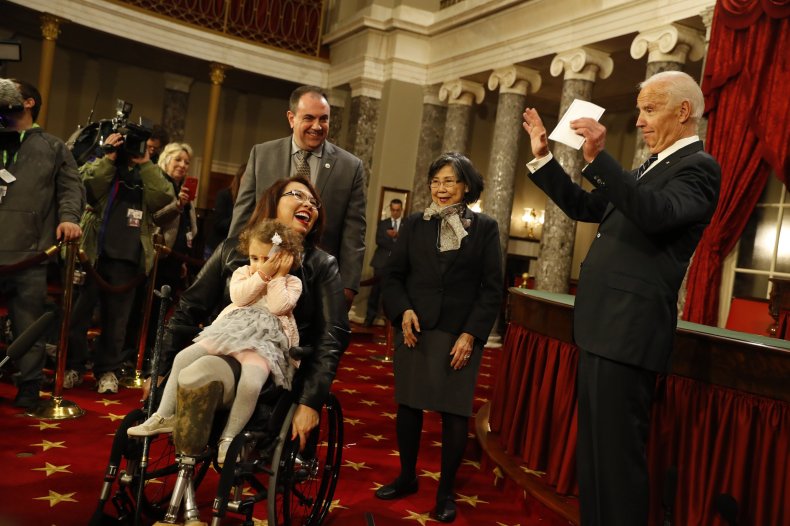 Duckworth first raised concerns about fulfilling her role as senator in February, pointing out that in many cases it would mean losing her vote and ability to sponsor legislation.
"If I have to vote, and I'm breastfeeding my child, especially during my maternity leave period, what do I do?" she said in an interview with Politico. "Leave her sitting outside?"
At the time, a former Senate Parliamentarian—the official responsible for safeguarding the Senate rules—said the best solution he could come up with for Duckworth involved her breastfeeding in a bathroom near the Democratic side of the chambers.
"I've never been a nursing mother, but it seems to me that at a minimum there's a women's bathroom very close to the Senate, which I think would be available at least to provide some level of privacy," Alan Frumin, who stepped down from his role in 2012, told Newsweek in February.
Frumin, like some Senate Republicans, worried too that changing Senate Rule 23, which prohibits family members from the Senate floor, would open the floodgates to senators bringing their children and grandchildren on the floor too often.
Klobuchar doesn't share that concern. Instead, she sees the new policy as a way to ensure all parents with small children can still do their job.
"We believe strongly, and she did, that it should be a permanent rules change," Klobuchar said.
"We could only wish we had 10 babies on the floor," she added, addressing Senator Orrin Hatch's (R-UT) concern that there'd be too many babies on the floor at once. "That would be a delight."