Republicans Tell Biden to 'Step Up' After Zelensky's Powerful Plea to U.S.
Republicans are saying President Joe Biden needs to "step up his game" after Ukrainian President Volodymyr Zelensky's powerful speech to Congress.
Zelensky delivered a virtual address to both the House of Representatives and Senate on Wednesday morning as his country continues to stave off Russian forces. The Ukrainian leader called on the U.S. to "do more" as he pleaded for a no-fly zone, more military weapons and new sanctions.
Zelensky also appealed to Biden directly, saying, "I wish you to be the leader of the world. Being the leader of the world means to be the leader of peace."
His remarks were met with a standing ovation from lawmakers, who pledged to continue humanitarian and military aid. But the speech was also used by Republicans to hit Biden on his leadership during the conflict.
"I think comparing Zelensky to Biden is depressing," Republican leader Mitch McConnell told reporters after the speech. "President Biden needs to step up his game right now before it's too late."
Republican Senator Jim Risch of Idaho, the ranking member of Senate Foreign Relations Committee, said the Ukrainian president's speech was "clearly intended for the White House."
"I hope they were listening," Risch wrote on Twitter. "The admin needs to step up & lead. The actions it has taken so far have been positive, but it has had to be shamed into action every step. It's critical Biden stops foot-dragging."
Senator Josh Hawley of Missouri told Fox News that Zelensky "hit the nail on the head" and "this administration has got to show some leadership."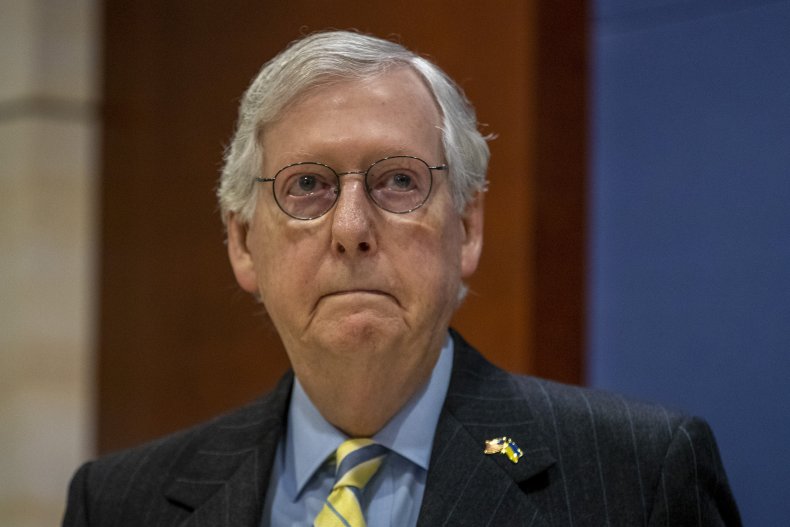 When Vladmir Putin launched a full-scale invasion of Ukraine on February 24, Biden responded with a first "tranche" of sanctions hitting major Russian banks, as well as Russian oligarchs and their families. But both Democrats and Republicans said they felt his initial response didn't go far enough.
Since then, the administration has sanctioned Putin himself, joined other NATO allies in kicking Russia out of the Society for Worldwide Interbank Financial Telecommunication (SWIFT) banking system, banned imports of Russian oil to the U.S. and more.
"Our actions have hit hard at the things President Putin cares about the most, degrading his military, access to cutting-edge technology, an ability to project power and influence," White House press secretary Jen Psaki told reporters Tuesday.
Psaki noted the ruble is worth less than a penny, and forecasters are predicting a collapse of the Russian economy.
Biden is also expected to announce as much as $1 billion in new military aid to Ukraine as early as Wednesday afternoon, the Wall Street Journal reported.