Republicans Thread the Needle on National Security and Trump's Loss: 'They're Afraid of the President'
A slew of Republican senators on Thursday said that President-elect Joe Biden should begin receiving classified intelligence briefings that are routinely afforded to incoming presidents, despite the Trump administration refusing to allow such a process to occur.
It was the latest sign that while GOP lawmakers will not explicitly say Biden won the election, they are publicly coming to the realization that President Donald Trump has lost—and the flurry of lawsuits launched by the Trump campaign are almost certainly doomed.
But Republicans denied that notion, arguing that both can be the case: Biden can receive daily presidential intel briefings as if he were president-elect, but they also maintain he is not the winner, pending ongoing litigation from the Trump campaign.
"I've never said he's President-elect Biden. He's Joe Biden," said Senator James Lankford (R-Okla.), who has vowed to take a more hands-on approach to ensuring Biden begins receiving the necessary briefings, if the government agency that oversees the transition process has not taken action by Friday.
Still, Lankford questioned the election's results, which were called for Biden on Saturday by major TV networks and news outlets.
"We don't have an answer," he continued. "We'll know once everything gets certified in the days ahead. But there's still lots of questions and in the states that are unresolved."
Top Republicans, including those like Senate Majority Leader Mitch McConnell (R-Ky.), have doubled and tripled down on their refusal to acknowledge Trump's loss amid his campaign's lawsuits seeking to overturn the results. The president and his conservative allies have made claims—without evidence—alleging widespread voter fraud, despite the campaign's inability to present compelling evidence in court.
A Trump appointee at the General Services Administration (GSA) is refusing to acknowledge Biden as the winner until a "clear" victor has been determined. As a result, resources for the transition, such as more sensitive briefings, are being withheld. Allowing the agency to proceed as though Biden had won would mean the Trump administration admitting defeat.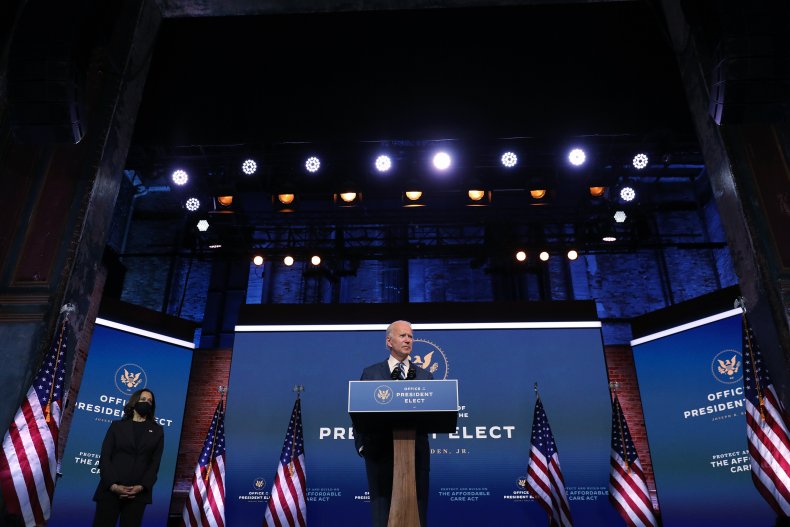 Senate Republicans, after all, are in need of Trump's supporters to win two runoff Senate races in Georgia and maintain control of the upper chamber. Irking the president could jeopardize the critical support of his backers in the Peach State.
Senator Kevin Cramer (R-N.D.) said that while Trump should contest the results where he sees fit, the country must also "prepare for the possibility—if not likelihood—that there'll be a President Biden." However, he declined to acknowledge Biden won.
"I think that he should be afforded all of the privileges and the responsibilities, frankly, of a transition, I really do. I've instructed my staff to be cooperative," Cramer told Newsweek. "There's no reason both can't happen. By both I mean contesting where it's appropriate, but you also have to prepare for the eventuality... that should Joe Biden win, we would want him to be up to speed on all of the things that plague our world."
Lankford and Cramer were not alone among their Republican peers by calling for Biden to begin receiving more classified briefings. Several others, including Judiciary Chairman Lindsey Graham (S.C.), Majority Whip John Thune (S.D.), Chuck Grassley (Iowa), John Cornyn (Texas), Rob Portman (Ohio), Ron Johnson (Wis.), Josh Hawley (Mo.), Lisa Murkowski (Alaska), Susan Collins (Maine) and Mike Rounds (S.D.), said they would support such a move.
"I don't see it as a high-risk proposition. I just think it's part of the transition," said Cornyn, a member of the Intelligence Committee. "And if, in fact, he does win in the end, I think they need to be able to hit the ground running."
Democrats suggested that Republicans calling for Biden to receive president-elect intelligence briefings—a previously mundane occurrence for transitioning administrations—was miniscule. Senator Tim Kaine, for example, noted that agencies across the federal government typically offer full cooperation. Millions of dollars in resources are allocated for a president-elect's transition, such as funding staff.
"I view that as such a tiny thing, to say he should get intel briefings," the Virginia Democrat told Newsweek. "They need to be preaching the virtue of a peaceful transit of power, and anything less than that is cowardice. I just view them as they're afraid of the president."
The way to square the conflicting arguments from Republicans, a Democratic aide told Newsweek, who was not authorized to speak publicly, was that it's "the same way they'll start worrying about the deficit after January 20, 2021. Ignore the inconvenient part."
As a presidential nominee, Biden was already receiving intelligence briefings. However, once president-elect, the classification and sensitivity of such information significantly increases, raising questions about whether a delay in garnering such intel could be a threat to national security.
The 9/11 Commission Report conducted years after the 2001 terrorist attacks concluded that a shortened transition for George W. Bush amid disputes over the 2000 presidential election results handicapped America's preparedness. The report stated that the delay "hampered the new administration in identifying, recruiting, clearing, and obtaining Senate confirmation of key appointees."
More than 150 former military and national security officials warned Thursday that a delay of transition services does, indeed, threaten the nation's security.
Still, the Biden campaign has said it does not intend to pursue legal action over the stalled transition process and will proceed on its own as normal.
This story was updated to include Sen. Mike Rounds to the list of Republican senators who have said Biden should begin receiving the classified Presidential Daily Briefings.