Republicans Brace for Protests During Week at Home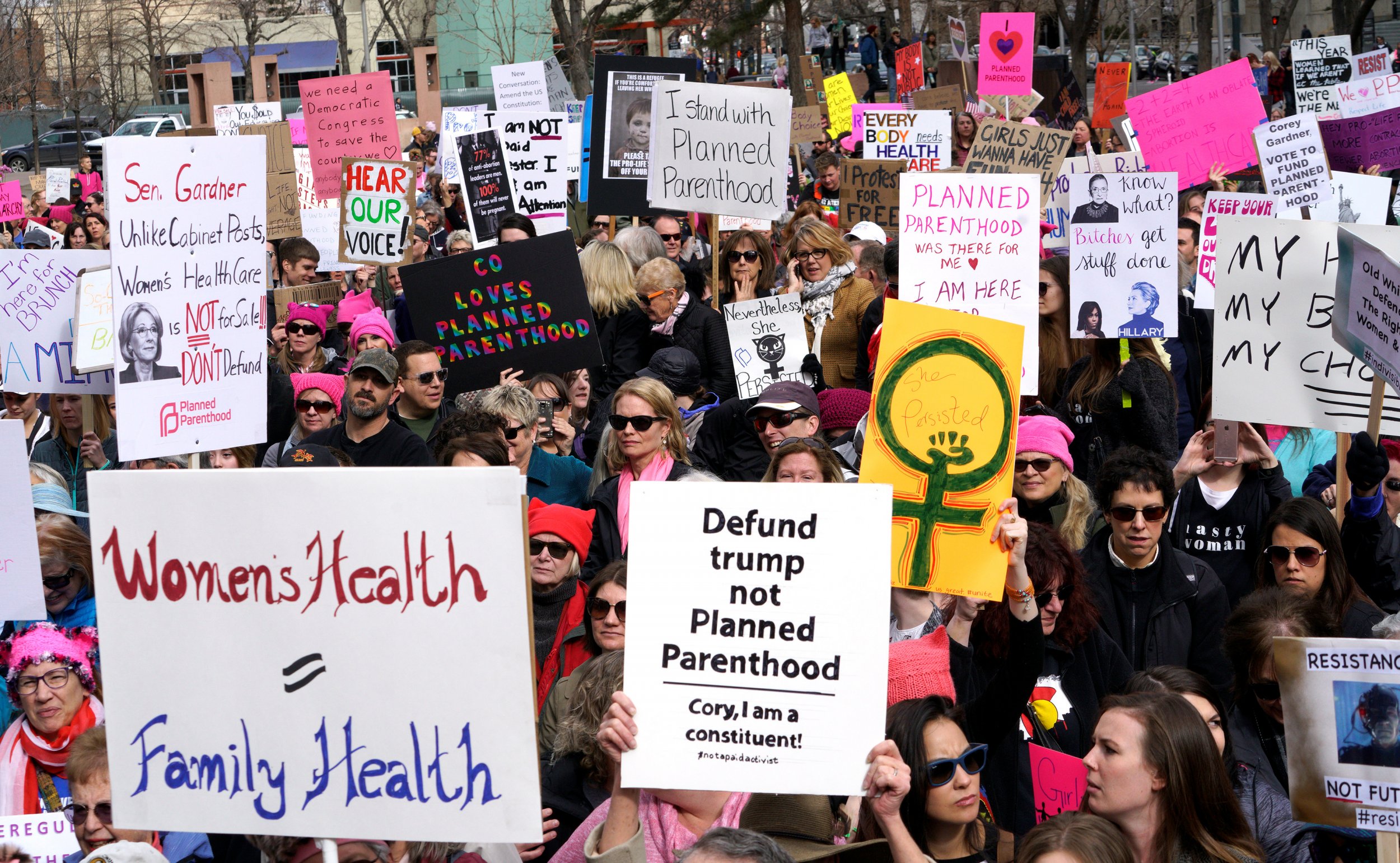 To hold a town hall, or not to hold a town hall: that is the question facing Republican members of Congress as they head home to their states and districts this weekend. President's Day Weekend kicks off Congress' first "recess" week since Donald Trump was sworn in as president, a work period intended to allow senators and representatives to reconnect with their constituents.
For angry progressives, it's also a chance to confront those officials over GOP plans to repeal Obamacare, deport immigrants and build a wall on the border with Mexico. After drawing national headlines for disrupting a smattering of GOP town halls the past few weekends, progressive groups such as Planned Parenthood, MoveOn.org, the Service Employees Union, the women's advocacy group UltraViolet Action and dozens of new anti-Trump grassroots groups are planning a collective, countrywide uprising this coming week, with hundreds of actions at Republican lawmakers' town halls and outside their local offices to demonstrate against their agenda in Washington. The liberal Super PAC Priorities USA is running ads on social media and across internet search engines to alert citizens to protest events in their area. And House Democrats are planning to hold rallies across the country Saturday in support of Obamacare and preserving Medicaid and Medicare.
Related: How the #Resistance Is Tapping the Tea Party's Playbook
All the organizing on the left is sending many Republicans ducking for cover. According to one online round-up of public congressional events, The Town Hall Project, 31 House Republicans and 11 of their Senate counterparts have some sort of constituent event planned over the recess—a town hall, "office hours" in their district, coffee or ticketed event. A handful of those are town halls organized by an outside group, and it's not yet clear if the lawmaker will attend. While the Town Hall Project is by no means comprehensive, it suggests a large number of Republicans, perhaps even a majority of the 52 GOP senators and 248 representatives, are not planning public events to engage with their constituents this coming week.
Those that are not are getting grief from their constituents, particularly in purple states. With Nevada Senator Dean Heller refusing to hold a town hall over recess, the state's Planned Parenthood branch has decided to host two of its own, and local members plan to call and show up at Heller's local offices to push him to attend. Heller is a leading Democratic target in 2018, when he's up for re-election. Pennsylvania Senator Pat Toomey held a tele-town hall on Thursday but a flood of angry constituents complained on his Facebook page that the senator gave them hardly any notice (the alert about the phone-in event came only three hours before it's start) in the middle of a work day. And they demanded that he hold live events. "What are you hiding from Mr. Toomey?" one commenter asked. Spokespeople for Heller and Toomey did not respond to requests for details on their public schedules over the recess week, or comment on their decision not to hold live town halls.
Even in heavily Republican-leaning states, members of Congress are under fire. Republican Congressman Jason Chaffetz faced down a rowdy crowd of protesters at a town hall in the Salt Lake City suburbs earlier this month. And now fellow GOP House member Mia Love is under fire from constituents in her central Utah district for refusing to hold similar events. Local KUTV news reported last week that Love's district director told local residents the congresswoman would only meet with them in small groups of four to five people, with no media or recording devices, prompting complaints. Love's spokesman did not reply to a request to comment.
Not all Republicans are ducking public events, however, even with the threat of disruption. One Republican congressman, Tom Reed of upstate New York, is holding a marathon series of town halls Saturday, starting at 9:15 a.m. and ending after 5 p.m. South Carolina Congressman Mark Sanford also has one schedule Saturday, and said this week his staff is not planning any special security precautions. "I believe in the Socratic process about bouncing ideas back and forth and that there's something fundamentally American … about agreeing and disagreeing on ideas that one feels strongly about," he told reporters in the Capitol earlier this week. "I've been through my fair share of storms and dealing with folks who might be antagonistic to one's viewpoint," Sanford added wryly. His time as governor of South Carolina ended in national scandal over a tryst with his Argentine mistress, an affair that was only revealed after he went missing for several days (it turned out he was in South America visiting her, not hiking the Appalachian Trail, as his spokesman at first insisted).
Michigan Congressman Justin Amash, who faced his own town hall protests earlier this month, also argued he and his colleagues should be interacting with local voters. "I think it's important to be back in your district, talking to your constituents and hearing from everyone," Amash said at a lunch with reporters on Capitol Hill earlier this week. "The people coming to the town halls are concerned, and their concerns are reasonable. We might not always agree on how to resolve some of these issues but I think it's important to learn from the people who come to your town halls and communicate so there's no misunderstanding."
Amash and Sanford appear to be in the minority, however. More common is the sentiment expressed by Idaho Congressman Raul Labrador, who blamed the demonstrations on Democrats and liberal agitators. "The reason all these protests are happening is because they want our base to be demoralized. They know they can't win, they can't beat us with their ideas," Labrador said at the same Capitol Hill lunch as Amash. "These protesters are not going to vote for us, anyway."