Republicans Trail Democrats in Absentee Ballots in 26 Iowa Counties Trump Flipped From Obama
This Election Day, Democrats have cast more absentee ballots than Republicans in 26 of the 31 counties in Iowa that previously voted for former President Barack Obama and then President Donald Trump.
Trump's outsider persona and messaging about the forgotten men and women of America appealed to Iowans in 2016, and the state had the highest number of pivot counties in the country. Four years later, the president has had only a slim lead over his challenger, Joe Biden, and Democrats are casting more absentee ballots than the Republicans.
Of the total absentee ballots cast in the 31 Iowa counties that swung from Obama to Trump, Democrats sent in nearly 30,000 more than Republicans by Tuesday. Democrats casting ballots outnumbered Republicans in 26 of the counties, including Howard, the only county in the country to vote for Obama and Trump by at least 20 points.
Iowa voting rules require an absentee ballot to be postmarked by November 2 at noon and received in the county auditor's office by next Monday at noon, following the election. So there's still time for Republicans to make up ground, and in a state with a heavy independent population, Iowa is still anyone's state for the winning.
For the first time in 20 years, "no party" voters in Iowa trail registered Republicans and Democrats. However, when you consider just Iowa's 31 swing counties, they outnumber both Republicans and Democrats by about 10,000 and 7,000 voters, respectively.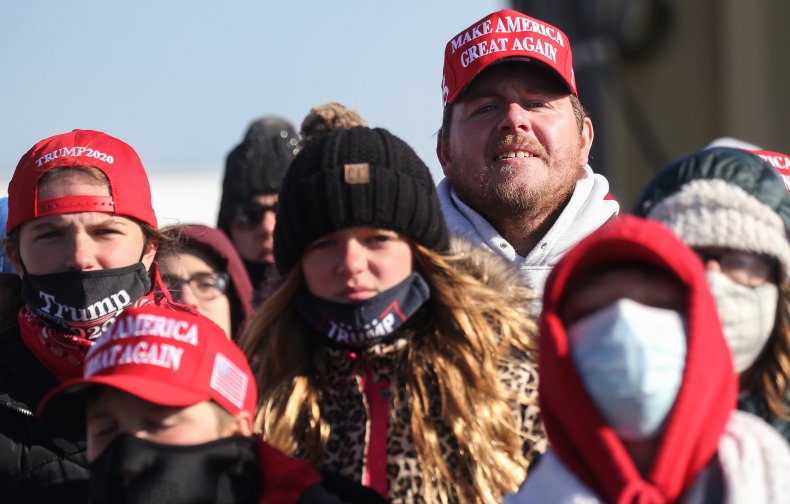 In the 13 swing counties where "no party" voters have a plurality over Republicans and Democrats, the margin of difference is only about 2,000 voters in the GOP's favor. If there's a close race, the "no party" voters could be the ones that turn the tide in favor of one candidate.
"Are they going to go for Trump to the same extent they did in 2016?" Tim Hagle, a political science professor at the University of Iowa, asked when speaking to Newsweek. "It was decidedly for Trump, but that was kind of because they didn't like [Hillary] Clinton and were taking a chance on a political outsider."
This time around, Trump's running on his record as president. Hagle said Democrats attacking him for his response to the coronavirus pandemic is having an effect on "no party" voters. However, it's unclear how much that will persuade them to vote against president.
"No party" voters could also be pondering if they're tired of Trump's style and if Biden's blue-collar, Catholic background is appealing enough to change their vote from 2016, Hagle said.
Overall in the state, Republicans have the edge on Democrats in terms of registered voters, and traditionally, early voting has gone in the Democrats' favor in Iowa, according to Hagle. Polls show Republicans more likely to cast their ballot in-person on Election Day, and Hagle noted that the election could come down to whether there's a surge in votes for Trump on Tuesday.