Republican Candidates Trail Democrats Across the Board in North Carolina: Poll
Republican candidates in three key North Carolina races are lagging behind their Democratic opponents with just under three months' to go until the November elections, new polling data shows.
The latest battleground state survey from Civitas Institute and Harper Polling found that President Donald Trump, Sen. Thom Tillis and the GOP gubernatorial candidate Dan Forest were trailing Democrats by varying margins as of August 10.
According to the poll results published on Thursday, the presumptive Democratic presidential nominee Joe Biden was leading Trump by 1 percentage point in the tightly contested state.
Forty-five percent of surveyed North Carolina voters said they would back Biden in November, while 44 percent said the same of Trump. A further 7 percent said they had not made their mind up, and 4 percent opted for third-party nominees.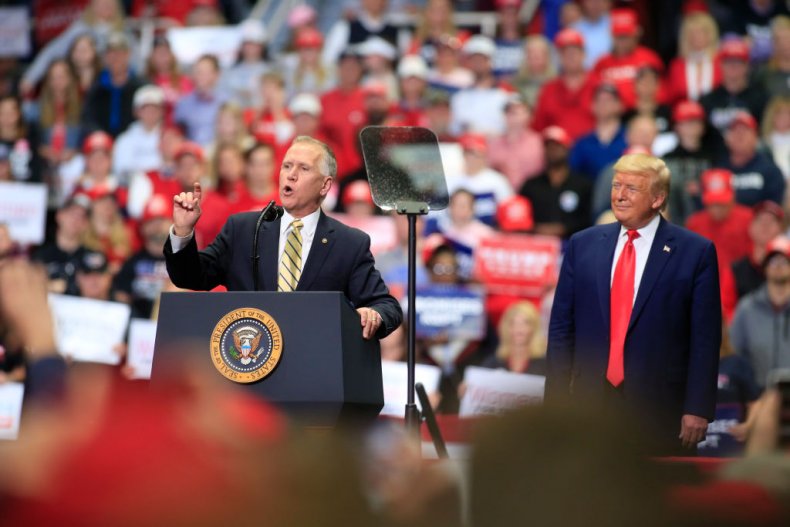 "Looking at eight North Carolina polls, from various groups, since the beginning of July, it looks like President Trump hit the bottom of the trough and is bouncing back," Civitas Institute CEO Donald Bryson said in a release. "This race will be very, yet unsurprisingly, tight as we head into the fall."
Trump carried North Carolina at the 2016 presidential election, beating Hillary Clinton by a margin of just 3.6 percentage points.
When asked who they favored in the U.S. Senate race for Tillis' seat, a little more than four in ten North Carolina voters (41 percent) opted for his Democratic challenger Cal Cunningham. By comparison, 38 percent of state voters said they would vote for Tillis—putting him 3 points behind.
Yet there is still plenty of room for the incumbent to take back a lead in the race. A sizeable 16 percent of respondents said they were "undecided" about who to vote for in three months time.
Speaking about the number of undecideds, Bryson said: "For a race with an incumbent US Senator, there are still a remarkably high number of undecided voters in this race.
"Cal Cunningham clearly has an opportunity, and a small lead, unless Tillis moves to set a vision for another six years."
In the gubernatorial race, incumbent North Carolina Governor Roy Cooper (D) was polling at 49 percent of the popular vote, with GOP challenger Dan Forest 10 points behind.
Eleven percent of voters said they were undecided on their favored choice of governor, and the remaining 2 percent opted for third-party candidates.
The Civitas Institute surveyed 600 likely voters in North Carolina for its latest poll. Its margin of error stands at 4 percentage points.
At the time of writing, the FiveThirtyEight election forecast has pegged the North Carolina presidential race as a "toss-up" contest, with its model finding that both candidates won half of 40,000 simulated elections in the state.