Republicans Trail in Key Senate Races as Independents Back Democrats: Polls
Republican senators in three key swing states are at risk of losing their seats as independent voters throw their support behind Democratic challengers, new polling data shows.
The latest battleground state surveys released by Morning Consult show GOP Sens. Martha McSally of Arizona, Cory Gardner of Colorado, and Thom Tillis of North Carolina are all trailing their Democratic rivals with less than four months to go until the election.
In Arizona, the former astronaut Mark Kelly was found to be 16-points ahead of McSally, with 52 percent of likely voters in the state saying they would back him if an election were held the same day.
The gap between Gardener and Democrat John Hickenlooper was tighter. Forty-eight percent of likely Colorado voters said they would back Hickenlooper in the election. Only 42 percent said the same of the GOP incumbent, giving the Democrat a six-point lead.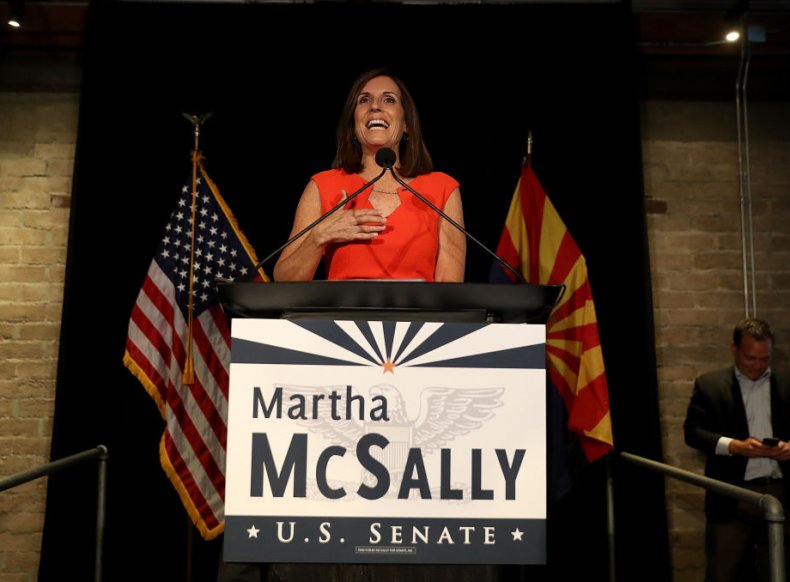 Over in North Carolina, Morning Consult found that 9 points stood between Republican Sen. Tillis and Democratic candidate Cal Cunningham, with 46 percent of likely voters in the state backing the challenger and 37 percent favoring Tillis.
The swing state polling routs revealed on Tuesday morning appeared to be partly down to independent voters in the three states largely supporting the Democratic candidates for the U.S. Senate.
Morning Consult found that half of all Arizona independents intended to vote for Kelly, while only a quarter said they would back McSally as the situation stood. A further 25 percent said they would vote for a third-party candidate or were undecided.
Colorado independents favored Hickenlooper over Gardner by a margin of 13 percentage points, with 48 percent of the swing voters saying they would opt for the Democrat.
In North Carolina, 20 points separated Cunningham and Tillis among the group. Forty-nine percent of independent likely voters in the state said they supported Cunningham, while 29 percent backed the Republican incumbent.
Morning Consult surveyed 908 likely voters in Arizona, 616 likely voters in Colorado, and 1,504 likely voters in North Carolina between July 17 and July 26 for its latest swing state polls. Their margins of error stand between 3 and 4 points.
Cook Political Report analysts have recently shifted their rating of the Arizona Senate race from a "toss-up" contest to a seat that could be leaning Democrat. The Senate races in Colorado and North Carolina are still considered toss-up contests by experts.