Hill Republicans: We Had No Input on Travel Ban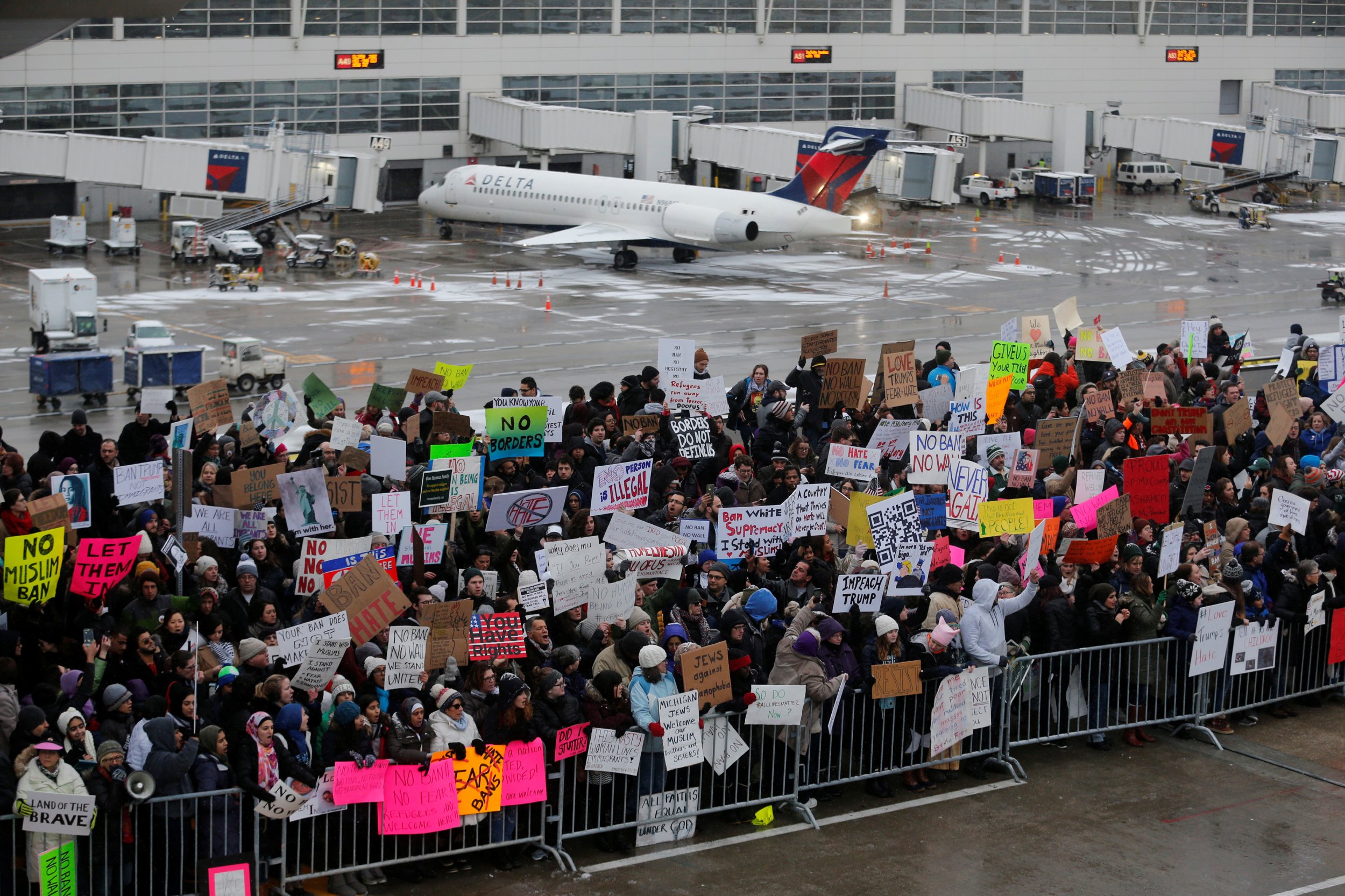 Updated | One of the White House's main defenses of President Donald Trump's new ban on foreigners from certain Muslim-majority countries is that the executive order was, in fact, drafted by fellow Republicans in Congress. Leading House Republicans, however, are pushing back on that claim, insisting they were not consulted on the text of the order, let alone involved in writing it. And they argue that a white paper Trump allies are citing as the basis for the order was, in fact, very different in content and scope.
Related: Trump's travel ban challenged by Democrats, U.S. allies
White House officials held a background briefing for reporters Sunday after a weekend dominated by headlines describing chaos and mass protests at American airports. The drama unfolded after green card holders were detained and, in some cases, sent back to their originating countries by customs agents, citing Trump's order temporarily prohibiting nationals from seven Middle East and African countries from entering the U.S. Asked if the White House had consulted with members of Congress before issuing the order Friday night, a senior administration official responded, "Republicans on Capitol Hill wrote it.… The top drafters of this were the top immigration experts from Capitol Hill."
Aides to the chairmen of the House Homeland Security Committee and Judiciary Committee both deny they were consulted about the draft of the order. However, Politico reported Monday night that several staffers on the House Judicary Committee did contribute to the order, but signed non-disclsoure agreements with the Trump White House that prevented them from sharing information about their work, even with the committee chairman, Bob Goodlatte. They appear to be the "immigration experts" that the administration official was referring to. The White House did not respond to a request for clarification on Monday.
Goodlatte released a statement immediately after the order was signed (but before the weekend uproar), applauding Trump for "taking a number of critical steps within his authority to strengthen national security and the integrity of our nation's immigration system." Homeland Security Committee Chairman Mike McCaul, however, issued a statement Sunday evening saying "clear adjustments are needed," even as he denied that the order was a "Muslim ban."
"We should not simply turn away individuals who already have lawful U.S. visas or green cards—like those who have risked their lives serving alongside our forces overseas or who call America their home. We must be focused instead on putting in place tougher screening measures to weed out terror suspects," McCaul said. The chairman also expressed his dismay at the lack of White House consultation: "In the future, such policy changes should be better coordinated with the agencies implementing them and with Congress to ensure we get it right—and don't undermine our nation's credibility while trying to restore it."
McCaul, Representative Peter King and others on the Hill acknowledged consulting with the Trump campaign about ways to increase vetting of immigrants and refugees before the 2016 election. But they rejected the suggestion they advocated for anything similar to the order that was ultimately drafted, challenging the accounts of Trump campaign adviser Rudy Giuliani and other Trump allies.
Giuliani, the former mayor of New York City, told Fox News over the weekend that he chaired a commission at Trump's request that developed recommendations for carrying out Trump's proposal of "extreme vetting" of foreigners coming to the country. "When [Trump] first announced it, he said, 'Muslim ban.' He called me up. He said, 'Put a commission together. Show me the right way to do it legally,'" Giuliani told Fox.
The commission, which also included McCaul, King and former Attorney General Michael Mukasey, produced a roughly 10-page white paper last fall that included recommendations on "enhancing the visa security program and putting in place better protections to keep terrorists from exploiting the refugee program," according to a congressional aide who worked on the memo, who asked not to be identified. It did not, the aide emphasized, "lay out the foundation for countries that you would ban and time periods" for banning them. In fact, the aide says, "The memo ended up making a really, really aggressive case for why a Muslim ban was wrong and explaining in constitutional and moral terms why that was a bad counterterrorism policy."
The aide said congressional staffers only saw the leaked draft of the executive order being circulated by the press, "which was very different from the final version." The final text, which covered green card holders as well as refugees and others seeking to visit or immigrate to the United States, "caught us all by surprise."
King echoed those remarks, telling Newsday over the weekend that a ban on Muslims or people from certain countries never came up in his consultations as part of the commission. "The question of executive orders didn't come up," King said. "I talked about…the need for more surveillance, supporting NYPD's program. Nothing at all about an executive order." King, however, told the New York newspaper he continues to support Trump's executive order.
This story has been updated to reflect the Politico story reporting House Judiciary Committee staff contributed to the executive order, without their boss' knowledge.