As the administration of President Donald Trump tries to finalize a peace-deal with the Taliban, congressional Republicans are wary of an agreement with "al-Qaeda's longtime ally" to potentially withdraw thousands of U.S. troops from America's longest running war, warning that it could repeat mistakes they believe Trump's predecessor made in the Middle East region.
"Any deal with the Taliban that includes a predetermined schedule for drawing down our forces would only repeat Obama's mistake," Wyoming Representative Liz Cheney wrote in a Tuesday evening Washington Post op-ed.
Concerns expressed by the House Republican Conference chair—one of the top GOP leaders in the chamber— were echoed by Representative Adam Kinzinger, an Illinois Republican who served tours in Afghanistan and Iraq for the Air National Guard.
"Losing in Afghanistan would simply be a repeat of @BarackObama in #Iraq, maybe worse," he wrote on Twitter Wednesday, sharing Cheney's opinion piece. "@realDonaldTrump please think long and hard before making the same decision."
Republicans have said accused former President Barack Obama of helping to fuel the rise to power of the Islamic terrorist group ISIS because of the withdrawal of U.S. troops from Iraq in 2011. But he was adhering to a 2008 Status of Forces agreement between former President George W. Bush and the Iraqi government, requiring that the troop withdrawal take place unless otherwise changed by the Iraqi parliament.
The opposition by the two Republicans came as Trump tried to quell fears that a total troop withdrawal could allow the Taliban to retake control of Afghanistan, reverting to conditions similar to before the September 11, 2001, terrorist attacks. He promised on Tuesday that some U.S. troops would remain in the foreign country.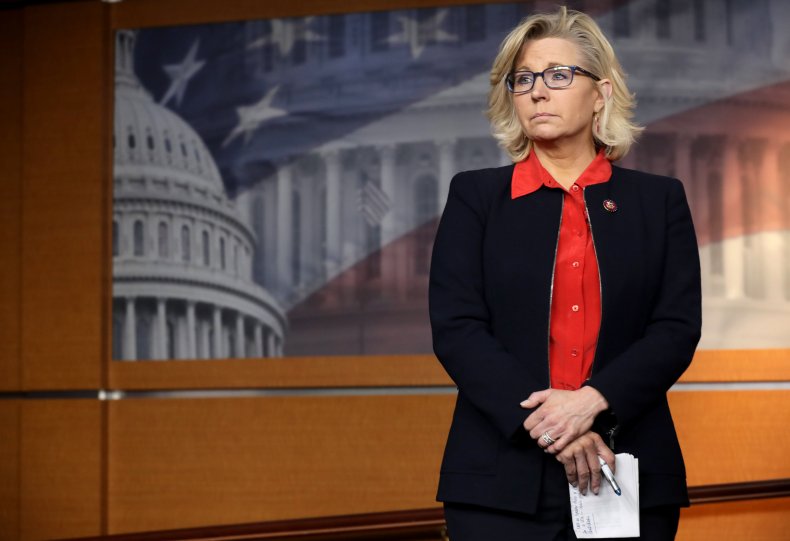 "In this world, I think nobody can be trusted. We'll always have intelligence, and we'll always have somebody there," Trump told reporters in the Oval Office on Tuesday during a visit from the Romanian president. "That does seem to be the Harvard University of terrorism."
The withdrawal figures have fluctuated in recent days and weeks, with U.S. officials telling Newsweek last week that ongoing conflicts in the region and the continued peace talks could alter it. The roughly 14,000 troops stationed in Afghanistan could be withdrawn down to as few as 6,000 as part of a deal, and senior Pentagon officials have said U.S. personnel was ordered to cease nearly all combat operations against the Taliban and to stop advising the Afghan National Defense and Security Forces.
Details about a potential peace-deal, including a troop withdrawal timeline, have not yet been finalized with the Taliban and made public by the administration. The Taliban would have to prevent future international terrorism from originating within Afghanistan, as it did with 9/11.
"Given the Taliban's sordid history and ongoing violence, it strains credulity to believe it can be a partner for peace," she wrote. "The American people deserve to see the full text of any agreement the State Department is negotiating, including supposed counterterrorism assurances. If we are putting our security in the hands of the enemy who harbored al-Qaeda before the 9/11 attacks, the American people deserve to know why."
ISIS claimed responsibility for a suicide bombing over the weekend at an Afghan wedding in the nation's capital of Kabul that killed 63 people and injured nearly 200 others. Cheney highlighted concerning news and violent events connected to the Taliban that have occurred during the peace talks, including a suicide car bombing, attacks that have killed Afghan civilians, U.S. soldiers and allies, the United Nations Security Council's conclusion that the Taliban and al-Quad remain close allies and the release of a video justifying the 9/11 terrorist attacks.
Trump expressed his readiness for U.S. troops to leave the region where America has been involved in war going on 18 years.
"We've been a peacekeeper there, in a way, for 19 years. And at a certain point, you have to say, 'that's long enough,'" Trump said. "We could win that war in a week if we wanted to fight it. But I'm not looking to kill 10 million Afghans."
Those remarks came the same day that Secretary of State Mike Pompeo told CBS This Morning there are "places where ISIS is more powerful today than they were three or four years ago."
And while public sentiment may be in line with the president about bringing home American troops, Cheney echoed the caution that many other lawmakers—both Republicans and Democrats—on Capitol Hill have made.
"We should not withdraw U.S. forces based on a political timetable that grants concessions to the Taliban and allows the terrorists to maintain safe havens from which they can plan and train for future attacks in the West. We cannot accept a deal that places America's security in the hands of the Taliban," she explained.
"Agreeing to such a deal would not be ending a war, it would be losing it — to al-Qaeda, the Taliban and the Islamic State."