When Georgia Republican state senators introduced two bills aiming to ban gender-affirming care for teenagers under the age of 18 on Thursday, the state became the 26th in the country to push for limiting or banning health care for trans patients.
Before Georgia, Republican legislators had taken similar initiatives in recent months in Arizona, Hawaii, Idaho, Indiana, Iowa, Kansas, Kentucky, Mississippi, Missouri, Montana, Nebraska, New Jersey, New Hampshire, North Carolina, North Dakota, Oklahoma, Oregon, South Carolina, Texas, Tennessee, Utah, Virginia, Washington, West Virginia and Wyoming.
In a number of these states, efforts to introduce legislation banning some form of health care for transgender patients—mostly teenagers under the age of 18—were significantly stronger than in others.
While most states listed above count between one and two bills proposing to limit gender-affirming health care for trans teens, in Missouri legislators introduced 11 bills, in Oklahoma, 10 bills, and in Texas, 12. In Tennessee and Mississippi, Republicans introduced seven such bills, along with six in South Carolina and five in Indiana.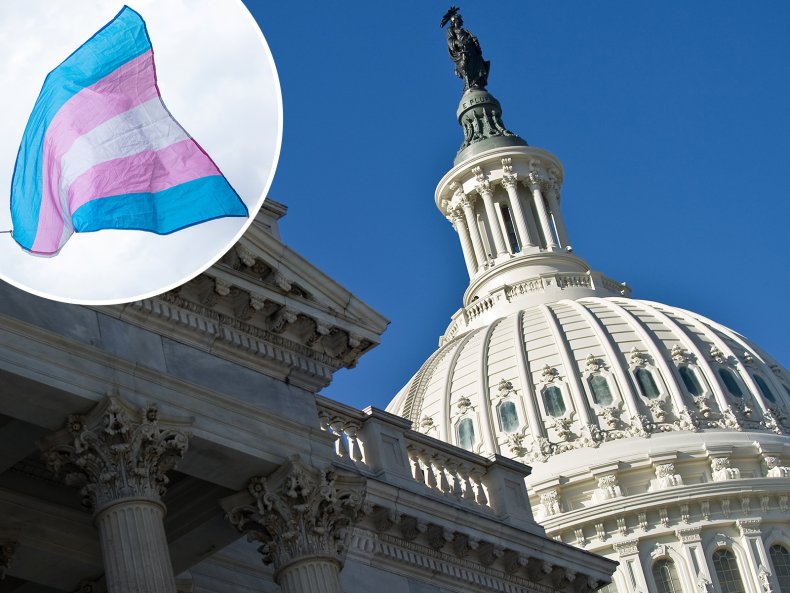 The Equality Federation, a group that advocates for the rights of the LGBTQ community and tracks all anti-trans legislative efforts across the country, from medical care bans to attempts to limit trans students' access to student athletics and other sports, has identified these recent bills as part of a nationwide, carefully coordinated push attacking the rights of trans youth in GOP-led states.
Though other states had introduced similar legislation before, Arkansas became the first state to actually pass a bill banning transition-related health care for minors in 2021. Tennessee followed suit. The following year, Alabama and Florida also blocked access to gender-affirming care for minors.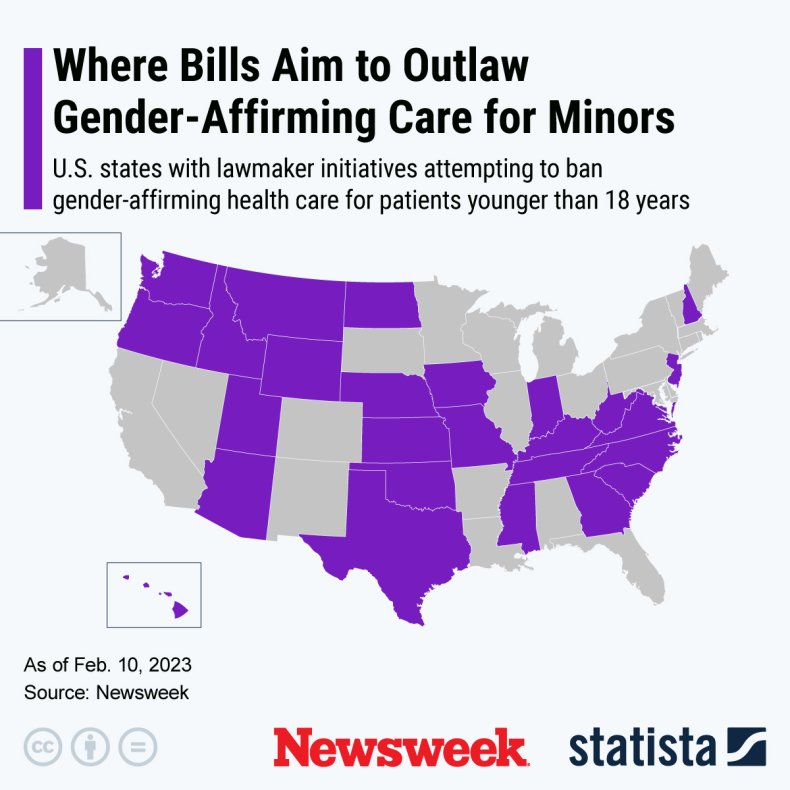 This chart, provided by Statista, shows the U.S. states with lawmaker initiatives attempting to ban gender-affirming health care for patients younger than 18 years.
Since then, the push for limiting access to gender-affirming health care for trans youth has only strengthened, with many more states introducing similar bills.
In late January, Utah passed a bill banning gender-affirming medical interventions for patients under the age of 18, including hormone therapy.
The bills proposed in many of these states aim at making providing gender-affirming care for trans teens—from the performance of surgery to the prescription of hormones or puberty-blocking drugs—illegal for any health provider, including school nurses.
In Wyoming, a bill seeks to classify gender-affirming surgeries and puberty blockers as "child abuse."
To justify such bans, the bills mention the alleged risks linked to gender-affirming medical procedures and drugs, calling them "irreversible" and "life-altering."
If passed, the legislation would make it much harder for trans youth to access health care that is recommended by major medical organizations. Critics of the legislation and trans rights advocates also argue that the new legislation would discriminate against trans kids and create an unsafe environment for them, while also exacerbating a divisive social issue on a national level.
The battle for transgender rights and trans patients' access to health care isn't being played at the state level alone. Last year, Republicans in the House of Representatives introduced a bill that would allow trans people to sue medical staff who helped them transition as minors.
President Joe Biden and his administration have so far taken steps to protect trans kids' rights and their access to health care, including offering teens better access to government services and mental health support. But after Democrats lost the House to Republicans during the November midterms, the Biden administration might now have a harder time ahead protecting access to affirming health care.