House Republicans Urge Democrats to Cease Their 'Ill-Conceived Inquiry' Into Trump's Financial Records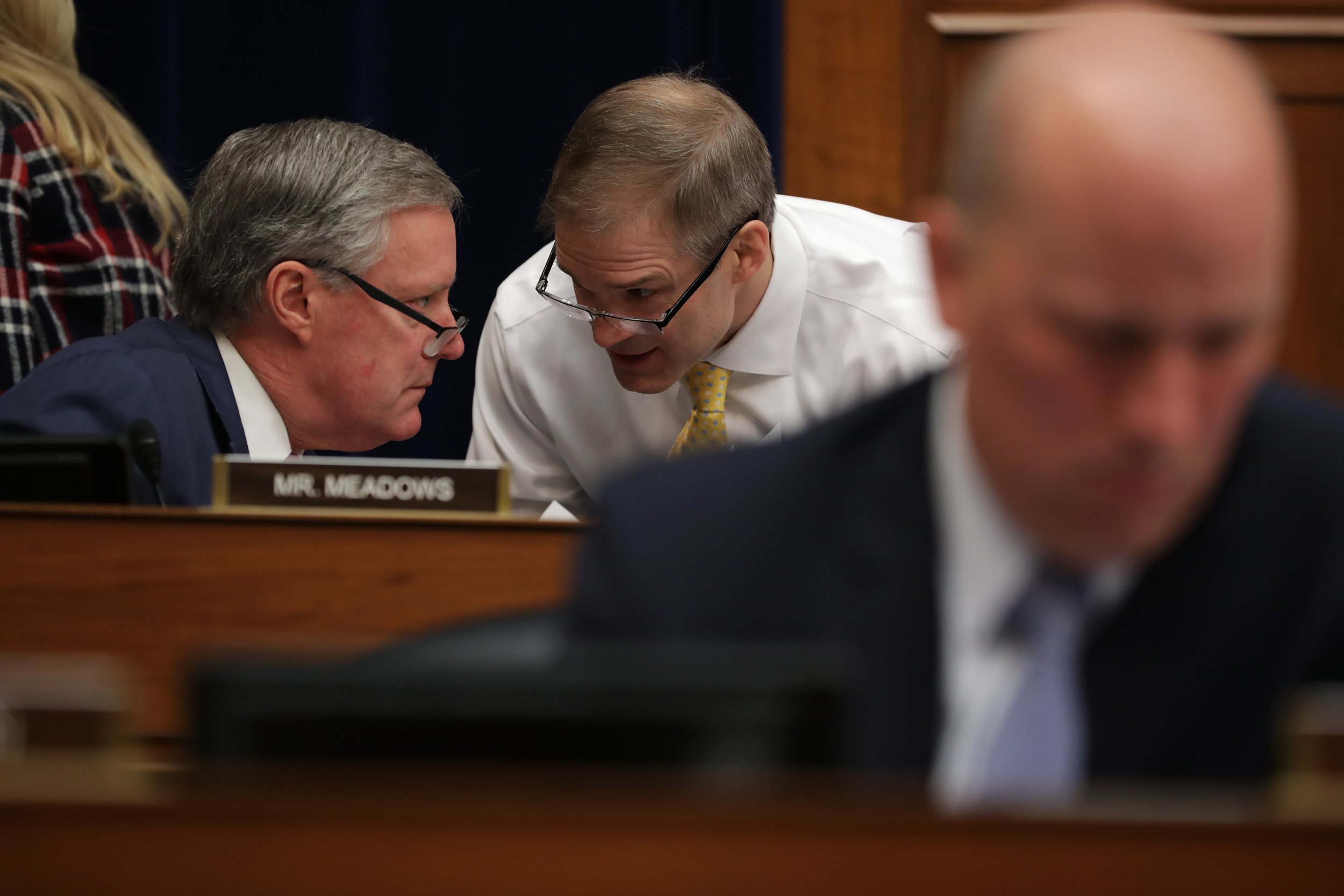 House Republicans on a key committee revealed Wednesday that Democrats are seeking 10 years' worth of Donald Trump's private financial records from a point in time before he became president—and the GOP lawmakers want the inquiry to stop, arguing that such a request exceeds the committee's authority.
GOP Representatives Jim Jordan, ranking member of the House Oversight Committee, and Mark Meadows, also a committee member, said in a letter to committee Chairman Elijah Cummings that they have been made aware of his inquiry to a tax and accounting company for financial documents on Trump. Jordan and Meadows said they received a letter Cummings sent to Mazars USA CEO Victor Wahba on March 20 requesting financial records related to a failed transaction involving Trump and the Buffalo Bills.
The existence of such a letter was confirmed when Cummings released it a short time after the Republicans' revelations.
This latest probe by House Democrats for Trump documents comes after former Trump lawyer Michael Cohen testified last month before the Oversight Committee, alleging that Trump illegally inflated his net worth in 2013 by roughly $4 billion in an attempt to obtain a loan from Deutsche Bank and bid on the NFL football team in 2014. The spike in net worth pertained to his "brand value," according to financial statements provided to the committee by Cohen, a category absent from his 2011 and 2012 statements. The documents were prepared and signed by Mazars or its predecessor WeiserMazars, Cummings said. Trump's attempt to acquire the Bills never came about.
Cohen also said that, at times, Trump deflated certain assets to reduce his real estate taxes.
In his letter to the tax and accounting company, Cummings cited Cohen's testimony in requesting any and all financial documents pertaining to Trump or the Trump Organization that go as far back as January 1, 2009.
While Cummings, as the committee's chairman, has the ability to investigate "any matter at any time," Jordan and Meadows noted, they said that seeking information on Trump from when he was a private citizen is not "responsible and legitimate oversight."
"We urge you to reconsider your ill-conceived inquiry into the finance of President Trump when he was a private citizen," the GOP duo said. They went on to suggest to Cummings that he was seeking to "embarrass" the president.
"We're just seeking the truth, that's all," Cummings told reporters. "They complain about every single thing I do."
In a separate letter to Mazars sent Wednesday, the Republicans said they believe Cumming's inquiry does not have a "valid legislative purpose" and was exceeding the committee's authority.
Cummings requested delivery of the financial documents by April 3.
The "brand value" listed by Trump on his financial records made Democrats on the committee suspicious. After Cohen's testimony, they told Newsweek they wanted to hear from Trump's eldest son, Donald Trump Jr., and longtime Trump Organization Chief Financial Officer Allen Weisselberg about the matter.
"I would ask, 'How do you come up with these numbers?' They seem random," Democratic Representative Raja Krishnamoorthi, an Oversight Committee member, told Newsweek. "Some of the real estate values seem—based on [Cohen's] testimony yesterday—they just kind of pull things out of the air."