Republicans' 'Wait and See' Stimulus Approach Has Left Workers, Renters and Themselves in Limbo
Republicans spent more time Thursday during their private lunch discussing the alligator sausage on the menu than policy. Then, they skipped town for their usual three-day weekend.
Despite the leisurely lunch, a global pandemic was handicapping the U.S. economy amid a nationwide spike in new cases, and a concrete stimulus plan to protect unemployed workers, renters and others hurt by the conditions was nowhere near done.
But it was business as usual for the Senate.
"We told some good stories," said Senator John Kennedy (R-La.), who selected the menu that also featured crab bisque and bell peppers stuffed with beef and shrimp. "It was kind of a nice break in the action."
Republicans have said for months the country needed a "wait and see" approach for doling out more federal relief from the pandemic. But intraparty squabbling between the White House and GOP leaders on Capitol Hill over the past week—coupled with the refusal to adjust the Senate's schedule, including its recent two-week Fourth of July vacation—now means that the weekly $600 boost to unemployment insurance and rent eviction moratorium will lapse for weeks on end as Congress tries to finalize a deal.
Roughly 30 million—or one in five—workers are estimated by the Labor Department to be collecting unemployment. Their benefits will be likely cut by more than half when the federal surplus runs dry. And about 20 million renters will be at risk of their landlords giving them the boot, according to the advocacy group COVID-19 Eviction Defense Project.
Yet Republicans said they have no qualms about the pace of their negotiations or the federal safety nets expiring—in fact, they argue the vanishing protections are a good thing because it will motivate them to eventually reach an agreement not only amongst themselves, but with Democrats.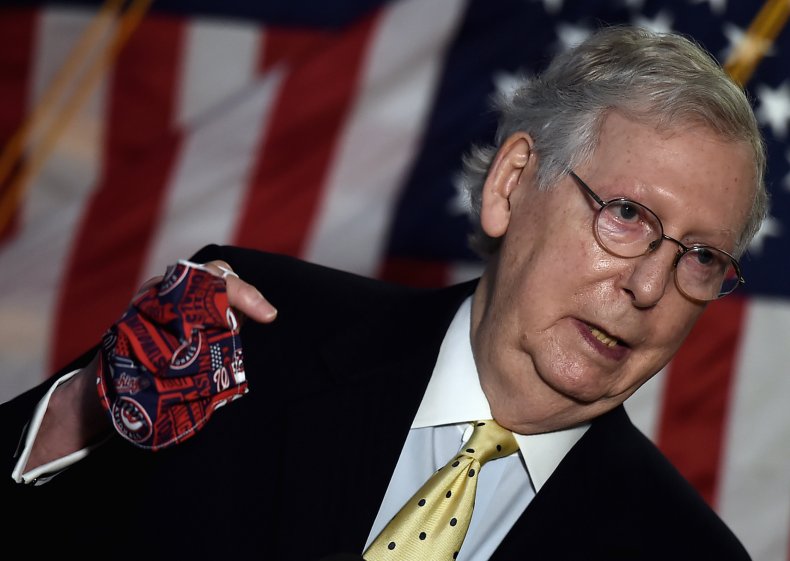 Many GOP lawmakers, and even Treasury Secretary Steven Mnuchin, appear unaware that the weekly jobless supplement ends this weekend rather than at the end of the month. They have repeatedly—and incorrectly—suggested the aid will last through next week.
"I don't have any concerns," said Senator Roy Blunt (R-Mo.), a leadership member, referring to their work pace. "But I've spent a couple of decades thinking we should get everything done sooner."
"This cliff was always going to come," Senator Kevin Cramer (R-Ind.) said. "It's always gonna take Republicans [longer] to get agreement among themselves because we all think for ourselves. It's very easy for Democrats to give all of their proxy votes to Nancy Pelosi and pass something like a $3.4 trillion fantasy."
House Democrats passed a mammoth relief package in May that topped $3 trillion—a non-starter for Republicans. But Democrats dove at the opportunity to paint their GOP colleagues as a party in "disarray" over the inability to reach a swift proposal that Republicans and President Donald Trump can both get behind.
"Republicans have been dithering for months while America's crisis deepens," House Speaker Pelosi (D-Calif.) and Senate Minority Leader Chuck Schumer (D-N.Y.) said in a joint statement Friday, adding they had expected to be working through the weekend. "It is simply unacceptable that Republicans have had this entire time to reach consensus among themselves and continue to flail."
Senate Majority Leader Mitch McConnell (R-Ky.) announced Thursday that their proposal wouldn't be released until Monday, ending a day of limbo for GOP senators who were wondering when they could see the bill's text and what exactly would be included. Republicans—unaware of the plans that had some expressing the need for a greater sense of urgency—spent much of the day deflecting reporters' questions about the package's release and its details to say they should ask McConnell, who held his cards close.
Republicans expect their measure to include an extension of unemployment benefits but at a reduced rate—70 percent of a worker's former salary—and for an unknown period of time. Democrats want the full $600 per week enhancement to last through January 2021.
"One thing I'm concerned about is that we end up just taking the pressure off by not using this deadline of unemployment insurance," said one Republican senator. "And given the partisan nature of this place right now, you could see us just not getting to it before the August break, then we're in another campaign in an even more fulsome way."