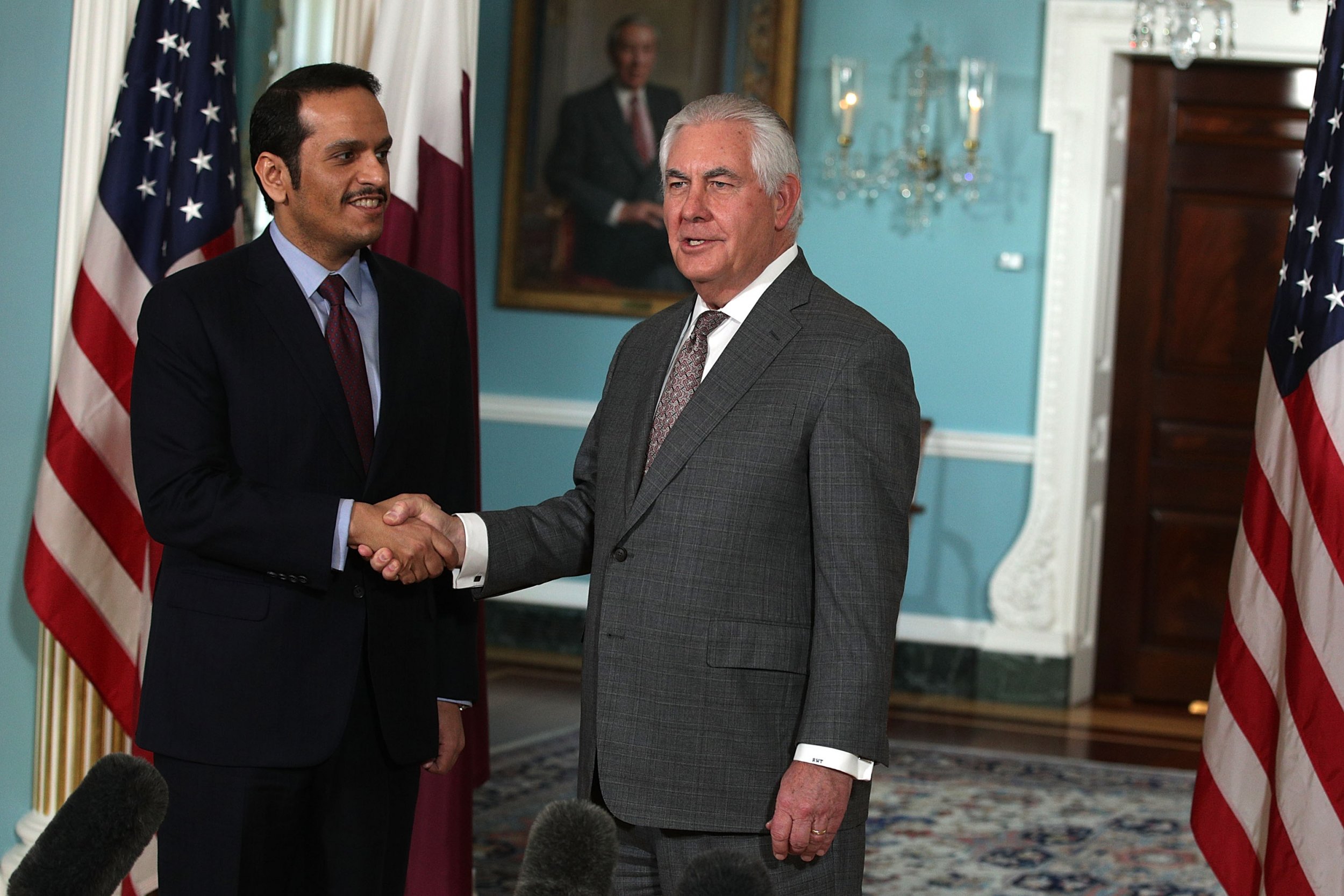 The Trump administration's secret agreement with Qatar to fight terrorism must be declassified so that the public can see what the Persian Gulf nation promised—and whether it is holding up its end of the deal, four Republican members of Congress said Wednesday.
The July deal was part of Secretary of State Rex Tillerson's efforts to broker a truce between Qatar and Saudi Arabia over accusations of funding terrorist groups. But it is unclear what is in the deal.
"The American people have a right to know what steps Qatar's government is taking to deter Islamic terrorism," the GOP Representatives—Jim Banks, Ron DeSantis, Scott Perry, and Robert Pittenger—wrote to Tillerson on December 14 in a letter that was only made public Wednesday.
The four congressmen have seen the deal in a special secure congressional facility, but it remains classified.
"The decision to classify the document while publicly praising Qatar's progress toward upholding its contents makes it impossible for the public to judge Qatar's compliance," they wrote.
Saudi Arabia, Bahrain, the United Arab Emirates, and Egypt imposed sanctions on Qatar in June claiming that the wealthy emirate was funding terrorist groups. The blockade has continued, with Saudi Arabia adding several additional demands of Qatar including that it shut down Al Jazeera, the media company based in the Qatari capital and funded by the state.
Much of the claim of terrorism support is tied to Qatar's diplomatic relations with Iran, which is fighting a proxy war with Saudi Arabia in Yemen. The conflict is part of a broader religious division, with Iran a predominantly Shiite country facing a host of majority Sunni countries led by Saudi Arabia.
There's also evidence that Russian hackers planted fake stories in press outlets to try to inflame relations between the two countries, a charge Russia has denied.
President Donald Trump jumped to Saudi Arabia's side when the dispute began, tweeting his support for the blockade. "During my recent trip to the Middle east I stated that there can no longer be funding of Radical Ideology. Leaders pointed to Qatar - look!" he wrote.
Tillerson has avoided such Trumpian public declarations, but is reportedly pushing Trump to allow him to head to the region over the summer in a bid to strike a deal.
Tillerson couldn't end the sanctions, but he did strike the counterterrorism deal, which he has held up as a sign of progress.
"The memorandum lays out a series of steps that each country will take in coming months and years to interrupt and disable terror financing flows and intensify counter terrorism activities globally," he said at the time of signing.
The agreement provided a public relations win by supporting Trump's claims about Qatar and terrorism funding, but exactly what Qatar agreed to do differently is still not publicly known.
The U.S. launches counterterrorism operations from the Al Udeid Air Base in Qatar, and the Pentagon can ill afford to lose access. Defense Secretary Jim Mattis discussed the ongoing operations in a September visit to Qatar.