While most Democrats think the United States' response to Russia's invasion of Ukraine is adequate, a majority of Republicans want to see tougher action—according to a new poll released Monday from Quinnipiac University.
The survey asked Americans whether they think the steps taken by President Joe Biden's administration to punish Russia for the conflict have been too tough, not strong enough, or just right. Biden condemned Russia's attack as "unprovoked and unjustified" while working with European partners to sanction Russia's financial system.
Eighty percent of Republicans said the administration's response hasn't been tough enough, compared to 44 percent of Democrats who said the same. Most Democrats (47 percent) said the response has been "about right."
The findings come as Republicans on Capitol Hill also hit the Biden administration over its response to the crisis as the president faces record-low approval ratings.
Senate Minority Leader Mitch McConnell, who represents Kentucky, has said the administration's chaotic withdrawal from Afghanistan last summer was an "invitation to autocrats" like Vladimir Putin to move in on Ukraine.
"A combination of perception of weakness, and yearning for empire, is what led to the war in Ukraine," McConnell said last week. "We are where we are."
Several conservatives criticized Biden's sanctions against Russia after its full-scale invasion of its eastern European neighbor—including sanctions against Russian banks, wealthy elites and the Nord Stream 2 pipeline—as too late or that they didn't go far enough in punishing the nation.
Senator Tom Cotton, a Republican who represents Arkansas, told Fox News on Friday that the new measures were "wholly inadequate."
Cotton and other Republicans have called for Biden to sanction Russia's oil and gas sectors. The administration said that remains an option, but it hasn't done so in order to avoid price hikes and other fallout in the U.S. and other nations.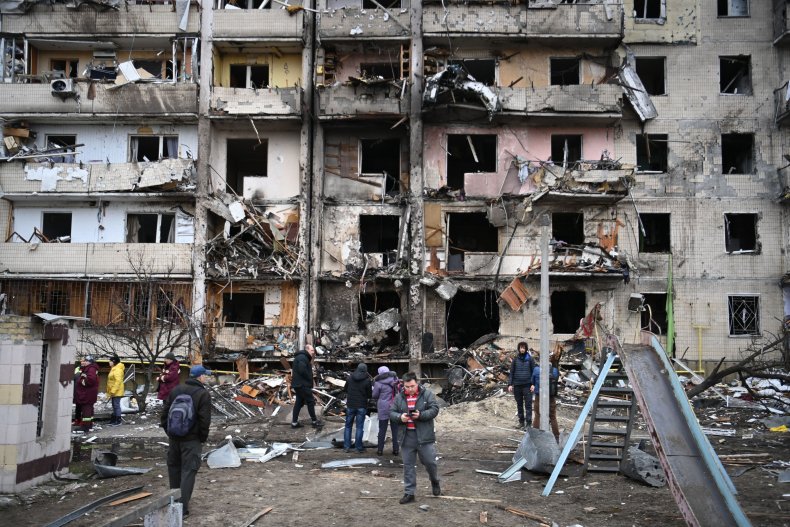 When it comes to aiding Ukraine during the conflict, most Republicans also don't think the United States is doing enough. Sixty-one percent of conservatives who were polled said the administration is doing "too little" to aid the nation. Meanwhile, a majority of Democrats, or 53 percent, said the U.S. has done the right amount.
The Biden administration recently announced it was sending an additional $350 million for immediate support to Ukraine's defense, bringing the total amount of security assistance the U.S. has pledged to Ukraine to more than $1 billion in the past year.
The United Nations has reported at least 536 civilian casualties, including 13 children, since Russia's invasion of Ukraine on February 24. But Liz Throssell, a spokesperson for the United Nations' human rights office, said the real toll is "likely to be much higher."
Quinnipiac University polled 1,364 U.S. adults nationwide between February 25 and February 27. The survey has a margin of error of plus or minus 2.7 percentage points.