Representative Justin Amash announced on Thursday that he was "declaring my independence and leaving the Republican Party," joining a growing list of lawmakers and pundits who have abandoned the GOP in the era of Donald Trump.
In an op-ed published by The Washington Post, Amash wrote that "modern politics is trapped in a partisan death spiral." He encouraged Americans to join him in rejecting the country's two-party system in order to "preserve liberty."
"No matter your circumstance, I'm asking you to join me in rejecting the partisan loyalties and rhetoric that divide and dehumanize us. I'm asking you to believe that we can do better than this two-party system — and to work toward it. If we continue to take America for granted, we will lose it," he concluded.
Amash was the first Republican in Congress to call for impeachment proceedings against President Trump. He argued that special counsel Robert Mueller's report showed Trump engaged in impeachable offenses while in office and that Attorney General William Barr knowingly misled the public about the key findings of the investigation.
In June, Amash stepped down from the House Freedom Caucus, a group of hardline Republicans who have become some of Trump's biggest supporters. Amash was a founding member of the caucus.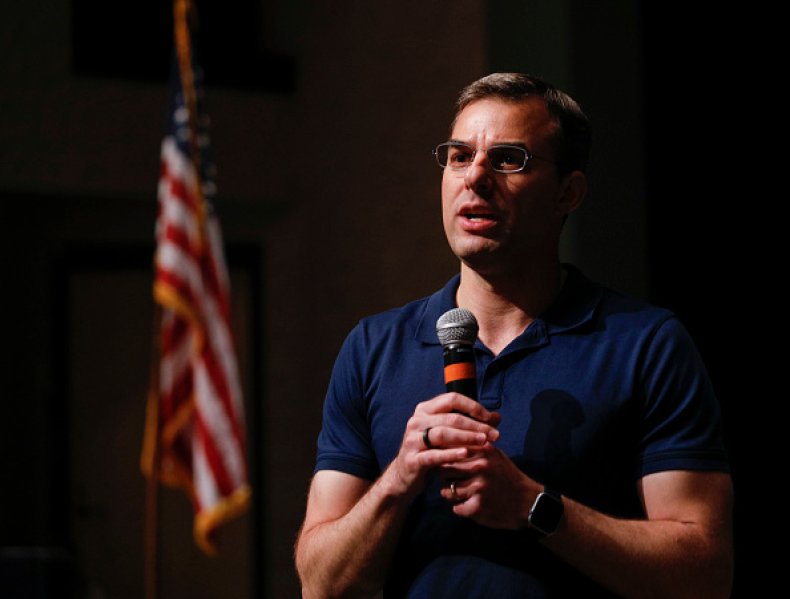 President Trump reacted to Amash's departure on Twitter, calling the Michigan lawmaker "one of the dumbest & most disloyal men in Congress."
"Great news for the Republican Party as one of the dumbest & most disloyal men in Congress is 'quitting' the Party," Trump added.
Here are some of the other notable Republicans that have left the party during Trump's presidency:
George Conway
George Conway, a prominent attorney and husband of White House counselor Kellyanne Conway, left the Republican Party in 2018. Conway has been one of the most outspoken critics of Trump, calling him the most "unfit and incompetent president in American history." Conway even once said he'd rather "move to Australia" than vote for Trump.
Conway supported Amash's departure from the GOP on Twitter, writing: "Couldn't agree more." He also shared a photo of his own form, dated March 2018, asking to be registered with no political party.
Andy McKean
McKean was Iowa's longest-serving Republican before he left the party in April to join forces with the Democrats. He described his departure as a protest of Trump's "unacceptable behavior" and said the president was a "poor example for the nation and particularly for our children"
McKean's departure left Republicans with a narrow six-seat lead over Democrats in the state House. He's announced that he will run for re-election in 2020 as a Democrat.
Tom Nichols
Nichols, a professor at the U.S. Naval War College and at the Harvard Extension School, left the Republican Party in October 2018.
In an essay for The Atlantic, Nichols explained that the confirmation of Supreme Court Justice Brett Kavanaugh was the last straw in his decision to abandon the GOP. He wrote that the party had become so obsessed with "winning" that it had become a "threat to the rule of law and to the constitutional norms of American society."
"As a newly minted independent, I will vote for Democrats and Republicans whom I think are decent and well-meaning people," Nichols wrote.
Joe Scarborough
MSNBC host and former Republican Congressman Joe Scarborough made his departure from the GOP official in October 2017. He made the announcement on Twitter, posting a photo of himself with an elections official in Connecticut while holding a new form showing that he became an independent.
Scarborough had announced he was leaving the GOP in July 2017, condemning the blind loyalty to President Trump.
"You have to ask yourself, what exactly is the Republican Party willing to do?" Scarborough said at the time. "How far are they willing to go? How much of this country and our values are they willing to sell out?"
Steve Schmidt
Schmidt was a veteran GOP strategist who ran John McCain's 2008 presidential campaign before he left the Republican Party in June 2018. Schmidt announced his departure in a series of Twitter posts, in which he condemned the GOP's immigration policies and urged voters to elect Democrats in the 2018 midterm elections.
"29 years and nine months ago I registered to vote and became a member of the Republican Party which was founded in 1854 to oppose slavery and stand for the dignity of human life," he wrote. "Today I renounce my membership in the Republican Party. It is fully the party of Trump."
Peter Wehner
Peter Wehner, a longtime aide to three Republican administrations and a senior fellow at the Ethics and Public Policy Center, announced he was leaving the GOP in February. Wehner attributed his fall out with the Republican Party to the rise of Trump.
"The party of Reagan has been fundamentally transformed. It's now Donald Trump's party, through and through," he wrote in an essay for The Atlantic.
"That's turned out to be quite a problem for me, because from the moment he announced his run for the presidency, I believed that Trump was intellectually, temperamentally, and psychologically unfit to be president," he added.
George Will
Conservative icon and author George Will left the Republican Party before Trump was even elected, stating that the GOP had become a "cult."
"This is not my party," Will said while announcing his departure to the Federalist Society in June 2016. He noted at the time that it was too late for the GOP to nominate someone other than Trump.
"Make sure he loses," Will added. "Grit their teeth for four years and win the White House."