Republicans Who Once Said Trump Wouldn't Try to Fire Robert Mueller Now Mum After Report Says Otherwise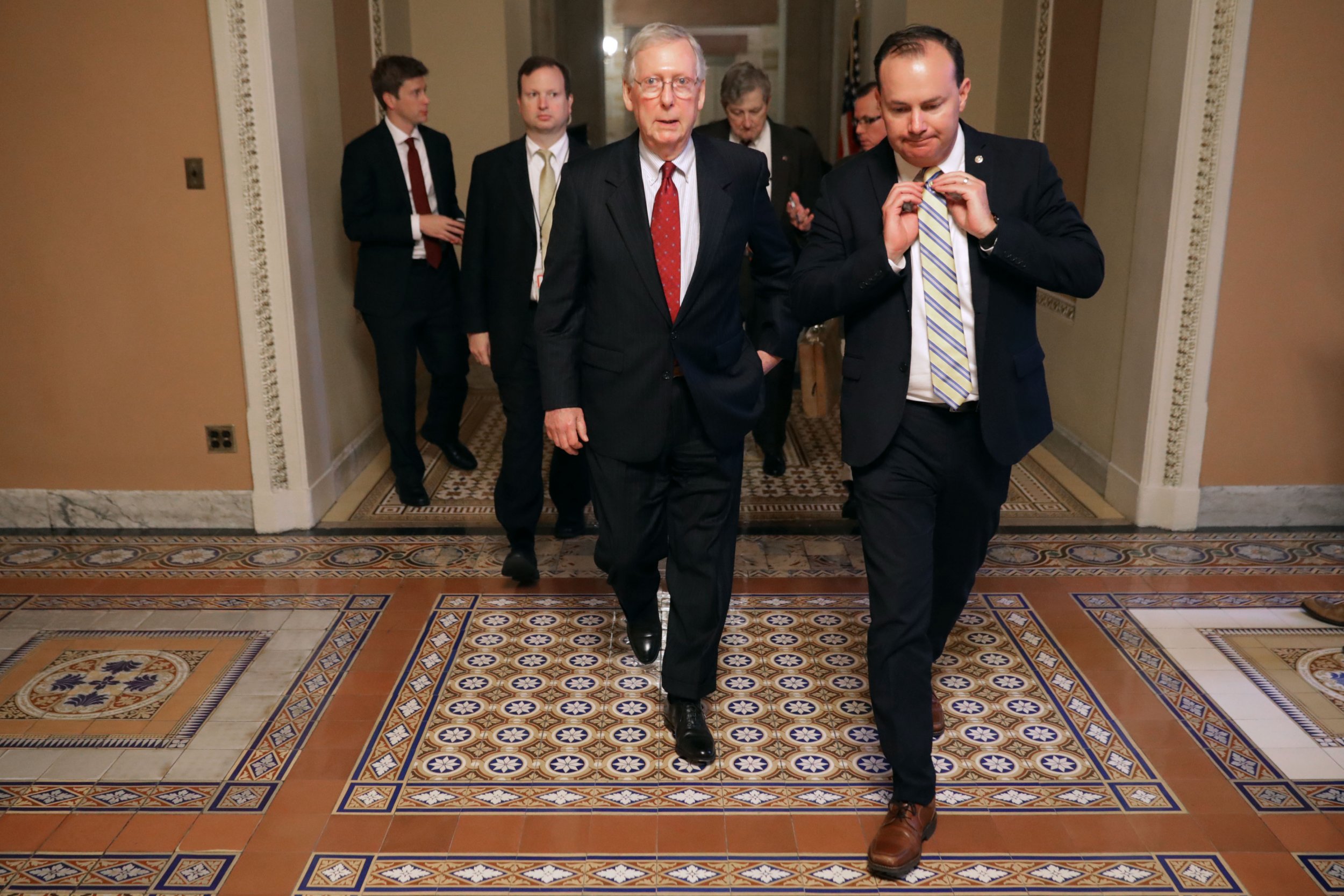 Robert Mueller's 448-page report released Thursday detailed President Donald Trump's unsuccessful attempts to quash the investigation by firing the special counsel. The congressional Republicans who pushed back on legislation that would have shielded Mueller, and those who said such protections were not necessary, are now mum on the issue.
"The President's efforts to influence the investigation were mostly unsuccessful, but that is largely because the persons who surrounded the President declined to carry out orders or accede to his requests," a redacted version of the report said.
Among the incidents investigated for possible obstruction of justice, including the ouster of FBI Director James Comey and the president's conduct involving former National Security Adviser Michael Flynn, was Trump's attempt to have then-White House counsel Don McGahn fire the special counsel.
The report said that in June 2017, Trump directed McGahn to have Deputy Attorney General Rod Rosenstein, who supervised Mueller, "say that the Special Counsel had conflicts of interest and must be removed."
"McGahn recalled feeling trapped because he did not plan to follow the President's directive but did not know what he would say the next time the President called," the report stated. "McGahn did not carry out the direction, however, deciding that he would resign rather than trigger what he regarded as a potential Saturday Night Massacre."
The Saturday Night Massacre referred to October 20, 1973, when President Richard Nixon lost his attorney general and then-deputy attorney general when both refused to fire Watergate investigator Archibald Cox.
During the Mueller investigation, The New York Times reported that Trump planned to and tried to fire the special counsel. This led Democrats, and some Republicans, to push for legislation that would have prevented the president from taking such action.
The Republicans who had blocked this legislation from a vote, or who publicly said it was unnecessary, either did not immediately respond, had no additional comment or did not wish to speak on the record when Newsweek contacted their offices Thursday afternoon seeking comment.
Republican Senators Mike Lee and Majority Leader Mitch McConnell, on separate occasions, last year prevented a vote on a bipartisan measure to protect Mueller. McConnell called the attempts "blatantly unconstitutional" and a "futile gesture," because the then-Republican majority House "would never pass it" and the president "would never sign it."
A statement from McConnell on Thursday said he looked "forward to carefully reviewing the report." His office declined to provide further comment to Newsweek.
Lee did not say Trump wouldn't try to fire Mueller, but he did argue on the Senate floor last year that a bill to protect the special counsel was infringing on the separation of powers and would create a "de facto fourth branch of government." On Twitter, Lee said Thursday that Mueller's report "is finally available and it is definitive: there was no collusion."
Mueller concluded that although his investigation "established multiple links between Trump Campaign officials and individuals tied to the Russian government," and "in some instances, the Campaign was receptive to the offer," he and his team of prosecutors determined that Trump did not criminally conspire with the Russian government to interfere in the 2016 elections. On the obstruction of justice issue, Mueller and his team could not conclude that "no criminal conduct occurred," although they did investigate 11 instances for potential obstruction, according to the report.
As several of his GOP colleagues did, Senator John Cornyn, a Texas Republican, warned Trump in the spring of 2018 not to fire Mueller.
"The president is not going to fire Director Mueller because the repercussions of doing so would be disastrous for his presidency and for the country," Cornyn said, according to the Los Angeles Times. On Thursday, he tweeted "the bet that Mueller would nail Trump didn't pay off. We're left with the rubble."
Senator James Lankford, an Oklahoma Republican and a member of the Senate Intelligence Committee, told ABC News in March 2018 that he did not "see the president firing him.
"I think the White House has said 10 times, maybe more, that they're not going to fire Robert Mueller, they want him to be able to finish the investigation," Lankford said. The Oklahoma lawmaker tweeted that the report's "key takeaway from the first page is that it reaffirms what we already know—Russia tried to interfere in the 2016 election."
Chairman of the Senate Judiciary Committee Lindsey Graham, who is both a close confidant and occasional critic of the president, said on CNN in March 2018 that any attempt by Trump to fire Mueller "would be the beginning of the end of his presidency."
Attorney General William Barr, who oversaw the redaction process of the report, is set to testify before Graham's committee May 1. The chairman applauded Barr's handling of the report in a statement but did not comment on the substance of the report.
Then-House Majority Leader Kevin McCarthy told NBC News in January 2018 "there's not an issue. So, why create one when there isn't a place for it?"
"I don't think there's a need for legislation right now to protect Mueller," McCarthy added. Later that year, he demanded on Fox News that "the Mueller investigation has got to stop." A statement issued by McCarthy Thursday morning immediately following the report's release touted that it did not find Trump conspired with the Russians to influence the 2016 elections.
"It is time to move on," he said. "Americans deserve better than this partisan quest to vilify a political opponent and I urge our Democratic colleagues in the House to put their emotions and opinions aside, and instead use that passion to come to the table and work on real solutions for all Americans."
Senator Susan Collins, a Maine Republican and also a member of the Intelligence Committee, repeatedly pushed for the Mueller protection bill. But she told reporters in August 2018 that while such a move would be "inappropriate," she did not "think there's any chance at all that Mr. Mueller is going to be fired."
In a statement released publicly Thursday, Collins said she "would not be commenting on the substance of the more than 400-page report until I have carefully reviewed it." She supported Mueller testifying before Congress, which House Judiciary Committee Chairman Jerrold Nadler has requested.
This story was updated to clarify that Senator Mike Lee did not say President Trump wouldn't try to fire special counsel Robert Mueller.