Off Year Sees Republicans Take Governorships in Mississippi, Kentucky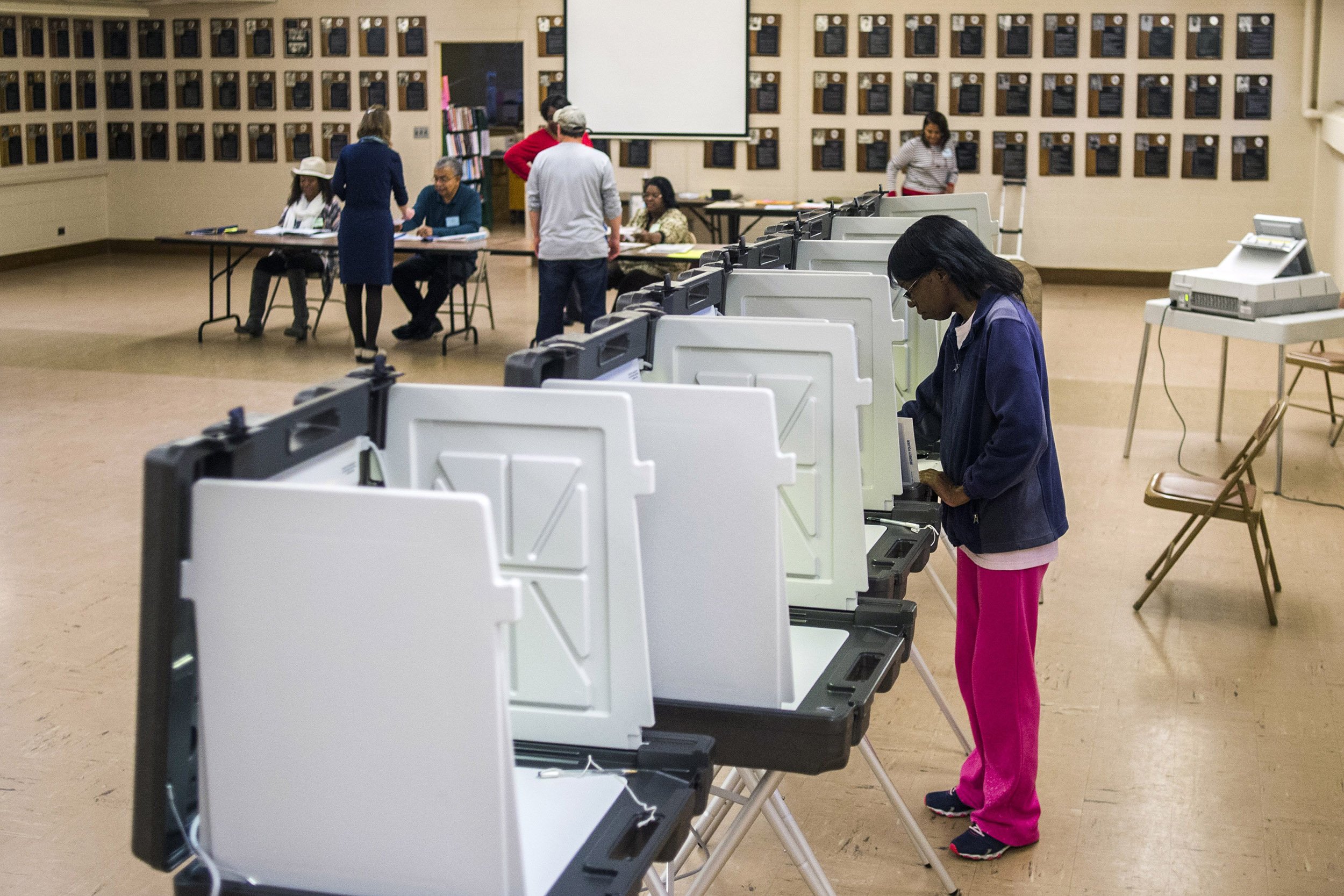 From Ohio to Texas, voters handed conservatives significant wins on Tuesday's off-year election and sent a worrying signal to Democrats about next year's congressional and presidential elections.
More than 300 cities held mayoral elections and governorships were decided in two states, Mississippi and Kentucky, where the GOP candidate had been behind in every public opinion poll before winning the governorship for only the second time in recent decades.
In some parts of the country, voters also considered social issues, including whether to legalize marijuana in Ohio (they didn't) and whether to repeal a nondiscrimination measure in Houston, Texas (they did).
A gubernatorial runoff in Louisiana is scheduled for November 21 between Republican U.S. Senator David Vitter and Democratic state Representative John Bel Edwards.
Off-year elections historically have had low turnouts. This week in Kentucky, for example, where 3.2 million people are registered to vote, less than 1 million residents cast ballots, according to the Lexington Herald Leader.
Here are some of the Election Day winners.
Kentucky
The Bluegrass State has a new Republican governor, after arguably the country's most competitive race this week. In a surprising win, Matt Bevin, a self-funded, millionaire investor with the support of the Tea Party movement, pulled ahead of two-term Democratic state Attorney General Jack Conway, 53 percent to 44 percent. In last year's Senate primary, fellow Republicans had mocked Bevin's loss to now-Majority Leader Mitch McConnell.
Bevin opposes the Kentucky's expansion of Medicaid under the Affordable Care Act, which could affect the health insurance of 400,000 residents who were able to get coverage under the 2011 law. Kentucky's steep drop in the uninsured to 8.5 percent has been cited by the Obama administration and Democrats as one of the law's most dramatic successes. He will succeed Democratic Governor Steve Beshear, who is at the end of his office term, and become just the second Republican governor in Kentucky in more than 40 years.
The Republican fervor carried over into the election for state auditor. Republican Mike Harmon, a state legislator, knocked Auditor Adam Edelen, a Democrat, from a second term.
Michigan
Former state Republican Representatives Todd Courser and Cindy Gamrat lost bids to regain their old seats lost in September amid a sex and cover-up scandal. Republican Gary Howell, a school board president, won the 82nd District GOP Primary against Courser, who previously admitted to misusing state House resources and to having an extramarital affair with Gamrat. Republican Mary Whiteford defeated Gamrat.
Mississippi
Republican incumbent Governor Phil Bryant easily was elected to a second term in the country's other gubernatorial campaign. He beat his little-known opponent, Democrat Robert Gray, who is a truck driver. Bryant ran on a platform of economic development and making changes to education policy, spending $2.7 million on his campaign, according to The Clarion-Ledger. Gray spent about $3,000.
Bryant also defeated Reform Party's Shawn O'Hara, who spent about $300 to challenge him.
Virginia
Another significant battle was in the Old Dominion State. Every state legislative seat in the Senate was open to fill on Tuesday. The races marked some of the most expensive ever in the state Senate. Candidates and outside groups spent over $10 million and aired more than 20,000 TV advertisements, according to the Associated Press.
But Republicans ultimately won control of both houses of the state legislature with the same narrow 21-19 majority they held before the elections. Democratic Governor Terry McAuliffe fell short of building momentum for his party and key issues—expanding Medicaid and passing gun-control legislation—ahead of the 2016 presidential election.
Republican state Senator Frank Wagner defeated Democrat Gary McCollum in the contest the GOP needed to help keep control of the upper chamber in Virginia's 7th District.
Democrat Jeremy McPike's win of the open 29th District Senate seat in the Washington, D.C., suburbs is being credited largely to about $2 million worth of broadcast, cable and digital advertisements by Everytown for Gun Safety, a group created by former New York City Mayor Michael Bloomberg to seek passage of laws at all levels to reduce gun violence. His opponent, Republican Hal Parrish, is endorsed by the National Rifle Association, which is based in Virginia.
"Gun safety prevailed on the NRA's home turf because we made sure that every voter knew where the candidates stood on gun safety," John Feinblatt, president of Everytown, said in a statement Wednesday. "It's just the latest example of how candidates are paying the price for being out of step with Americans who demand that their leaders take action to prevent gun violence."
But Democrat Dan Gecker, who also was backed by Everytown, was defeated by Republican Glen Sturtevant in a critical 10th District Senate race. Backing candidates at the state level was a tactic viewed to counter failed efforts to pass gun-control legislation at the federal level.