Republicans Worried Trump's Attack on Yovanovitch Backfired, Wishes He'd Cease Attacks, CNN's Acosta Reports
President Donald Trump's online attacks at current and former White House officials testifying at the impeachment hearing have worried fellow Republicans about optics.
Jim Acosta, the senior White House correspondent for CNN's The Situation Room, reported that the president's Twitter remarks about former Ukraine Ambassador Marie Yovanovitch during her impeachment testimony further marred the president's image.
"The president will be back to keeping an eye on the impeachment inquiry as the public hearings get underway," said Acosta. "Mr. Trump's fellow Republicans are hopeful he will cease his targeting of administration officials who are testifying. As one Trump campaign source told me over the weekend about the president's attacks late last week, it was not a, quote, 'good day for the GOP.' There are a lot of Republicans who feel like that backfired."
Yovanovitch, a decorated diplomat who spent 33 years with the State Department, gave testimony on Friday while Trump tweeted in real time disparaging things about her tenure.
"Everywhere Marie Yovanovitch went turned bad. She started off in Somalia, how did that go? Then fast forward to Ukraine, where the new Ukrainian President spoke unfavorably about her in my second phone call with him. It is a U.S. President's absolute right to appoint ambassadors," tweeted Trump.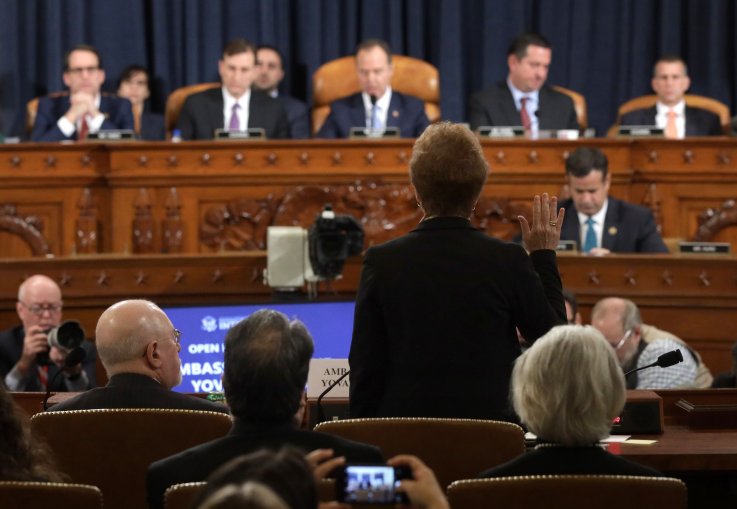 "Of course, presidents appoint ambassadors, but people don't insult people, especially when they're giving testimony before the Congress of the United States," House Speaker Nancy Pelosi said in a CBS News Face the Nation interview. "I think even his most ardent supporters have to honestly admit this is the wrong thing for the president to do."
Jennifer Williams, aide to Vice President Mike Pence, was one of the staffers who took notes during Trump's July 25 call with Ukrainian President Volodymyr Zelenskiy. Early in November, she testified that the president's push for Ukraine to open investigations was "unusual and inappropriate."
On Sunday, Trump tweeted about her, too.
"Tell Jennifer Williams, whoever that is, to read BOTH transcripts of the presidential calls, & see the just released ststement from Ukraine. Then she should meet with the other Never Trumpers, who I don't know & mostly never even heard of, & work out a better presidential attack!" wrote Trump.
From her interview, Pelosi said, "The words of a president weigh a ton" and that the president "should not frivolously throw out insults, but that's what he does."
"I think part of it is his own insecurity as an impostor. I think he knows full well that he's in that office way over his head. And so he has to diminish everyone else," she said.
Republicans Worried Trump's Attack on Yovanovitch Backfired, Wishes He'd Cease Attacks, CNN's Acosta Reports | News