Mom Reveals How She Made $545 in a Day by Flipping Thrifted Furniture
The old saying "One man's trash is another man's treasure" can certainly be applied to this talented woman who takes unwanted furniture and repurposes it with a stylish makeover.
Former teacher McKay Floyd of Atlanta has been flipping outdated and unloved furniture and giving it a sleek new look for the last two years, as she hunts for shabby fittings to give a new lease of life to.
The U.S. Environmental Protection Agency found that in 2018, 12.1 million tons of furniture were thrown out by consumers, but just 19.5 percent of that was combusted to create energy. The vast majority, 80 percent of the thrown-out furniture, was put in landfills.
In recent years, upcycling has become increasingly popular as people become more aware of their environmental impact. By reducing waste and recycling something old, upcycling is a sustainable way to give something a new aesthetic and is usually more cost effective.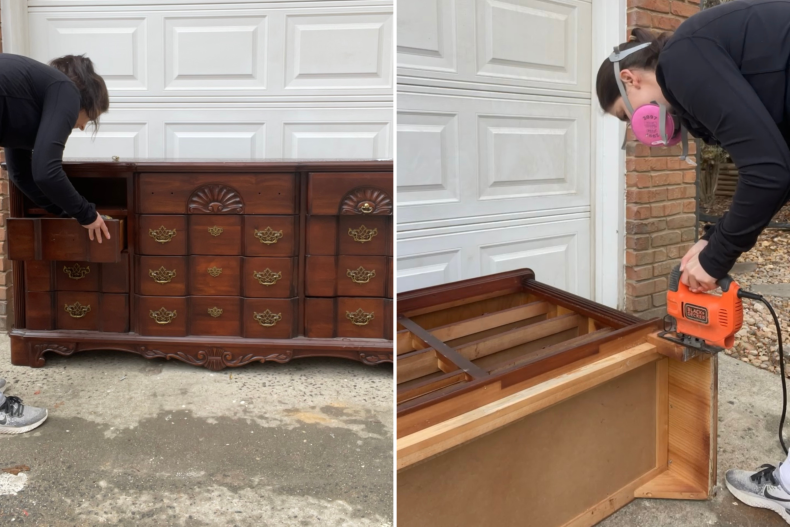 Since quitting her job as an elementary school teacher, Floyd has begun upcycling unwanted furniture and she now focuses on two to four new projects each week. The mom loves hunting for new pieces at Goodwill thrift stores at cheap prices before giving it a total makeover and selling it to a new home, making a hefty profit in the process.
One piece Floyd found was an antique-looking oak dresser, which she bought for just $30 before spending time touching it up and making it completely unrecognizable, all in 24 hours.
Floyd spoke to Newsweek about her latest project: "This dresser was from Goodwill, and it was a pretty smooth flip in all. I start off by looking at it and considering what could be cut or removed to give it a more modern look.
"Then, I consider a possible color that's popular, and then most times I will update the hardware because that's just an easy way to update any piece.
"I bought it for $30 and it sold for $575, so from picking it up to selling it, that was just 24 hours. I don't know the lady who bought it, but I assume she was an interior designer because she bought it for her client's home."
Floyd regularly shares progress videos of the pieces she flips on her TikTok account, @designsbymckay, most often doing dressers and drawers, but she's also upcycled side tables, beds and kitchen tables too.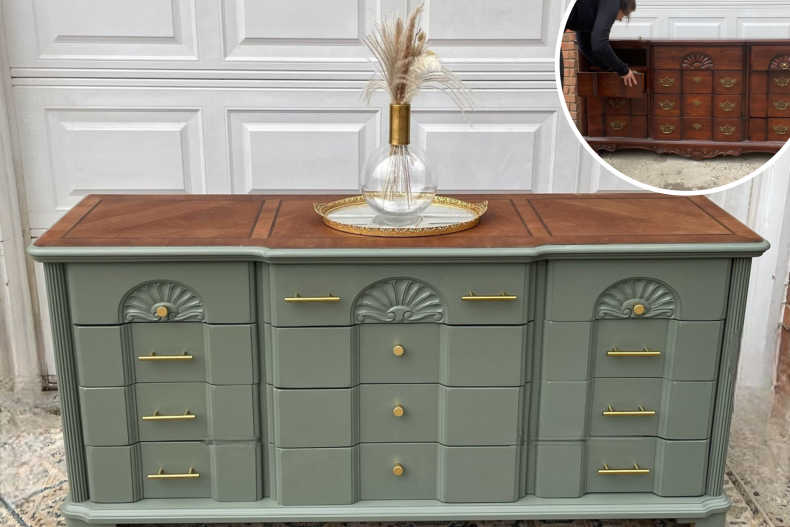 This dresser was once a dark oak with gold finishes, but Floyd began her work by sanding the dresser down to remove the glossy stain. She followed up by painting the dresser a sage green color, and staining the top to give it a dark brown contrast. This was all finished off with new metallic handles to create an elegant style.
The video already has 4.4 million views since being posted on February 10, and Floyd has been inundated with positive comments about her crafty design.
"I've had a lot of positive comments and so many people love it. I can't say I have a specific piece which stands out as a favorite design, but I do love anything that's modern and sage," she told Newsweek.
Many TikTok users shared their appreciation for Floyd's work by commenting on her video. One person wrote: "I love the natural wood on the top with the color on the rest, looks great!"
Another person pointed out how good it is for an old piece of furniture to get a new design, commenting: "Love that you recycle old furniture, it's amazing! Beautiful job!"
Do you have any amazing videos or pictures of your creations you want to share? We want to see the best ones! Send them in to life@newsweek.com and they could appear on our site.