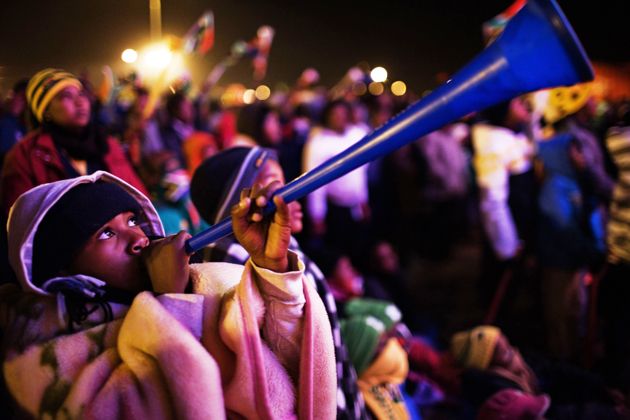 Oh, vuvuzela. We hardly knew ye. It's a word most people in the world had never heard until early June, when people started Googling the word en masse in conjunction with the first days of the 2010 World Cup. But the "instrument," popular among fans at South African soccer matches (and now all World Cup games throughout the country) has actually been around for at least 20 years. Despite having a loyal following, the plastic horn that sounds like a swarm of bees has created quite a bit of negative buzz. Players say they can't concentrate. Coaches want them banned. Fans watching at home have turned down their TV volume. Some broadcasters even scrambled to create a vuvuzela-free filter on audio commentary. Seems like the only ones who love the vuvuzela are those blowing them. And, the Internet. The Internet embraced the vuvuzela warmly and has yet to let go. But the Web can be a fickle lover. Like most darlings of the Internet, we predict the vuvuzela's viral fame will die out quickly and quietly. As we prepare to never hear of this fad again after the final World Cup game this year, we bring you the vuvuzela, a life in YouTube.
Every TV outlet covering the World Cup contributed its "What's That Buzzing Sound?" story. When The Daily Show's John Oliver headed to South Africa, he focused his reporting almost solely on the vuvuzela. The public quickly began to understand, and saying the word was no longer countered with a puzzled look. A clever Twitter account was quickly created. YouTube even added a vuvuzela button to its video player so users could hear that now-familiar sound on top of their favorite Taylor Swift or giggling-baby video. The video below might feature the most successful vuvuzela pun to come from this World Cup: "Voulez vous vuvuzela with me?"
As the horn gained popularity this summer, plenty of people wanted one. They quickly popped up on Craigslist, Amazon.com and other shopping sites. (Those who couldn't find them, made them.) But owning one doesn't mean you can instantly toot your own horn. Turns out these things aren't that easy to play. Below are more tutorials, just a sampling of the hundreds that have popped up on YouTube.
This guy knows the excitement of the World Cup doesn't have to end once the winning team hoists that trophy. In this video, Vuvuzela Guy storms Manhattan, blasting the buzzing sound for even the tiniest of events. New Yorkers have to learn to deal with lots of noise, which is why the hot-dog vender seems completely unfazed by his strangely enthusiastic customer.
Be it on a BlackBerry, Android, or iPhone, nearly any smart-phone user can annoy his friends and co-workers with a virtual vuvuzela year-round. Although it kinda just sounds like a phone in vibrate mode that's on the fritz, customers can now have that infamous vuvuzela sound at the ready. We predict this novelty program will surely be deleted from these phones in no time, to make room for more important apps like fart sounds or pretend Polaroid cameras.
A meme is only as strong as its weakest parody. And the vuvuzelafication of the World Cup has led to plenty of parody videos featuring the buzzers, including some pretty impressive ones, like this jab at Lord of the Rings. The comedians at CollegeHumor re-edit the trailer of Invictus to include the South African horns. Certainly, no Internet meme would be complete without its own Downfall parody. Below, the trailer of Twilight's Eclipse gets the vuvuzela treatment, too.
So does the hit videogame Guitar Hero.
This clever video flicks at the controversy surrounding the horns at World Cup games, including whether they really are part of South African culture and if broadcasters, such as ESPN itself, should have filtered out the noise.
This creative stop-motion animation video features a tiny Lego man fed up with fellow Lego buddy's vuvuzela playing, while simultaneously reminding viewers of the most talked-about moment of World Cup 2006.
Few things are cuter than a baby or toddler trying to play a plastic horn that is the length of its entire body. It takes a lot of lung power to blow a vuvuzela, and this baby's breath really packs a punch. Others, (see below) just try to imitate the buzzing sound by yelling or growling into it. Still, adorable.
Call it a spoiler alert, but dog + vuvuzela = mad dog. Or terrified dog. Or dog that will ruin your breakables as it angrily tears through your house. The video below, however, is maybe the best reason not to stick a plastic horn in your dog's face. Dog, one; vuvuzela, zero. (Warning: you might not want to watch if you're easily grossed out.)
This video features what seems like a completely earnest attempt at making very serious music with the vuvuzela. Still kinda sounds like a soccer stadium to us, though. But playing a vuvuzela in a tuxedo should be rewarded because at least it's original. A parody of a made-for-TV CD-compilation commercial imagines an "all-girl vuvuzela cover band" playing the greatest hits of the decade ... on vuvuzela, of course. In the clip below, a man plays a set of vuvuzelas fused together like some sort of pan flute:
When YouTubers aren't trying to make music with vuvuzelas, they're making music about vuvuzelas. The following video unites hundreds of people in fan garb holding hundreds of vuvuzelas, while still maintaining a catchy hook, despite being completely sung in Portuguese.
Some more loving musical tributes to the vuvuzela are here and here.
Vuvuzelas for BP
It's loud, it can be annoying, and its sound can terrify an unsuspecting bystander. So it was only a matter a time before people started blowing them in their friends' ears from mere inches away. In this clip, a World Cup fan shocks his buddy in the stands, as commentators laugh on. Careful now, these things can cause hearing loss.
More unsuspecting friends and relatives get "vuvuzela'd":
Vuvuzelas for BP
Vuvuzelas for BP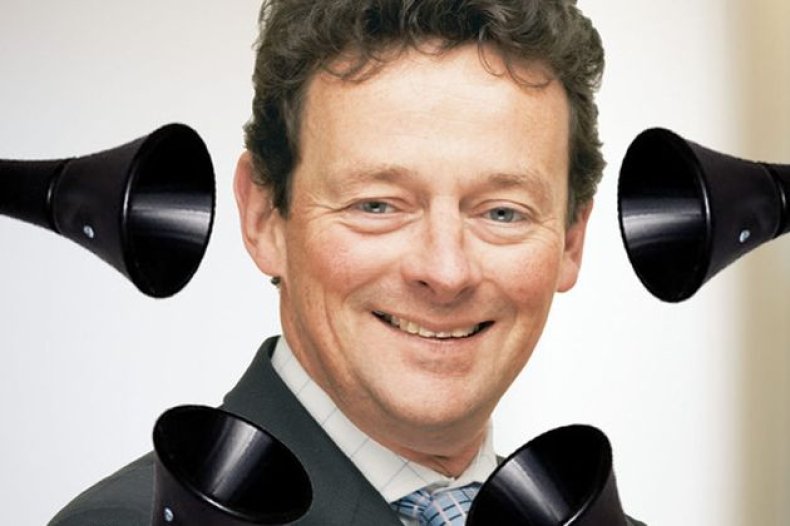 Perhaps the ultimate vuvuzela prank will come if Brooklyn video producer Adam Quirk has his way. Quirk is raising money online to hire 100 vuvuzela players to play nonstop in front of the BP headquarters in London, to protest the company's response in the wake of the Gulf Coast oil spill.
Perhaps a clue that this vuvuzela fad is totally over: once the Blendtec guy gets hold of your product, you know you've almost hit the end of the Internet. Surprisingly, blending a vuvuzela into plastic dust is just a minor hum compared to a single horn screeching in your ear. Ah, the sound of silence.