Requiem for the Dead: Tribute to Jerry Garcia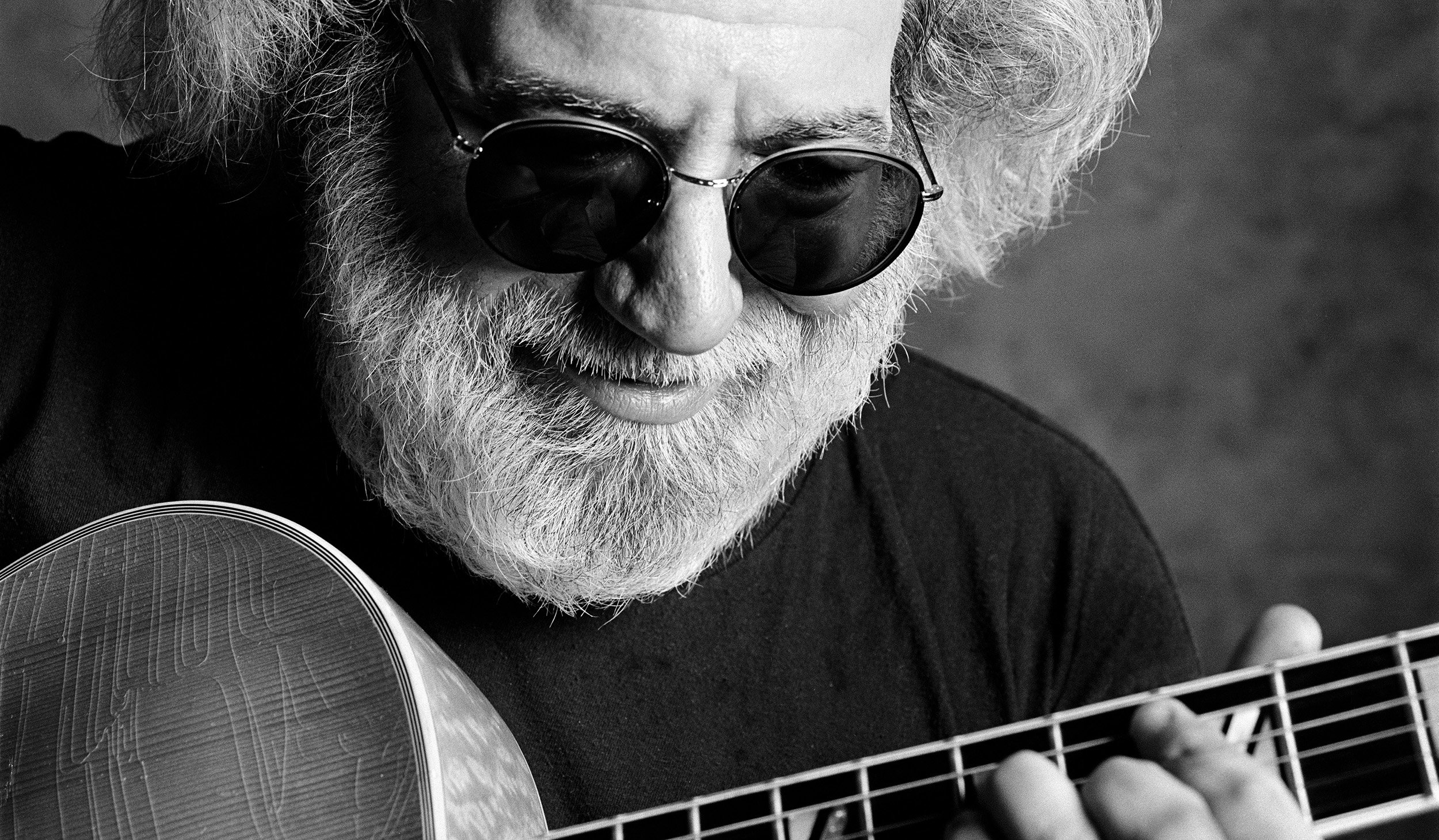 Immediately after Jerry Garcia's death, Newsweek wondered in its August 20, 1995 issue whether the Grateful Dead could survive without its intrepid leader.
Jerry Garcia did his last recording session a month ago, on a Sunday in July 1995. A week before, the Grateful Dead, Garcia's band for three decades, had just played what would be the last of their thousands of shows with him, at Soldier Field in Chicago, to a sellout crowd. The Dead hadn't played to an empty seat in years—that is, until the dancing started. In fact, they were probably the most popular concert attraction anywhere, ever. Those who were there say it wasn't their best show: The band sounded listless, and Garcia forgot even more words than usual. Now, in the Marin County, California, home studio of the mandolinist David Grisman, an old friend he'd met in the parking lot at a bluegrass festival in 1963, he sang Jimmie Rodgers's "Blue Yodel No. 9" for a Rodgers tribute album being put together by Bob Dylan. It took a few takes to nail the song, but that was to be expected. Garcia didn't look well, but he sounded fine—even pulled off the yodel. Who knew the guy could yodel?
The next day, Garcia checked into the Betty Ford Center in Rancho Mirage, California, to try to deal with the heroin habit he'd been trying to deal with for years—that and his smoking and his eating. He had a million projects in mind, he'd gotten married for a third time just last year, the oldest of his four daughters was getting married next month—he was to give away the bride—and he wanted to be clean for the Dead's fall tour. He'd been busted in 1985 with coke and heroin, and his health had been intermittently lousy since 1986, when he came out of a diabetic coma so neurologically scrambled [that] he had to relearn guitar.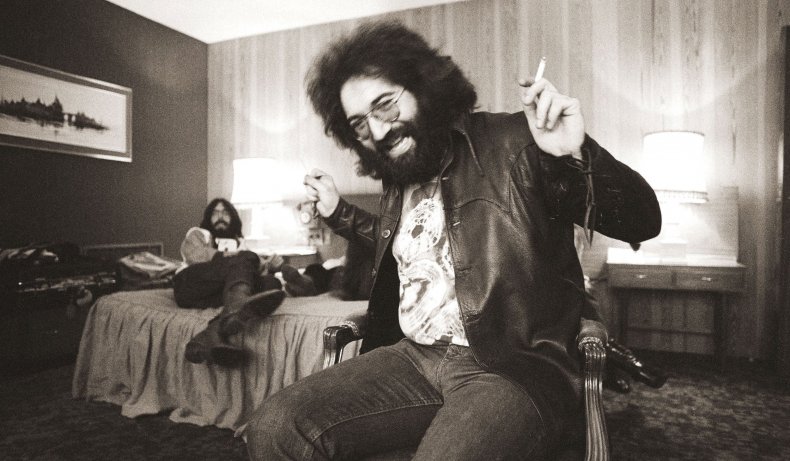 Unlike the Beatles, the Grateful Dead never truly crossed over into mainstream musical culture: Their best-selling single, "A Touch of Grey" (1987), went only to No. 9, and you'll never hear "Dark Star" in an elevator—unless you've been taking something you shouldn't. Yet the avuncular-going-grandfatherly Garcia had gradually become as beloved a personage as the charming, changeable, sometimes overearnest John Lennon. His thin, shaky voice suggested that you, too, could sing with a band if you loved doing it enough; his guitar-playing radiated joy and ease, without a trace of guitar-hero affectation; and his increasing portliness, a trial to Garcia himself, clearly gave others a sense of comfort.
By Wednesday afternoon, high-profile fans—Peter Jennings, Bill Walton, Al and Tipper Gore—were returning (or not returning) reporters' phone calls, and everyday folks were planning candlelight vigils in every city big enough to rate a Strawberries or a Record Town. A remarkable number of Deadheads are in their teens and 20s—both rebels in search of the ultimate alternative band and well-adjusted members of families who'd gone to Dead concerts the way other families went to water parks. Some are even drug-free: the Wharf Rats, a Deadhead 12-step group, help each other resist the various temptations for sale in the parking lots at Dead shows.
By Thursday, there was a mad dash for the merchandise. In Chicago, one Tower Records sold out all its Dead and Garcia CDs; Marshall Field's moved 114 Garcia-designed ties in a day and a health-food supermarket ran out of Ben & Jerry's Cherry Garcia ice cream. Celebrity reactions ran true to form. Timothy Leary called the Dead "the finest and largest disorganized religion in the world."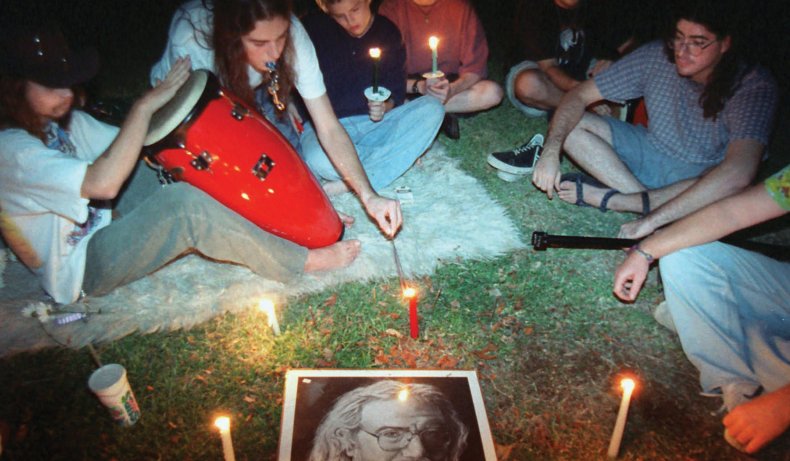 Jerry Garcia created and left behind a following most musicians only dream of: the young and the young at heart, hungry for authenticity, intelligent and forbearing, predisposed to be pleased and up for anything you could throw at them. The sort of people you'd expect because any performer's audience is a mirror. The burnouts and bottle-throwers belonged, too, even though everybody wanted to cast them out: Garcia was the first to admit that something inside him craved his own undoing. But the few feral fans, like Garcia's own abused body, were finally a small part of the story. If Garcia didn't get his threescore and ten, he still made more music, touched more hearts and lifted more spirits than seemed humanly possible. At his small, private funeral in California last Friday, Garcia's bandmates and buddies from decades on the road and on the bus—Dylan, Kesey, Grisman, Bill Walton—played tunes, talked about him and gave him a standing O. And his wife wanted them to know he'd died with a smile on his face.
This article appears in Newsweek's Offical Collector's Edition, The Grateful Dead, by Issue Editor Tim Baker.