Rescue Dog That Was Abused 'Found His Happiness' Singing in New Home
A pet owner has shared her rescue dog's unusual talent for singing and dancing.
Toby Blu, who lives with owner Leslie Marin and her husband in California, is now 3-and-a-half years old after being rescued at just 5 weeks.
"We were looking for a male small-breed puppy," Marin told Newsweek. "We had lost our 16-year-old boy Lucky just a month earlier. I was in a deep depression because of the loss. I wasn't looking for a replacement—just a friend to give us purpose, someone who would keep us busy."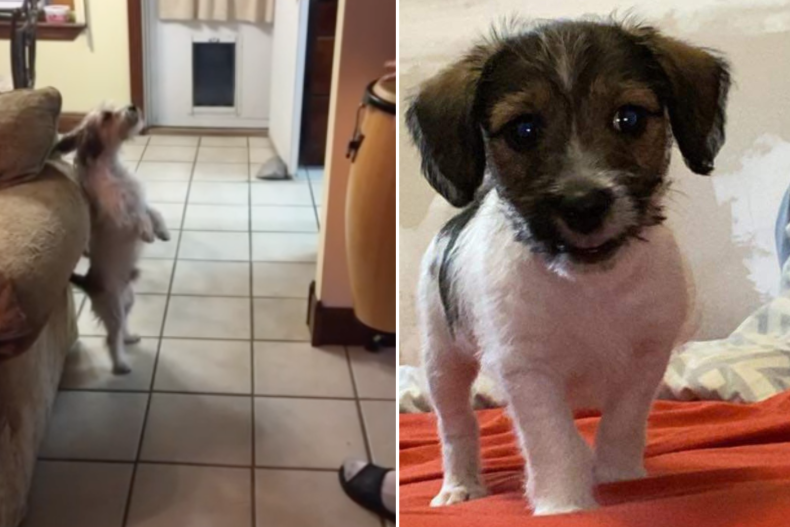 Marin searched online for a new canine friend and, the next day, received a message about a puppy.
"I asked her to send me a picture of the little guy, and when we saw him, we both fell in love," said Marin. Before long, the couple were off on the five-hour drive to pick up Toby.
"He was very fearful on the ride home because I'm sure he had been through abuse at the hands of his previous owner," Marin said. "We were determined to give this puppy a better life."
On the way home, the couple decided he would be called Toby and spent time getting to know their new family member.
"It took Toby a while to trust my husband because the man who had custody of Toby previously is the one who abused him," said Marin. "Toby is a very friendly little guy who loves to take baths and listening to music."
In a video sent to Newsweek, Toby's talent is evident. He joins in with a musical jam, howling and barking and dancing around the room on his hind legs.
Evidence shows that dogs are pretty musical. In 2016, the singer Laurie Anderson drew crowds of canines to Times Square in New York City where she performed a concert that could be heard only by dogs, many of which seemed to enjoy it.
In a study of 50 dogs at a rescue shelter, psychologist Deborah Wells of Queens University, Belfast, Northern Ireland, recorded dogs' reactions to different types of music. Heavy-metal songs often prompted barking and agitation, while classical music appeared to have a calming effect on the pups.
"One day, my husband started playing the harmonica and bongos. Toby started singing and dancing his little heart out," said Marin. "We were shocked and so happy that he found his happiness here with us."
Toby is now super-confident and loves children, cats, dogs and birds—which is lucky because, at home, he lives with 12 rescue cats and two birds.
Do you have funny and adorable videos or pictures of your pet you want to share? Send them to life@newsweek.com with some details about your best friend and they could appear in our Pet of the Week lineup.