Rescue Dog Abused in Hoarder House Gains Viral Attention With 'Llama Neck'
A dog with an unusually long neck has captured hearts online this week after pictures of the pup went viral on social media.
Our canine friends are a big part of the online world, from adorable pet moments caught on camera to owners' inventive hacks for looking after animals—and human fascination with dogs' quirks only increased during the COVID pandemic when many people acquired dogs.
In the U.S., approximately 70 percent of households report owning at least one pet, the most popular of which is a dog with 69 million homes saying they have at least one canine family member.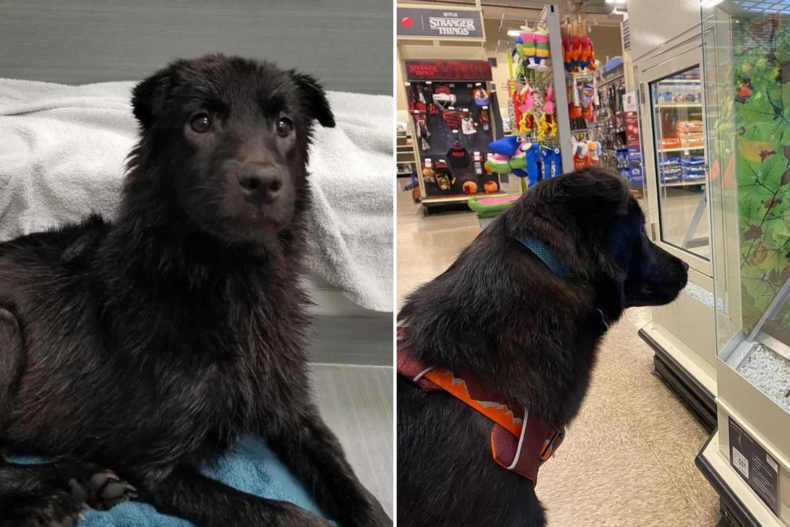 From cross-breed rescues to pure-bred pooches, it is difficult to find two dogs that look the same. One dog's unusual looks have captured attention online after Redditor u/Chromatic_mediant shared pictures on the popular r/WhatsWrongWithYourDog forum.
With more than 26,000 upvotes, the post read: "This is my dog Badger, she has a llama neck," alongside pictures of the adorable dog.
Badger lives in Southern Arizona with owners Rachel Clemmer and her partner Nathalie. A little over two years old, her breed is undetermined, but a recent doggy DNA test did reveal that she is mostly Chow Chow with a little bit of Chihuahua, Rottweiler, and a slew of other breeds mixed in—including a dash of coyote.
Her long neck captured her owner's attention right away. Clemmer told Newsweek: "It became easily noticeable after putting a collar on her. We were surprised she wasn't part whippet or greyhound. We thought she was a puppy and would grow into her features, but she's actually her full size and just has goofy proportions."
"She's like a tall otter," shared one commenter: "I love her," while another Reddit user said: "You should put like 12 collars on her."
Another reply said: "Love it, it's kind of elegant," and one commenter wrote: "That's quite an elegant neck she has there."
Badger has lived with her owners for about a year after she was adopted from their local shelter.
"She was brought in with 26 other dogs as part of a hoarding case," said Clemmer: "They were neglected and mistreated, and Badger has several injuries from abuse. Her tiny ears are as a result of stunted growth from a head injury, she has four BBs embedded in her body and she will eventually need a hip replacement—likely from being kicked."
When she first came home, her loving new owners had to give her a bath due to grime completely embedded in her coat, when the noticed that she had bald spots throughout her body from stress.
"We're happy to report she is now well-nourished and loved," said Clemmer: "[She] has a healthy shiny coat, and is receiving monthly injections for her hip."
Badger's goofy and joyful personality has delighted her new owners, and her "llama neck" is just an added bonus. "She spent her first few weeks with us being very reserved and frightened. The llama neck was retracted and her tail was down," recalled Clemmer: "She quickly warmed up to us and took to her canine older brother Traveler, and is now the happiest dog we know."
Always curious, Badger likes to make new friends, howls along to music, and literally jumps for joy when dinner time comes around.
After going viral on Reddit, her newfound internet fame has delighted her owners: "Anyone who knows us knows we're completely obsessed with Badger," said Clemmer: "It's wonderful to see other people loving on her too."
Do you have funny and adorable videos or pictures of your pet you want to share? We want to see the best ones! Send them in to life@newsweek.com and they could appear on our site.