Rescue Efforts Slowed by Drenching Rains in Haiti, as Quake Death Toll Soars Past 1,400
Drenching rains from Tropical Storm Grace have slowed rescue efforts in Haiti, bringing further devastation to the country after a 7.2-magnitude earthquake on Saturday left more than 1,400 dead and tens of thousands homeless.
The tropical storm swept over Haiti on Monday and into Tuesday, bringing heavy rains and strong winds to the country's southwest region, which was hit hardest by the quake. Heavy downpours were also felt across Port-au-Prince, the nation's capital.
On Tuesday, Grace regained tropical storm status after falling to a less severe level of a tropical depression days earlier, according to the National Hurricane Center. It said parts of Haiti could see up to 15 inches of rain on Tuesday before the storm moves on.
"The immediate threat is still torrential rainfall across Hispaniola overnight, which will likely cause severe flooding in some locations," according to the hurricane center's forecast, adding that the possibility for mudslides in Haiti and the Dominican Republic remains high.
Haiti's civil protection agency said Monday that the rain was complicating the lives of tens of thousands of people displaced by the earthquake, and asked capable civilians to assist authorities in sheltering those who have been displaced, NBC News reported.
The arrival of Tropical Storm Grace came on the same day that the country raised the death toll from the earthquake to 1,419, along with over 6,000 people injured. Hospitals are now overwhelmed with treating injured patients, and many wounded individuals have had to lie outside in sweltering heat as authorities rushed to shelter them from rains, the Associated Press reported.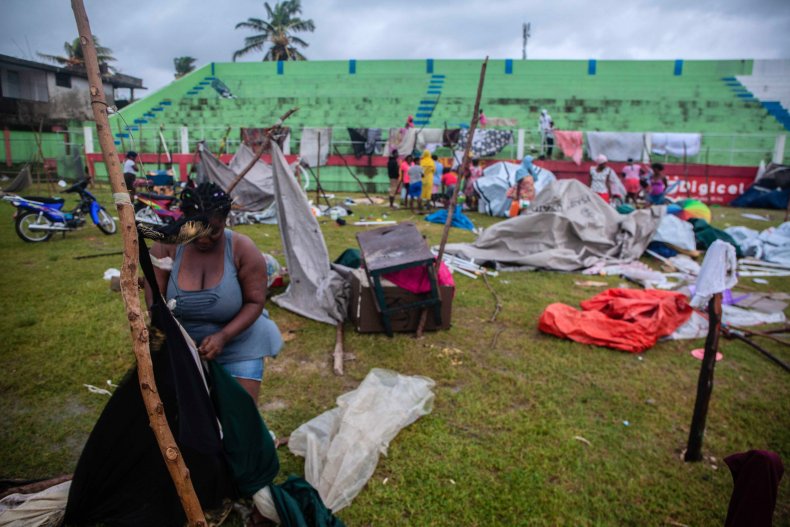 Officials said the powerful earthquake destroyed over 7,000 homes and damaged nearly 5,000, leaving some 30,000 families homeless. Hospitals, schools, offices and churches also were impacted. Desperate individuals have begun searching through collapsed houses and damaged buildings for scrap metal to sell, as money, fuel and food run out, the AP reported.
Prime Minister Ariel Henry declared a one-month state of emergency for the whole country on Saturday. He said he was rushing aid to areas where towns and hospitals were almost completely razed by the damage.
"We are in an exceptional situation," Henry told reporters Monday afternoon as the tropical storm approached, according to the AP.
The earthquake and tropical storm hit just one month after President Jovenel Moïse was assassinated, and amid the nation's attempt to slow the spread of the coronavirus.
As the poorest country in the Americas, Haiti has been suffering from political instability, gang violence, and food scarcity for decades. United Nations relief workers said Monday that they've even had to negotiate with gangs in the country's southern peninsula to allow humanitarian convoys to pass through.
The Caribbean nation has also faced devastation from previous earthquakes and hurricanes. In 2010, a massive 7.0-magnitude earthquake struck Haiti, killing an estimated 300,000 people and rendering over 1 million homeless.
"Little more than a decade on, Haiti is reeling once again," UNICEF Executive Director Henrietta Fore said Sunday. "And this disaster coincides with political instability, rising gang violence, alarmingly high rates of malnutrition among children, and the COVID-19 pandemic—for which Haiti has received just 500,000 vaccine doses, despite requiring far more."
U.S. President Joe Biden authorized an immediate aid response on Saturday. USAID Administrator Samantha Power, who is overseeing the efforts, said Sunday that a search and rescue team was sent from Virginia at the request of Haiti's government.