Rescue Puppy's Unusual Way of Sitting on Couch Melts Hearts: 'I'm Crying'
Dogs never fail to amuse us with the weird and wonderful things they do, and Jennifer Kalczewski's pup Dudley is no exception. A video of him sitting in an unconventional position on some furniture has gone viral on TikTok.
The video, which was posted January 7 to the social media platform by the account @studleydoorightandmylo, has delighted many viewers, with over 930,000 views so far.
The post shows Dudley looking alarmingly comfortable while straddling two couches, but he is dangerously close to falling off both. The nonchalant expression he displays during this balancing act amused viewers.
Should You Adopt a Dog?
Assimilating a rescue dog in your home can be hard work, especially if it has a history of being abused or never had a stable home before. But it can be an extremely rewarding experience.
The Worldwide Veterinary Service's website points out that adopting a pet can give a dog, cat, horse or other animal a second chance at life. Adopting pets instead of shopping from breeders has become increasingly popular, and there is an "Adopt, Don't Shop" national campaign that raises awareness about the benefits of rescue adoptions versus buying the animal from a pet store.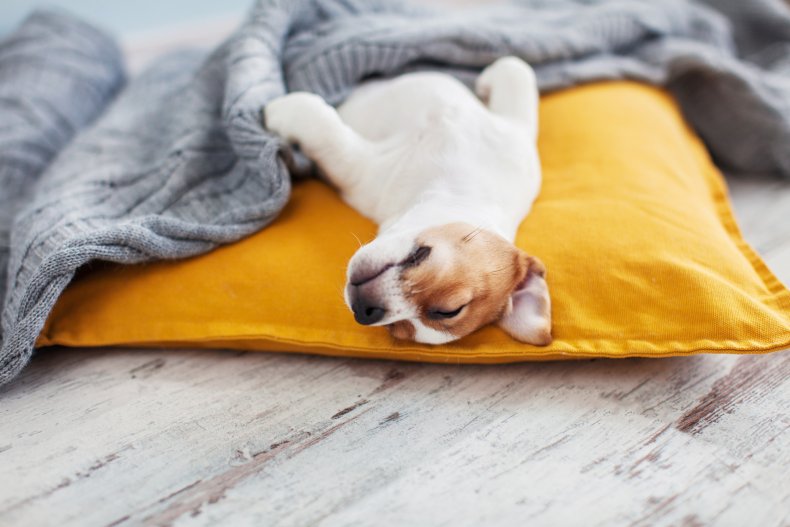 "By adopting, you are giving the dog a safe and loving home in which it can learn to be a happy and healthy dog again," the charity says.
The pup's owner responded to a comment underneath the TikTok post by saying Dudley is a rescue dog, a mixed breed of beagle, Chihuahua, terrier, Pekingese, papillon and American Eskimo.
The TikTok account appears to chronicle the lives of both Dudley and his sibling Mylo, with all the posts tracing the dogs' growth and sharing their funny moments.
From earlier posts, it's obvious that Dudley was adopted as a puppy or very young adult dog. It is unclear whether Mylo was also adopted from a shelter, but the pair appear to have developed a great bond.
The video had certainly left viewers laughing, with one TikTok user commenting underneath the post: "Dogs are so funny." And user Danielle wrote: "I'm crying."
Another user, Lauren, wrote: "I woke up from my nap to my dog falling through a position like this."
Newsweek reached out to @studleydoorightandmylo for comment.
Do you have funny and adorable videos or pictures of your pet you want to share? Send them to life@newsweek.com with some details about your best friend and they could appear in our Pet of the Week lineup.