Rescue Ship With Dozens of Migrants Loses Registration, Told It Cannot Dock
France told a migrant rescue ship with 58 people aboard that it would not be allowed to dock at one of its ports on Tuesday, two days after Panamanian authorities took away the vessel's registration.
"For the moment it's 'no.' On matters of migration, the issue must be handled firmly and clearly, and European rules respected," France's Finance Minister Bruno Le Maire told BFM TV, according to Reuters. He added that, under European law, rescue ships are to anchor at the nearest port.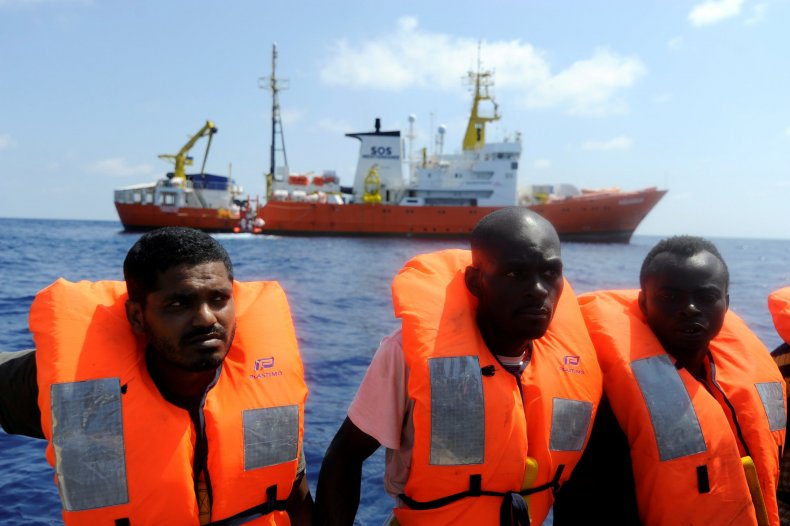 The Panama Maritime Authority told the Aquarius 2 on Sunday that its registration would be taken away. Some charities are blaming the Italian government for the move that could stop the last migrant rescue ship in the central Mediterranean from operating.
"For the past two years, European leaders have claimed that people should not die at sea, but at the same time they have pursued dangerous and ill-informed policies that have brought the humanitarian crisis in the Central Mediterranean and in Libya to new lows," Karline Kleijer, the emergency coordinator at Doctors Without Borders said, according to a press release.
"This tragedy has to end, but that can only happen if EU governments allow the Aquarius and other search and rescue vessels to continue providing lifesaving assistance and bearing witness where it is so desperately needed," she continued.
Italy's right-wing Interior Minister Matteo Salvini, who has repeatedly turned the rescue ship away in recent months, denied that his government had anything to do with Panama's decision. "I don't even know Panama's area code," he tweeted.
Salvini has been strongly opposed to allowing migrants into Italy since his populist government took office in June, calling NGO-operated rescue ships a "taxi service."
Carrying more than 600 migrants, the rescue ship was first denied by the politician shortly after he assumed power in June.
"Malta takes in nobody. France pushes people back at the border, Spain defends its frontier with weapons. From today, Italy will also start to say no to human trafficking, no to the business of illegal immigration," Salvini wrote on Facebook after the Mediterranean island refused to take the ship in, according to the Independent.
An estimated 21,024 migrants have arrived in Italy by sea from January 1 to September 23 of this year, a report from the United Nation's International Organization for Migration said. This is a sharp decrease from the 103,302 migrants who arrived in Italy during the same time frame in 2017. The report also detailed that 1,260 people have died this year while crossing the Central Mediterranean route where Aquarius operates.
Rescue Ship With Dozens of Migrants Loses Registration, Told It Cannot Dock | World