Rescue Team in Surfside Condo Collapse Demobilized After 6 Firefighters Test Positive for COVID
At least six firefighters working on rescuing victims from a condominium collapse in Surfside, Florida, were demobilized after testing positive for COVID-19, as the death toll from the accident rose to 24 on Saturday.
Miami-Dade Fire Chief Alan Cominsky said Friday that the task force with the positive cases had been dismissed and the firefighters are now in isolation.
"We do have our medical procedures in place," Cominsky said, the Miami Herald reported. "Unfortunately, this is another challenge but something we've been dealing with for over the past year."
The incident adds to a growing set of obstacles that rescue teams have already faced, including the dangerous task of sifting through piles of broken concrete and steel, as well as inclement weather, spontaneous fires, and the looming threat of Hurricane Elsa.
On Thursday, rescue teams were forced to pause their search for nearly 15 hours due to structural and safety concerns.
Over 350 first responders have been tirelessly searching for survivors after Champlain Towers South, a 12-story oceanfront condo, partially collapsed on June 24. By Saturday, the remains of two more victims were recovered from the rubble, bringing the death toll to 24. An additional 124 people are still unaccounted for.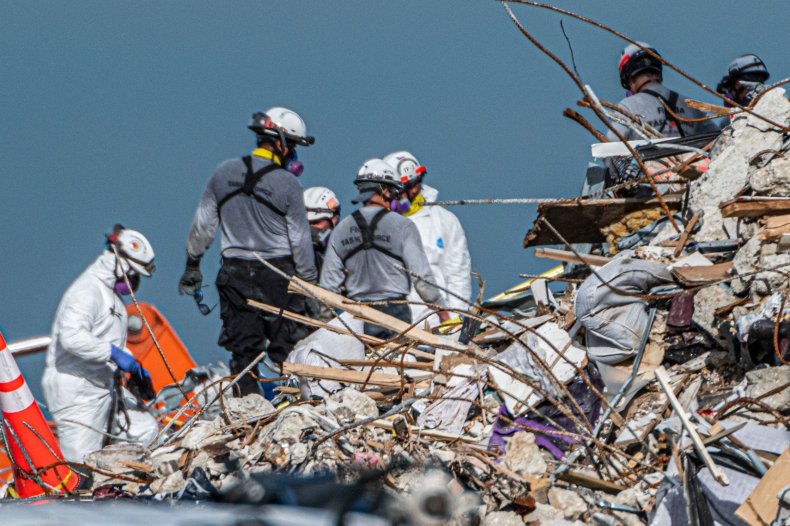 Among the victims includes the 7-year-old daughter of a Miami firefighter. Miami-Dade Mayor Daniella Levine Cava said pulling the young child from the wreckage was particularly difficult for rescuers who have been working through heat and rain for over a week.
"It goes without saying that every night since this last Wednesday has been immensely difficult for everybody and particularly the families that have been impacted," Levine Cava said Friday. "But last night was uniquely different. It was truly different and more difficult for our first responders.
The mayor said Friday that she signed off on the demolition of the standing remains of the Champlain Towers South building, as engineers consider the safest way to tear down the remaining portions that have been deemed structurally unsound.
"This afternoon I signed an emergency order authorizing the demolition of the building in the interest of public health and safety as soon as the engineers sign off on the next steps to begin the demolition process," Levine Cava stated.
Fire Rescue Assistant Fire Chief Raide Jadallah told family members during a Saturday morning briefing that the building would be brought down "as soon as possible. First thing tomorrow," the Associated Press reported.
Most of the 188 people who have been accounted for and escaped the building alive have been told that they will likely not return to their former homes to retrieve their belongings from the remaining part of the building.
"They are going to basically have to start all over again," Michael Capponi, the president of nonprofit Global Empowerment Mission, told the Associated Press. "Some of them don't have insurance, and they've lost everything they worked all their lives for."
The deadly collapse has also led authorities to sweep the area for additional buildings that may be at risk of falling due to age or structural damage.
On Friday, officials ordered that Crestview Towers condominium, located in North Miami Beach, be immediately closed and evacuated due to major safety concerns.
Updated 2:43 PM, to reflect that the death toll has risen to 24.