Rescue Dog's Improv Performance With Owner's Band Delights Internet
A dog with a love for performance has delighted the internet this week after his owner shared a video of him on stage during a performance in 2016.
Brennan Gilmore shared the video on Reddit on Wednesday and it has received more than 107,000 upvotes and hundreds of comments. In the caption, Gilmore explains: "My dog was sleeping backstage and wandered out during the encore to sing with the band."
The video shows rescue dog Jack howling along with the bluegrass band Walker's Run at a theater in Little Washington, Virginia.
Gilmore told Newsweek: "Jack was a rescue from Rockbridge County, Virginia and I suspect he had been abused as he was very scared and completely silent when we met. He stayed that way for a year, not barking, howling or so much as whispering.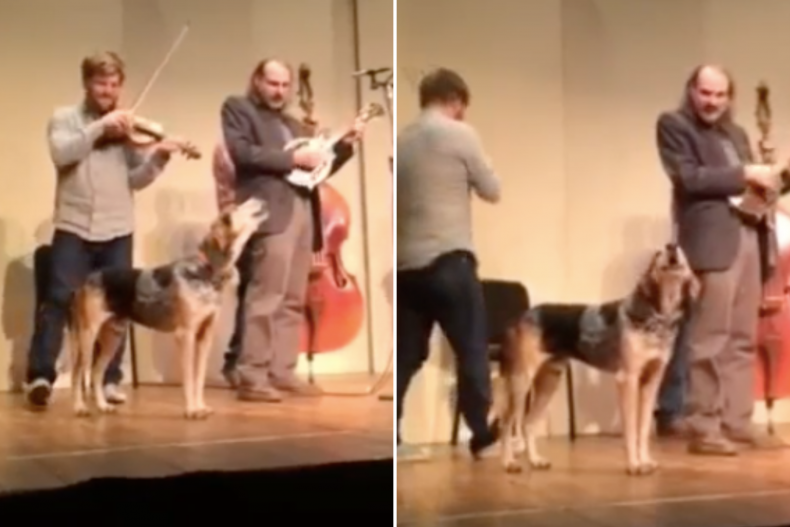 "We spent a lot of time together as I slowly got him to trust that the world could be a loving place," said Gilmore. "One night I was playing guitar and when I picked up a side and played a little run Jack made a sound for the first time. He had heard the howling sound of the glass on the steel strings and emulated it, nearly note for note."
From then on, every time Gilmore and his band played music, Jack joined in. Taking his pup from Africa to Washington and back home to Blue Ridge: "He became not just my best friend, but my ever-present musical partner," said Gilmore.
Delighted by the video, Reddit users flooded to the comments to share their thoughts.
"Dog is barking in some insane time signature. Uber talented," a commenter wrote. Another said: "This is exactly the type of dog I'd expect to be in a bluegrass band."
"He'd heard that before. Lots of rehearsal time," said one commenter. Another user wrote: "This video is a great pick-me-up! Thank you."
In 2002, psychologist Deborah Wells of Queens University, Belfast examined the influence of music on our canine friends. Studying 50 dogs housed in a rescue shelter, Wells recorded their reactions to hearing pop music, classical music and heavy metal. Her findings revealed that while some music did not appear to cause any reaction in the dogs, heavy-metal tunes often prompted baring and agitation, while classical music appeared to have a calming effect.
The video was filmed in 2016 during a show where Gilmore could not find anyone to watch Jack during their short weekend tour so had bought him along. His bed was backstage and during the band's encore, Jack found his way onto the stage to join in.
"We started the tune and after about a minute I noticed everybody in the audience pulling out their phones to take pictures," said Gilmore. "Then we looked over and saw Jack had found his way out to the stage. He looked at us, looked at the audience, and then let her rip."
"This just fills my soul. Everything about it is awesome," wrote one Reddit user. "This may be the greatest thing I've ever seen," said another.
Jack was diagnosed with cancer in 2018 and given six months to live. The incredible pooch outlasted the prognosis and finally passed away in fall 2020.
"His spirit is very much alive in the music," said Gilmore. "I have a guitar with an engraving of him on the headstock and a few of his ashes inside so he's still always singing when we play."
Do you have funny and adorable videos or pictures of your pet you want to share? We want to see the best ones! Send them in to life@newsweek.com and they could appear on our site.