Is Research Into the Oil Spill's Impact Skewed?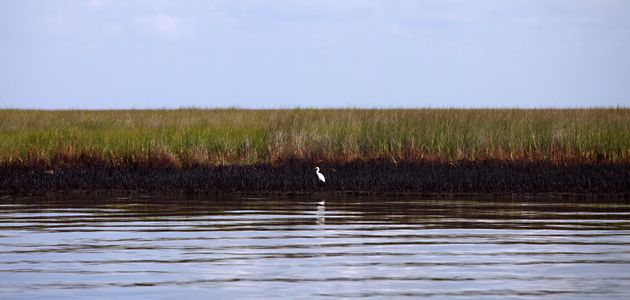 Since the gulf oil spill first began gushing on April 20, Linda Hooper-Bui's research group has repeatedly run up against the authorities. In May, a Fish and Wildlife Service officer confiscated insect samples that one of Hooper-Bui's students had been collecting on a publicly accessible beach in southern Alabama. On research trips in Louisiana, her students have been stopped by sheriff's deputies—one time after driving 150 miles—simply for attempting to study the ecological impact of oil and dispersants. Time and again, they were told that they couldn't access their normal research sites unless they were working for BP or the government.
Four months since the Deepwater Horizon met its fiery demise, and five weeks since the oil flow was stopped, virtually all the fundamental questions about the oil's long-term ecological impact remain unanswered. Studying such a complex event takes time even in the best of cases. BP and the government, gearing up for a potential court battle over how much the oil company will have to pay in fines and for restoration, are hiring researchers to find answers, but those who are trying to remain independent, like Hooper-Bui, are being caught in a hard place. They are outside the official Natural Resource Damage Assessment (NRDA) process, but often without sufficient funding—or in some cases access—to conduct the research they believe is needed. At stake is the rigor and comprehensiveness of the data that will inform our ultimate understanding of the spill's effects, and most important, that will determine how risks of future spills could be reduced and responses improved.
When it comes to allocating funds, the federal focus has been on the NRDA, a three-phase process led by the National Oceanic and Atmospheric Administration (NOAA) that seeks to gauge the ecological impact of the spill and then determine the cost of restoring damaged ecosystems. In the preassessment, currently ongoing, studies are conducted to establish whether harm has occurred to public resources. In the injury-assessment phase, the damage is quantified. Finally, a restoration plan is developed and implemented. BP, along with the government, currently has scientific representatives involved in the process (under the Oil Pollution Act of 1990, the responsible party must be invited to participate in the assessment, on the theory that it will minimize disagreements over data collection later).
Yet despite all the data that have been collected and analyzed as part of the NRDA, it's inherently a legal process, not a scientific one. The government is seeking to extract as much restoration funding from BP as is reasonable and possible, while BP is seeking to minimize its liability. As a result, the process is traditionally conducted quietly, since the lawyers want to keep their cards close to the vest in case there is a court battle.
After a public outcry for greater disclosure, the process is shaping up to be a bit more open this time than it has been in the past. Most of the researchers signing on to collect data for either BP or the government at this point aren't being asked to sign strict confidentiality agreements, and can publish or present their data publicly as long as they provide notification in advance.
All preassessment data will be released publicly once the NRDA moves on to its second stage, and NOAA is releasing some of it already (in cases where BP has agreed on the sampling plan and has already seen the resulting data). But outside experts working independently of the NRDA process are nevertheless concerned that their knowledge of what's being worked on behind closed doors is too incomplete for them to be able to make suggestions or design their own research to complement the NRDA's scientific efforts.
There are 23 sampling plans posted so far, but those are only the ones that have been fully approved, which means signed off on by the NRDA trustees (NOAA and several other agencies) and BP, and verified to ensure they're complete and accurate, says NOAA spokesman Tom Brosnan. Other sampling plans are in the works or already being carried out in the field, but are not yet publicly available. "We're working on getting more of them up there," Brosnan says.
Stanley Senner, a scientist with the Ocean Conservancy and a veteran of the response to the Exxon Valdez spill in 1989, says that he'd like to see a summary of all the ongoing projects—at least a two-sentence abstract of what each one is about—even if their completed plans haven't been released yet. "I'm not interested in the government doing things that compromise the legal case and their ability to get an appropriate claim for restoration funds, but they could be more forthcoming without compromising the legal case," he says.
The NRDA doesn't play to the strengths of the scientific method, which lie in collaboration, the exchange of ideas with the broader community, and peer review, say some experts. "Science doesn't operate well in the legal context—we've seen it time and time again," says Christopher D'Elia, dean of Louisiana State University's School of the Coast and Environment. "In fairness, both BP and the government are trying to open up the process within the constraints of the law." Still, he believes there's a systemic problem, and that a process separate from the NRDA, one in which researchers compete for funding on the basis of their project ideas, would produce higher-quality science in the wake of disasters like this one.
Outside the NRDA, scientists have had difficulty getting the funding needed to conduct their own research. Many researchers jumped to begin collecting data as soon as the spill began but quickly burned through their discretionary funds, Hooper-Bui says. Since then, a major source of funding has been the National Science Foundation (NSF), which offers rapid-response grants to scientists in emergency situations, shortening what is normally a lengthy, months-long process to only a few days. The NSF has granted a total of $10.2 million to 90 projects so far, including the Woods Hole Oceanographic Institution study of the oil plume, published last week. But the NSF's budget is limited, and that money doesn't go as far as the amount might suggest.
Perhaps most promising was the $500 million research initiative that BP offered to fund over the next 10 years, with no strings attached, back in May. Soon after, the company distributed a total of $30 million to several institutions, including Louisiana State University, the Northern Gulf Institute in Mississippi, and the Florida Institute of Oceanography, and established an oversight panel of distinguished scientists to independently review project proposals and distribute the remaining $470 million to researchers. But that hasn't happened. "The rest of the money has been stalled and is being held hostage to the political process," D'Elia says. According to a June 16 White House fact sheet, BP was directed to "work with governors, and state and local environmental and health authorities to design the long-term monitoring program to assure the environmental and public health of the Gulf Region." The reason for this directive is unclear (the Office of Science and Technology Policy did not respond to a request for comment in time for publication of this article), but some academics suspect that the administration had been lobbied by state officials who wanted to make sure that in-state institutions would get most of the federal funding. D'Elia and other scientists are frustrated, but are hopeful that the holdup in distribution of funds will be resolved.
Perhaps the biggest reason why a comprehensive scientific assessment is so essential is that this spill, the first to release oil at such depth, and the largest accidental spill in history, provides a unique chance to study the long-term effects not only of the oil itself but of the response to it. "If we can't figure out as a result of this spill a better way to make decisions about use of dispersants, for example, we've missed an enormous opportunity," Senner says.
Not only that, but information on long-term effects gleaned from this event should allow for more informed environmental-impact statements and thus feed into future decisions about where to drill. "I think that for strategic reasons, this country has got to drill more—it's not something that I particularly relish as an environmental risk—but there is no other choice; we'd bring our economy to a screeching halt," D'Elia says. "But when it comes to deepwater drilling, we need to know what the risks are, what happens when there is a spill, and how to deal with it."
At a June symposium that brought together many of the scientists studying the spill, Bob Gagosian, president of the Consortium for Ocean Leadership and a former director of Woods Hole Oceanographic Institution, urged scientists to think about—and study now—what they would want to know about oil spills if they were to wake up in 2025 and hear that the biggest spill in history had occurred.
"We are going to have future spills, we are going to have future blowouts," Gagosian says. "The problem with human beings is that they're people, and make mistakes. Let's face it: the U.S. gets a third of its domestic oil from the gulf, so that's not going away tomorrow morning. We need that oil."
Hooper-Bui, who recently published an op-ed in The New York Times advocating for better funding and access for independent researchers, is still at work studying the impact of oil and dispersants on insects that inhabit affected beaches and marshes. She's gotten by so far with the help of an NSF rapid-response grant, but that covers only the collection of samples—she still lacks the funds to analyze them once they're back in the lab. "Literally, we are filling freezers with samples," she says. "We need a lifeline."