Researchers Develop Way to Fight COVID Using Inhaler to Dispense Antibodies
Researchers with two pharmaceutical companies are nearing the final stages of developing an inhaler they said offers an antibody-based treatment to COVID-19.
Augmenta Bioworks and TFF Pharmaceuticals' new technology offers the potential to both treat COVID symptoms and potentially stop new infections from occurring. The technology involved could also be used to make the vaccine more accessible abroad, a TFF researcher said.
The antibody used for the inhaler, AUG-3387, binds to the COVID virus, including the Delta variant, neutralizing it in lab studies conducted outside living organisms. The treatment works through the antibody being converted into a dry powder, which is then delivered to the lungs through an inhaler.
Developed as an alternative to infusion treatments that require IVs, the inhaler delivers the treatments straight to the patient's lungs and could be taken in a patient's home and does not require refrigeration. However, Dale Christensen, leader of TFF's clinical programs, said the key to the technology is its ability to administer antibodies through solid form rather than the more standard liquid application.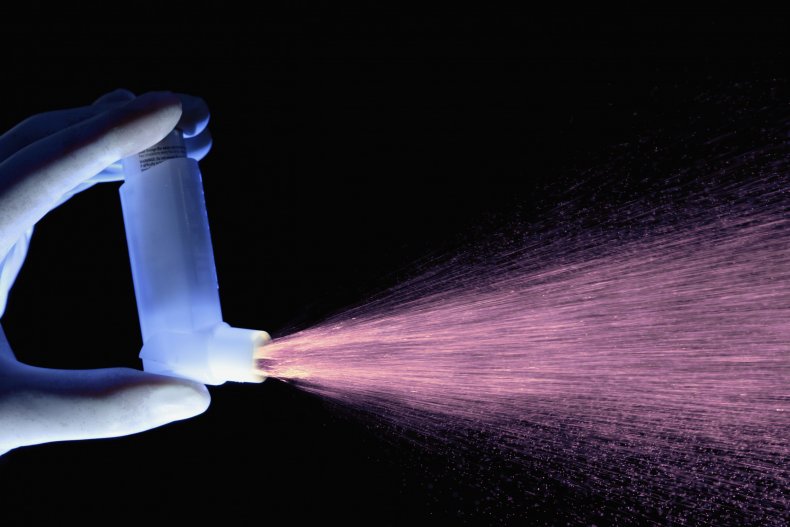 "Basically, everything is more stable in a solid state than a liquid state," Christensen told Newsweek, noting how this facilitates the product's ability to administer with greater ease. "With an infusion, you might get 500 milligrams to 8,000 milligrams, in the case of some of the Regeneron antibodies. When we deliver directly to the lung, we only have to deliver a fraction out, so we can deliver five to 10 milligrams."
The ability to produce antibodies is limited to the number of bioreactors readily available. By conserving antibodies through powder administration, Christensen said the technology can be used to treat more people.
"There's limited ability to produce antibodies in the world, limited capacity of the big bioreactors that produce antibodies, and so by doing it this way, we can extend how many patients get treated for every run of the bioreactor so we reduce the dose and spare the antibody so it can be used to treat more people," he told Newsweek.
According to a press release issued by the companies, a final formulation of the antibody was selected for the upcoming trials to be conducted in living organisms. The companies wrote that toxicology studies would proceed by the end of 2021.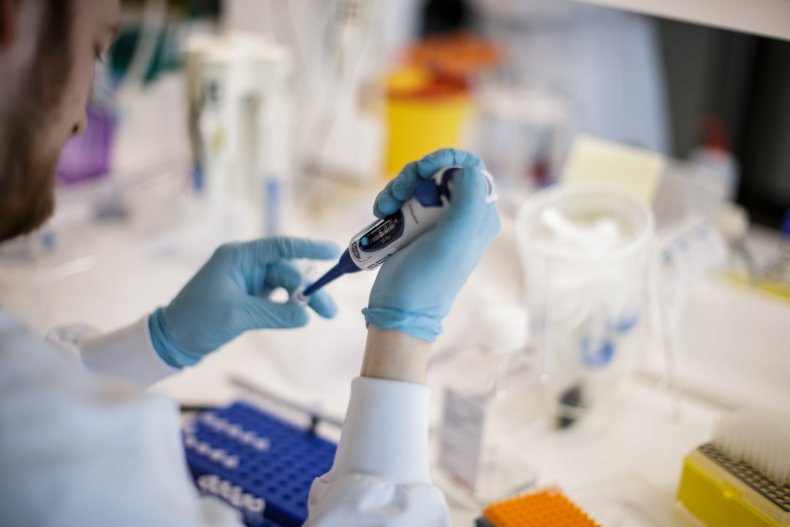 The Delta variant continues to grow as a concern across the U.S. and worldwide. According to CDC data as of July 22, the Delta variant accounts for more than 80 percent of new cases within the United States. Worldwide data from Worldometer reports that nearly 62,000 people died as a result of the virus over the last seven days.
While America's one dose vaccination rate stands at 57 percent, according to the New York Times vaccination tracker, more than 60 countries have vaccination rates in the single digits. With vaccines like Phizer and Moderna needing refrigeration, infrastructure to support these vaccines can present a challenge in certain areas.
Not only can Augmenta and TFF technology provide more accessible treatment delivery options, but Christensen said the dry powder technology could be used to create inhaler-based vaccinations or injections which use the powder.
"We can create a dry powder mRNA vaccine that again could be distributed worldwide," Christensen told Newsweek. "We can either deliver it through an inhaler, so it's needle-free. Or, through our process, we also make a powder that could be reconstituted on site and injected."
The labs are currently working with Catalent Biologics to manufacture the antibodies at a global scale. They are seeking government support for phase two trials or a partnership with a larger pharmaceutical company to distribute the technology globally, Christensen said.
Update - 7/30/21 - 3:20 PM - This story has been updated with additonal information.