Researcher Says Omicron 'Almost a New Thing' as Studies Offer Reasons for Milder Variant
Two recent studies examine why the Omicron coronavirus variant might be less severe than other versions of COVID-19, and the author of one of the studies described the variant by saying it "is actually doing its own thing in many ways."
Ravindra Gupta, a leading variant researcher from Cambridge University and an author on the first study, told Business Insider the studies suggest Omicron might be more mild than other variants because it attacks human lung cells in a different way.
"The biology of the virus is not the same as it was before. It's almost a new thing," Gupta told the website in a story published on Friday.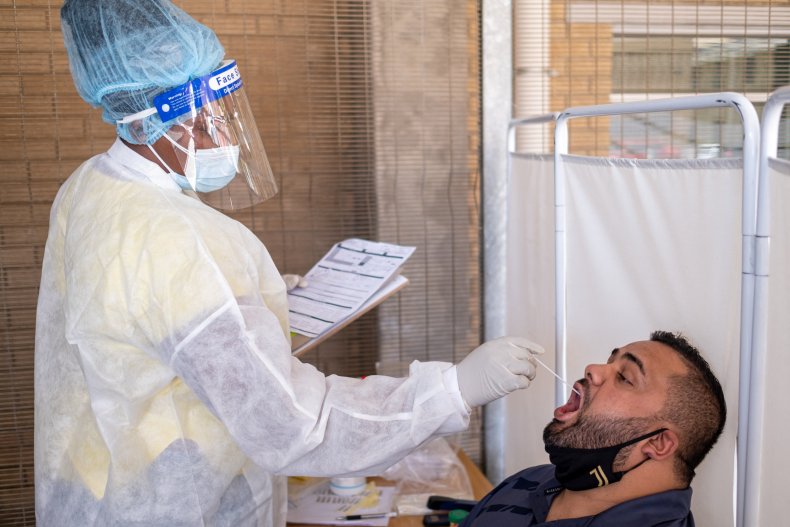 Gupta was part of a group of 31 scientists from different universities that collaborated on a study of Omicron. He said the new evidence they found supports the idea from other studies and data that suggests Omicron is less dangerous and less likely to cause deaths than the Delta variant.
The Delta variant is thought to be more serious in those infected with it due to how it affects the lungs through what's called "cell-surface fusion." If a cell has high levels of a molecule known as TMPRSS2, the coronavirus can snip the virus' spike protein in half, Gupta explained.
Lungs contain large quantities of TMPRSS2 molecules, which allows Delta mutations to have its spike protein snipped much more effectively than other variants, Gupta told Business Insider.
His study found Omicron's spike protein binds more effectively to human cells in general, and thus creating infections with mild symptoms.
A second study conducted by 34 scientists from Scottish and English institutes came to similar conclusions. Neither study has been reviewed by other scientists, and Gupta says his own group's results were still preliminary.
"We probably need to express some caution," Gupta said. "It is nice to see that this variant is potentially less severe. But we don't know by how much yet."
While Omicron may not affect people as severely as other variants, it also may present different symptoms, according to some experts.
Loss of taste and smell were common among COVID patients infected with other variants, but those symptoms are less common for people sick with Omicron. Instead, muscle aches, fatigue and scratchy throats have been reported as the main symptoms of those with Omicron, as well as another symptom researchers have been noticed.
Dr. John Torres, NBC News senior medical correspondent, told the Today show on Tuesday that many Omicron cases include reports of night sweats. He called the symptom "very strange," but said anyone feeling bad should take necessary precautions.
"So, if you start getting sick, essentially you have to assume it's COVID unless proven otherwise," Torres said. "And by that, I mean make sure you isolate yourself (and) get a test to make sure it's not COVID."