Reservists have accounted for all service member COVID deaths since the American military instated vaccine mandates.
Over the last two months, 90 service members have died of COVID-19, all reservists, Military Times reported, citing data from the Department of Defense (DOD). The deaths occurred after military branches began enforcing their vaccine requirements for active members.
The full vaccination deadlines for active members in different military branches differed. The Army's deadline was December 15, 2021. The Navy and Marine Corps set November 28, the Coast Guard's was November 24, and the Air and Space Force deadlines were set for November 2.
However, reservists have had longer to get fully vaccinated, with the Air and Space Force reservists having until December 2, Coast Guard reservists until December 24, and Navy and Marines reservists had until December 28 to get the jabs.
The deadline for Army and National Guard reservists was set for June 30, 2022. National Guard members serve under the Army or Air Force.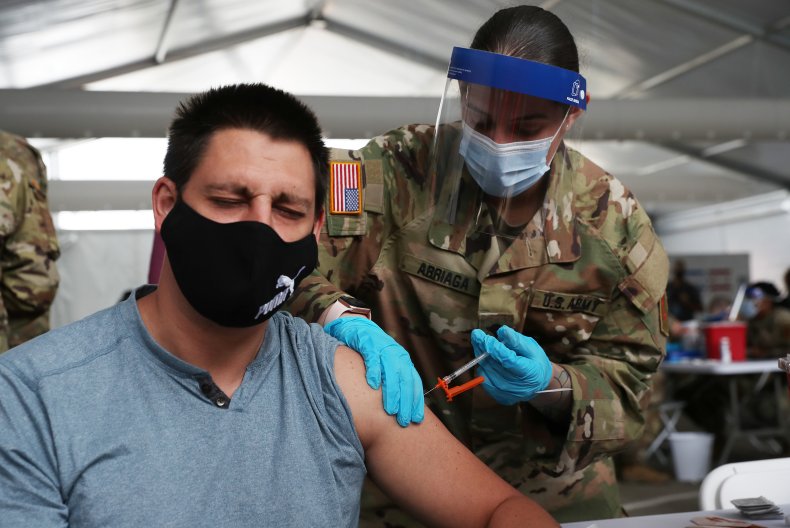 The extended deadline for Army and National Guard reservists was prompted by reserve service members being more geographically spread out than those in other military branches.
Army and National Guard reservists reside within thousands of different communities across the nation. Many don't travel to military bases for drill weekends, making it more difficult for them to be vaccinated there, the National Guard Bureau chief told the aforementioned publication.
Furthermore, many of the Army's 199,000 reservists and the National Guard's 321,000 reservists have been meeting virtually during the pandemic, the military wrote in a September 20, 2021, website communication. As such, vaccinating the reservists against COVID-19 has required "a less straight-line logistics effort," the communication added.
Efforts to vaccinate the National Guard have been complicated by lawsuits by Republican state governors challenging the federal mandate.
The federal government and states have dual control over the National Guard, but states more often deploy the forces for state emergencies. As such, courts have been left to decide whether states or the feds should have the final say about the National Guard's vaccine requirements.
In late December, a district judge in Oklahoma ruled against state Governor Kevin Stitt's lawsuit objecting to the National Guard's mandate. Stitt and state Attorney General John O'Connor requested a preliminary injunction against the order on behalf of 16 National Guard members. The judge denied the request, ruling that their claims were insufficient to stop the mandate.
Texas Governor Greg Abbott has filed a similar case in his state. In early January, another Texas judge found in favor of 35 Navy members who said they didn't want to get vaccinated due to religious objections.
Despite the lawsuits, Defense Secretary Lloyd Austin has said unvaccinated National Guard and reserve service members could face consequences for remaining unvaccinated, The Hill reported.
Over 98 percent of active-duty military members have been at least partially vaccinated against COVID-19, according to Military Times.