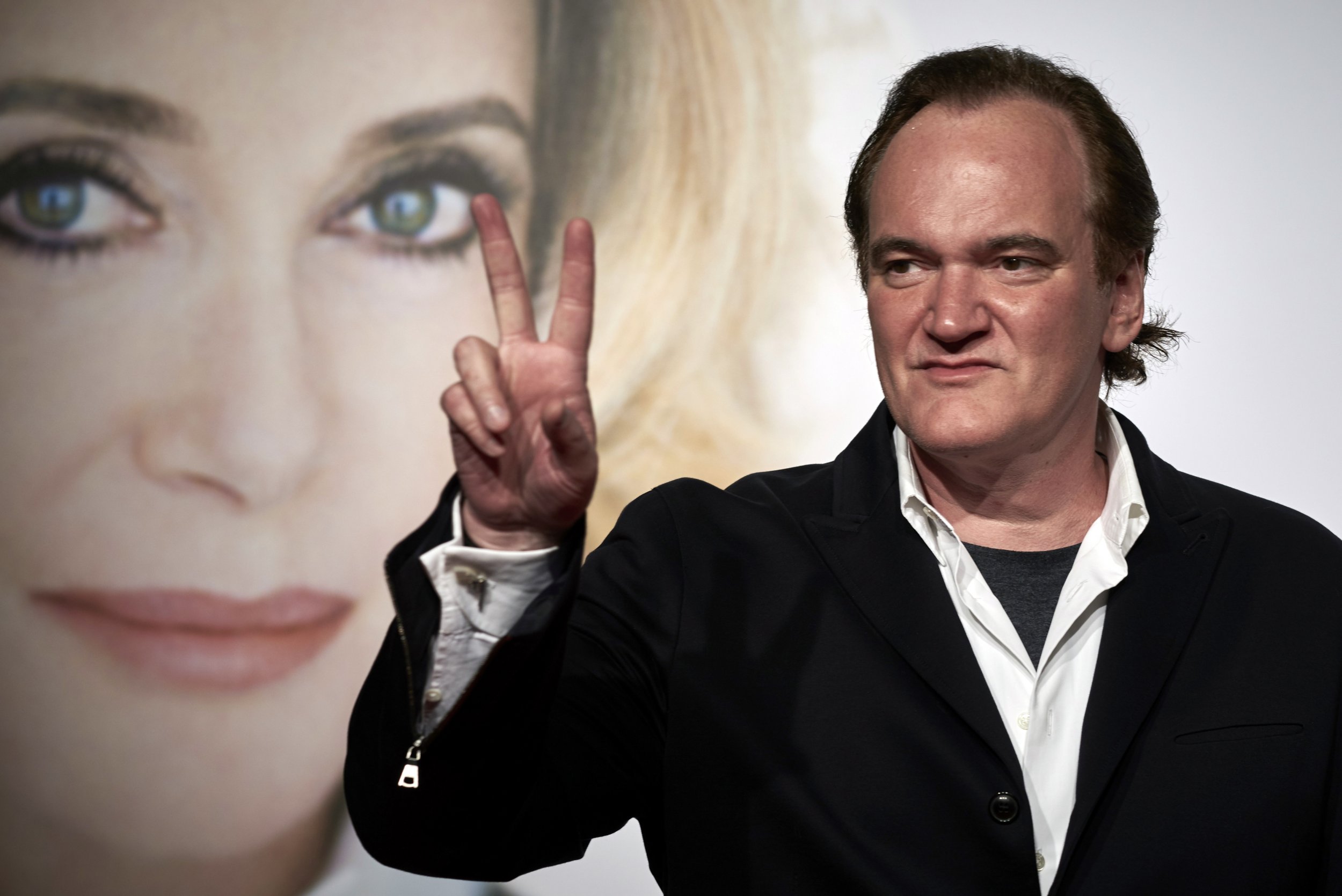 Twenty-five years ago, when Quentin Tarantino was traveling the world promoting his first film, Reservoir Dogs, the now-legendary director kept a tally of how many people walked out each screening during the film's famous torture scene. (You know, the one where Mr. Blonde cuts off the ear of a captive police officer while the "Dylan-esque" '70s song "Stuck in the Middle With You" plays in the background.)
"Thirty-three was the largest walkout," Tarantino said following a recent 35 mm retrospective screening at the Tribeca Film Festival. "But I thought when I got to the Sitges Horror Film Festival, and they'd shown Peter Jackson's first movie, which was just drowning in zombie guts and blood, I thought 'OK, finally I've got an audience that won't walk out.' I even said that at the opening introduction to the movie. Five people walked out of that audience, including Wes Craven. The fucking guy who did Last House on the Left walked out? My movie is too tough for him?"
The first time the film was shown publicly, though, was at the 1992 Sundance Film Festival. It was shown there again this year to commemorate its 25th anniversary, and now again at Tribeca, after which Tarantino, Steve Buscemi, Tim Roth, Harvey Keitel and Michael Madsen sat down with Lynn Hirschberg of the New York Times to reminisce. To the best of our knowledge, no one walked out.
Here's some of what we learned.
Related: Watching 'Bowling for Columbine' with Michael Moore
The first screening at Sundance was a total disaster
"At our very first public screening they didn't have a scope lens for the projector, and it's a scope movie," said Taratino. "I let them show it anyway because I didn't know that you couldn't. It looked like caca all the way through. That would be bad enough. But then, it gets to the final climax, when everyone's yelling at each other in the final chapter, and all of a sudden the lights come up. Then they bring the lights down. Then, finally, everyone has their guns pointed at everyone else, then almost as if on purpose as far as suspense is concerned, right at the height of that scene, there's a power outage. I was like, 'OK, this is what it's like to watch your movie in public.' It was a fucking disaster."
A screening during the second week of Sundance—with an audience full of agents, executives and actors—went a little better. "That screening went fantastic," said Tarantino. "Faye Dunaway even asked me a question, which I thought was pretty cool."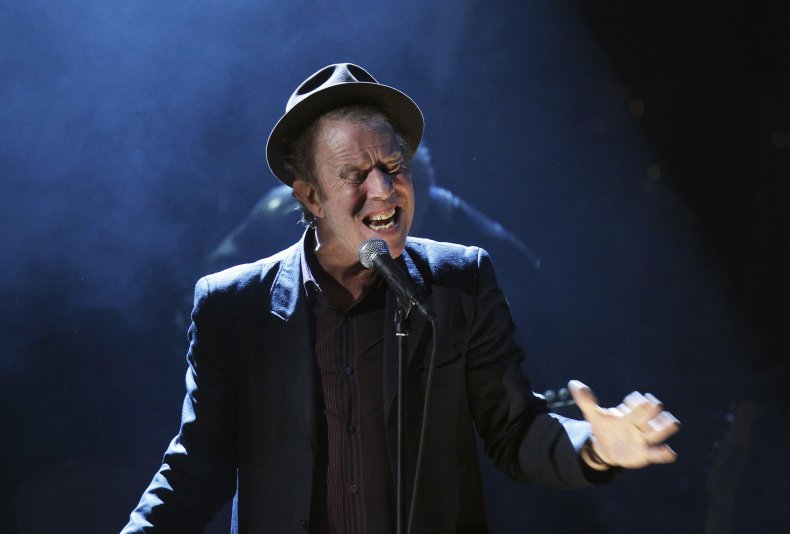 Tom Waits auditioned
Harvey Keitel was the only actor who didn't audition. Tarantino was a huge fan of his, and knew he wanted him for the film. After Keitel accepted, the hunt was on to fill the rest of the cast. Aided by the casting director for LA Law, which was on hiatus at the time, they saw a wide variety of potential actors, including Tom Waits.
"Tom Waits came in and read," said Tarantino. "I had Tom Waits read the Madonna speech just so I could hear Tom Waits say it. Other than Harvey, he gave me one of the first profound compliments on the scripts. He was like, 'The script's great. Poetry.' No one had ever called my work poetic before. And by a poet, no less. Pretty good."
They were able to fill most of the cast in Los Angeles, but Keitel insisted they fly east for a weekend to give New York actors a chance. That's where they found Steve Buscemi.
Tarantino might have had issues with Roth's American accent
Hirschberg: "I have a question for Tim. You are English..."
Tarantino: "Oh, you saw the movie!"
Roth: "Oh, fuck you!"
Madsen was "intimidated" by Mr. Blonde's dance scene
"I was so intimated by it, I didn't know what to do," said Madsen. "I didn't know if I wanted to do it or not. In the script it said, 'Mr. Blonde maniacally dances around.' I remember specifically that's what it said. I kept thinking, 'What the fuck does that mean? Mick Jagger? Maniacally, what the fuck am I going to do?' So he never made me do it in rehearsal and he trusted me that on the day I would come up with something."
He didn't rehearse it, so he channeled James Cagney
"I heard the music and I said, 'Oh, fuck I better do something,'" said Madsen. "I started thinking about Jimmy Cagney. I remembered this weird little thing Jimmy Cagney did in a movie that I saw. I don't remember the name of it, but he did this crazy little dance thing and it just popped into my head at the last second. That's where it came from."
It's impossible to know to which Cagney dance Madsen is referring to, but the actor's shoulder shrugging at 0:35 of this "Shanghai Lil Step" clip kind of resembles how Madsen saunters in Reservoir Dogs.
Regardless, the lack of rehearsal worked out just fine. "Him breaking into the dance was the first take," Tarantino said.
The happiest moment of Tarantino's life was a drive down Sunset Boulevard.
The cast rehearsed in Los Angeles for two weeks before filming began. At the end of the two weeks Keitel hosted a dinner to celebrate at a house he was renting in Malibu. At the time, Tarantino was living with his mother in Glendale, which is on the other side of the city.
"I really realized that a lot of the pressure was off my shoulders, cinematically," said Tarantino. "These guys were so perfect in their parts, they were so vibing with each other, they so understood the material. By rehearsing two weeks, they knew the material. I was like, 'Fuck, if I just keep this movie in focus, we've got a movie. Anything else I bring to it will just be frosting. The cake is here, it's these guys.'
"I watched it at dinner that night. I remember that night getting in my car and just taking that drive all the way from Malibu to Glendale, just on Sunset, never getting off Sunset, all the little windy roads. That was the happiest time of my life. That was the happiest moment of my life. This thing that I had thought about for so long—not just Reservoir Dogs, but making movies, in general...this might just work out."