'Resident Evil 2' Remake Producers Talk About Tofu, Eliza Walker
With those three words in 2015, Resident Evil 2 remake producer Yoshiaki Hirabayashi set a massive hype train in motion that culminated with a major reveal during Sony's E3 2018 press conference. The remake of Capcom's legendary horror/survival title (83 million copies sold worldwide since it's 1998 release) gave fans a lot to look forward to when the game launches Jan. 25, 2019. Newsweek sat down with Hirabayashi and fellow producer Tsuyoshi Kanda at E3 2018 to discuss the pressure, the legacy and whether or not we stab our way through as a six-foot piece of tofu again.
Editor's Note: This interview was conducted via translator and has been lightly edited for length and clarity.
So, what's new about this remake?
Yoshiaki Hirabayashi (Producer): We've always tried to respect the feeling of the original game whilst updating the experience with the latest in gaming technology. One of the things that's coming out of that combination of classic feel plus new tech is how the zombie fights and the up close experiences are going to be scarier than ever before in a Resident Evil game.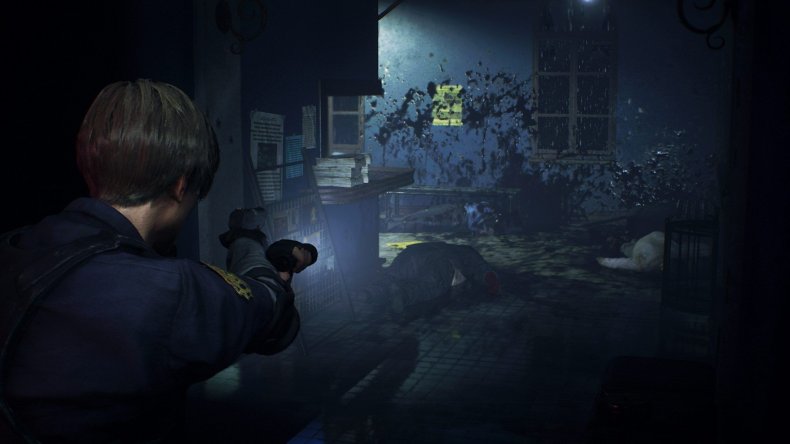 Why did you decide on an over-the-shoulder camera perspective?
Tsuyoshi Kanda(Producer): We spent a lot of time thinking about this. The key factor, for us, is we want have the best possible atmosphere and immersive feeling. You're going to be getting up close and personal with the zombies as you're trying to deal with this outbreak.
Not only that but we're featuring these two iconic characters from the series, Leon and Claire, so the conclusion we came to after a lot of consideration was having these characters up front on the screen with the over-the-shoulder perspective. Putting them in that context, with the zombies that are coming at them, was the best way to create an amazing experience with Resident Evil 2 .
YH: We spent a lot of time thinking about this. We did our soft announcement, the "We do it," about three years ago in 2015. We've been taking a lot of time to consider what is the best match for the gameplay experience we want to provide, in terms of camera systems. And this is the conclusion we reached.
Why did you cast new voice actors for Leon and Claire?
YH: If you've seen our announcement trailer, you can see that the visuals have been totally reimagined for this new version of Resident Evil 2. Not just the things like the iconic locations or the zombies, but the main characters too. We've reimagined what these people would look like and, while we have nothing but respect for our original cast from the original game, if we're going to reimagine everything about this story and these characters we should start from that basis for every decision. That includes not just how to make the characters look but how they sound, too. So our ultimate decision was to find a voice cast for the new game that we thought best matched the experience.
Reimagined is a big term. Can we expect story surprises? Or other things people don't already know about the game?
TK: There will definitely be some surprises in store. We're basing it on the existing game and we're respecting its roots as much as possible, but we also really felt we wanted to add new things for players to experience whether they know RE2 off by heart or whether they're coming in as new players. So, we can't say too much right now but there will be some surprises in store.
YH: We tried to keep all the elements that are in the original game in the new version as much as possible. Take, for example, if you've got Leon interacting with an NPC character that's in the original game. We want to people to experience how they would have felt at that time when they played the original game, but also have people who are new to this game have the same experience in a new way. It's trying to respect the old and new stuff at the same time.
There are a lot of nods to the original series already, with the first PlayStation in the trailer and the Elza Walker skin for Claire, so I have to ask: will Tofu survival mode and Fourth survivor mode be in the game? And will they be locked or available from the start?
YH: Yes! Of Course! The original modes will still be in the game, they won't be extra like DLC or anything like that. We're still fine tuning and thinking about how to bring them to you. We can't decide if we think it's something that should be right there from the start, or whether it's something we think you'd be better off to unlock and enjoy once you've had the main game experience.
TK: Tofu might be too tough to do right from the start. We're keeping feedback [from fans] in mind as we do some fine tuning, but rest assured it is in the game. It's not going to be coming down the line as paid content or anything like that.
What new experiences did you have remaking a game you're already familiar with?
TK: One of the biggest realizations coming out of our pre-announcement in 2015 was the sheer amount of love for the game that was out there. We know that this series is very popular and there are fans for every title, but the reaction to "We do it" was so massive it was a kind of pressure on us, in a good way. This is something that is so in demand and we really felt that over again as we worked on the remake.
YH: When I was a student the first game I bought, like I got a PlayStation for it, was Resident Evil 2. I remember how scary it was fighting zombies, and I would turn off the lights to have a cooler, scary experience but I could only last about an hour before I had to turn them back on again. It was too much, too intense. So in thinking back to those recollections of the game while making the new one I want to make sure people have a good, scary experience but I think that you can't just have that be the thing about a game. You have to have other elements in there that let them enjoy the experience overall rather than just constant, never-ending scares. So I'm trying to achieve a really good balance in the remake between the scary stuff we all remember, and give you some highs and lows.