'Resident Evil's' New 'Tall Lady' Is Indeed Very Tall, and Fans Are Fascinated
Devotees of the horror-gaming genre have something to look forward to as the development of the next Resident Evil story continues to trudge on, dropping breadcrumbs for fans along the way. One character from Resident Evil Village, Capcom's latest foray into the franchise, has captured the gaming world's attention ahead of the game series' eighth installment. Lady Dimitrescu, better known as the "tall lady," and her blood-thirsty daughters have set fans abuzz as promotional materials continue to drop.
Trailers and teasers show a larger-than-life woman who will haunt the protagonist Ethan throughout Resident Evil Village, and Capcom has revealed some interesting information on this character, including her actual height.
A message from Resident Evil Village Art Director Tomonori Takano was posted on the game's official social media accounts, revealing that the development team was surprised by the attention Lady Dimitrescu and her daughters have received.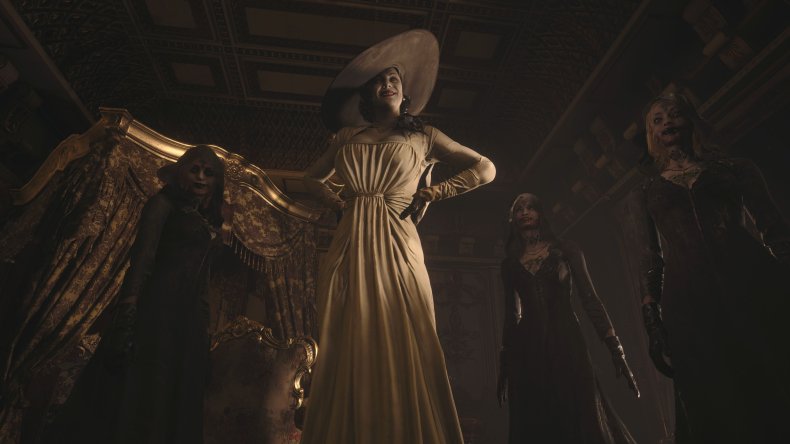 "Hi everyone, I'm Tomonori Takano, Art Director of Resident Evil Village. I wanted to use this opportunity to publicly reflect on the outpouring of positivity we've received from the fans on our latest announcement. As a representative of the development team, thank you to all the fans who continue to follow us.

Most recently, Lady Dimitrescu and her daughters have received a fair amount of attention, far more than we anticipated. It's great that they're able to take the spotlight as icons of Resident Evil Village. Lady Dimitrescu, especially, has received much fanfare both domestically and overseas, which has made us all on the development team extremely happy. I hear her height is of some interest....

If you include her hat and high heels, she's 2.9m (approximately 9'6") tall.

These bewitching, vampire characters are relentless in their pursuit of Ethan, and I can't wait for you to meet them yourselves when you enter Castle Dimitrescu in May."
That's right, Lady Dimitrescu is over 9-feet tall, making her a formidable and imposing character to run into while you're playing Resident Evil Village. She appears to be the main protagonist of the game and the owner of the castle which acts as the centerpiece of the mysterious village.
How Ethan ends up in the village and the rest of the story's secrets are not yet known, but a special demo is available now for PS5 owners called "Maiden" that gives a bit more background on the game and Lady Dimitrescu herself.
We won't spoil it here, but we recommend checking it out. The demo will also be available on other platforms this spring before the game's release.
Resident Evil Village is scheduled to release for PS4, PS5, Xbox One, Xbox Series X/S and PC on May 7.
What do you think of the latest Resident Evil Village information? Have you tried out the demo yet? Let us know your thoughts in the comments section.