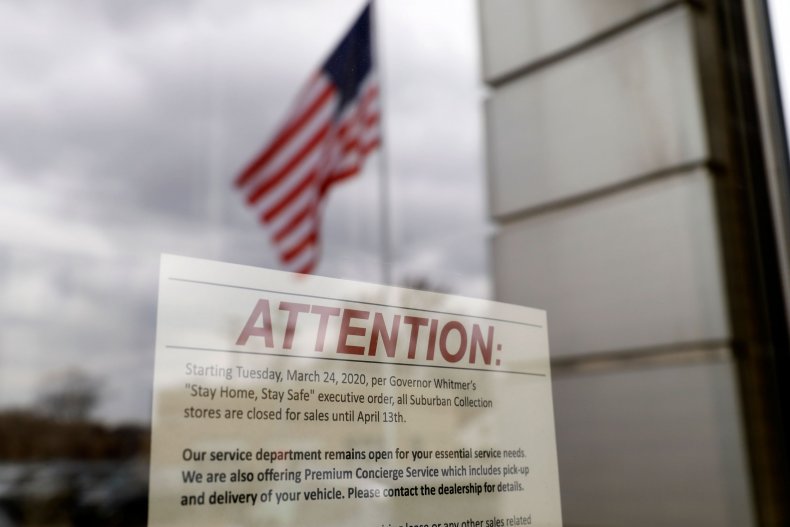 Michigan residents purposely gridlocked streets Wednesday in protest of Governor Gretchen Whitmer coronavirus lockdown measures.
Eric Lloyd, a reporter for WWTV Michigan, tweeted a video of the gridlock near the capitol building in Lansing.
"The Operation Gridlock protest hasn't even officially started but the streets around the Capitol are already packed with cars honking their horns and locking up the streets. This is Allegan Street just on the south side of the Capitol. Nobody's moving anywhere," Lloyd wrote on Twitter.
"Operation Gridlock" was posted on Facebook as an event hosted by the Michigan Conservative Coalition and the Michigan Freedom Fund, and was created to address the lockdown measure that they refer to as "tyranny."
"Our Governor and her allies are infecting all of us with their radical, progressive agenda. There is no reasoned and public plan to promote our overall physical and economic health," the Michigan Conservative Coalition stated in a post on their website promoting the event.
"Dope stores? Open. Abortion clinics? Open. Churches? Shut down. Local businesses? Going broke! Many have asked us: 'What should I do? I will go bankrupt if this continues.' Here is the brutal truth. Calling your elected representative, your elected senator or even the capitol won't do a thing...[they] have clearly 'signaled' that they will do nothing to oppose this governor's tyranny," the post continued.
The organization asked residents to gridlock the streets around the capitol at noon Wednesday and urged them to stay in their vehicles so as to avoid being harassed by police enforcing social distancing guidelines. Folks were already in position by 9 a.m. for the protest, according to a report by FOX 2 Detroit.
Whitmer commented Monday on disagreements people may have to her executive order during her coronavirus press briefing saying, "I want to acknowledge it's ok to be frustrated. It's ok to be angry and it's ok to direct it at me...I've got thick skin and I'm always going to defend your right to free speech. So I just ask that those who are protesting these orders do so in a safe manner so that you don't get sick and you don't subject our first responders to risk either."
With regard to the protest, Whitmer said Monday that the organizers are "funded in large part by the DeVos family and I think it's really inappropriate to for a sitting member of the United States president's cabinet to be waging political attacks on any governor," in reference to Betsy DeVos, the secretary of the U.S. Department of Education.
Newsweek reached out to a DeVos family spokesperson who responded to Whitmer's comments in an email.
"Contrary to the Governor's statements, the DeVos family hasn't funded this protest nor has it offered prior support to the organizing entity. They understand the frustration of fellow Michiganders, however, as elements of the governor's top-down approach appear to go beyond public safety. Michigan deserves competent governance, not baseless attacks," the spokesperson said.
Greg McNeilly, the volunteer chairman for the Michigan Freedom Fund and former campaign manager for Richard DeVos' Michigan gubernatorial run, told Newsweek that the DeVos family has given the Michigan Freedom Fund support in the past.
"The Michigan Freedom Fund was not an organizer of the rally and spent $250 of non-big-dollar donor money for a Facebook promotion of the event...Zero DeVos dollars involved in the event. So the Governor of Michigan lied. Period. We all err, but when we make mistakes how we fix them defines our character. The governor should...correct her mistake. It'd be a meaningful way to demonstrate integrity and help rebuild the lost trust that is quickly eroding for her in Michigan."
Correction 4/15/20, 3:56 p.m.: This story has been updated to clarify that there are two organizers for the protest, the Michigan Conservative Coalition and the Michigan Freedom Fund.

Update 4/15/20, 4:55 p.m.: This story has been updated to include comments from Greg McNeilly, the volunteer chairman for the Michigan Freedom Fund.

Correction 4/15/20 4:55 p.m.: An earlier correction stated the Michigan Freedom Fund was an organizer of the event. That has been amended to state that they were listed as a host for the event's Facebook post.