Michelle Leete resigned from her position on the Virginia Parent Teacher Association (PTA) on Saturday for saying "Let them die" during a rally while condemning people who reject critical race theory. She told Newsweek the message, though "ineloquently stated," was referring to the ideals supported by critical race theory opponents and not the opponents themselves.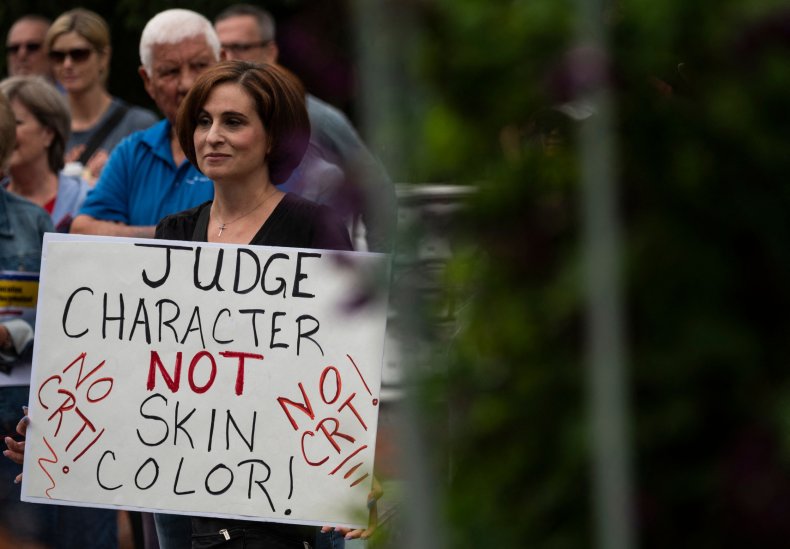 The Virginia PTA had asked for Leete's resignation after video of her speech from Thursday was shared on social media and covered by media outlets. Her comments were made in front of a crowd outside Luther Jackson Middle School, where a Fairfax County Virginia school board meeting was held Thursday night.
"So let's meet and remain steadfast in speaking truth, tearing down double standards, and refuting double talk," Leete tells a crowd in the video. "Let's not allow any double-downing on lies. Let's prepare our children for a world they deserve.
"Let's deny this off-key band of people that are anti-education, anti-teacher, anti-equity, anti-history, anti-racial reckoning, anti-opportunities, anti-help people, anti-diversity, anti-platform, anti-science, anti-change agent, anti-social justice, anti–health care, anti-worker, anti-LGBTQ+, anti-children, anti–health care, anti-worker, anti-environment, anti-admissions policy change, anti-inclusion, anti-live-and-let live people. Let them die."
Leete, the former Virginia PTA vice president of training and a board member of a local chapter of the NAACP, said the rally at which she spoke was organized for the purpose of supporting Fairfax County Public School students and wasn't being held for the singular reason of targeting opponents of critical race theory. She said that to the best of her knowledge, critical race theory is not taught in the county.
The Fairfax County School board was voting that day on guidelines for the rights of transgender students. The board went on to unanimously vote to allow transgender students such right as accessing restrooms and locker rooms that align with their gender identity; the right to not disclose their gender identity; and the right to be called by their chosen names and pronouns.
However, a group protesting the teaching of critical race theory was also gathered outside the school at the time during the same time, as was a group including Leete.
Asra Nomani, a vice president of the watchdog group Parents Defending Education, filmed Leete speaking and shared the video on Twitter.
In an email sent to Newsweek, Leete wrote, "I will certainly admit, it was ineloquently stated and with a pause for the applause, the timing was off, but 'Let them die' was referring to the ideals that show a disregard and lack of support for our teachers who have a truly difficult job to do even without a pandemic. Ideals that would have children returning to in-person school during the height of the pandemic, lax gun laws that impact children's safety and security in schools, and anti-transgender policies are also not in line with supporting our students in a healthy school environment."
The Fairfax County NAACP released a statement about the matter on Sunday. The group emphasized its support of Leete and "her work in the past, present and future, and are extremely disappointed that her long track record of tireless work and dedication within the Fairfax County community has been so easily disregarded and devalued."
"Fairfax County NAACP does not condone or support violence of any kind, whether we agree with an individual's ideas or not," the group also wrote. "We believe in peaceful demonstrations and activism in order to achieve social justice and equity. But we will always stand in opposition to anti-diversity and anti-equity rhetoric, and any ideas or policies that further an inequitable agenda."
Critical race theory has become a heated debate topic across the country. The theory attempts to illustrate systemic racism and its history in American society, though opponents argue it is divisive and not an appropriate topic for schools.