Responders Battle Sub-Zero Temperatures to Save Two Dogs From Frigid River
Two dogs were out chasing geese on an icy river in Great Falls, Montana, when they suddenly crashed through the ice, plunging into frigid waters.
CBS-affiliated station KRTV reported that Great Falls firefighters arrived at the Missouri River where they quickly sprung into action.
Great Falls Fire Rescue Chief Jeremy Jones told Newsweek that responders wore rescue suits before they dove into the river. He said the "real feel" temperature was about minus-24 degrees without any wind.
"It was about a four-minute rescue mission," Jones said. "Responders had their ice water suits on, they just had to get secure in their safety rope to get the dogs."
He explained the suits are specialized to keep responders warm during these types of calls. None of the responders suffered any injuries or showed signs of hypothermia.
The dogs, however, began displaying signs of hypothermia as a result of their time in the river.
According to the American Kennel Club, dogs whose core body temperature drops below 99 degrees Fahrenheit can start to experience mild hypothermia. It may lead to cardiac and respiratory failure, brain damage, coma or death.
Dogs who experience mild hypothermia can be treated with insulation and blankets, but treatment levels must increase the more severe the hypothermia case becomes.
Moderate hypothermia requires external heat sources and severe hypothermia treatment involves invasive core warming, like warm IV fluids.
Jones told Newsweek that when responders arrived, they found an ice shelf that stretched about 15 feet out into the river. One dog was trying to get onto the shelf, but because its hind legs had no solid footing, it was unable to do so. The other dog, which was sinking and popping back up through the river's surface, was about 30 feet from the river's shore.
"The dog kept resurfacing, but you could tell it was starting to succumb to the temperatures," he said.
The fire rescue's battalion chief told the outlet that the dogs were "exhausted" and could barely walk when they were out of the water.
"It was really cold out, so the water is just dripping off of them, turning into icicles," Great Falls Emergency Services EMT Emily Boor told KRTV.
She said the animal rescue's kennels were not heated, so the dogs hopped into the heated ambulance where they were met with warmth and blankets.
The dogs were then taken to the City of Great Falls Animal Shelter.
Jones told Newsweek the department does not receive many calls about people falling through the ice, but, more often, it responds to calls about animals.
Animal Control Officer Alisa Ethridge told Newsweek both of the dogs came from the same household and the owner has been located and informed of the situation.
The dogs' temperature continued to improve, and by the next morning, their temperatures returned to a safe and normal level.
"Their temperament was actually very good," Ethridge said. "They went straight to the humans."
Ethridge said the owner has been issued a citation due to the incident and must go through civil court before the dogs are returned.
She said it's important for pet owners to keep a close eye on their furry friends, especially in the colder months, to avoid potentially harmful situations.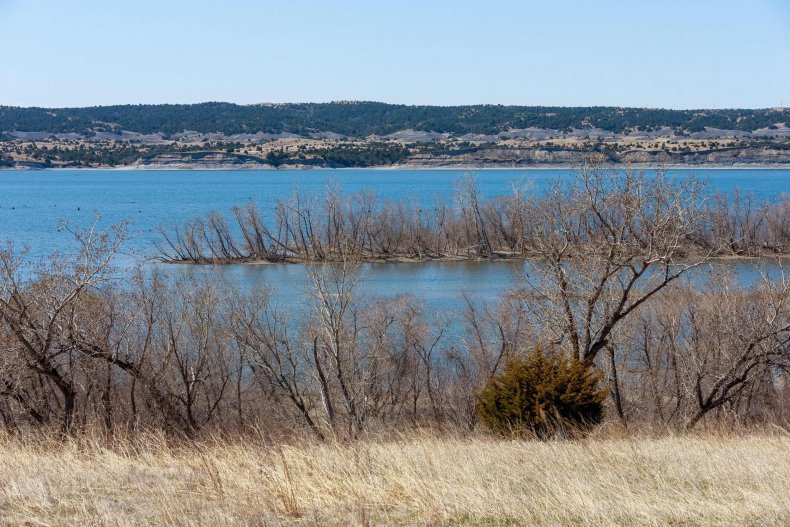 This was not the only dog rescue made this year.
Newsweek reported in October that a woman was hospitalized with burns when she tried to save her dog from a thermal hot spring at Yellowstone National Park.
Her dog jumped into the spring, and she followed after it. The woman's father pulled both her and her dog out and brought them to receive medical attention.
Updated 12/29/2021, 5:54 p.m. ET: This story has been updated with comments from Animal Control Officer Alisa Ethridge.