Restaurant Accused of Using Sly Tactic to 'Guilt' Patrons Into Tipping More
Tipping culture has been slammed online after a Reddit user shared a photo of an unusual way patrons can choose how much money to give.
In a viral post shared in the r/Ontario Reddit group, which can be seen here, user mrs-monroe shared a photo of a card reader with several tipping options displayed on its screen.
The post, captioned "first time seeing this at restaurants…way to guilt customers to spend more" showed six options: Customers could tip $4.66 CAD ($3.55 USD) for a "good" service, $5.59 ($4.26) for "great," $6.21 ($4.73) if patrons felt they could say "wow," and $7.77 ($5.91) if they believed it was the "best service ever." There were also buttons to "Skip" a tip or enter a custom amount.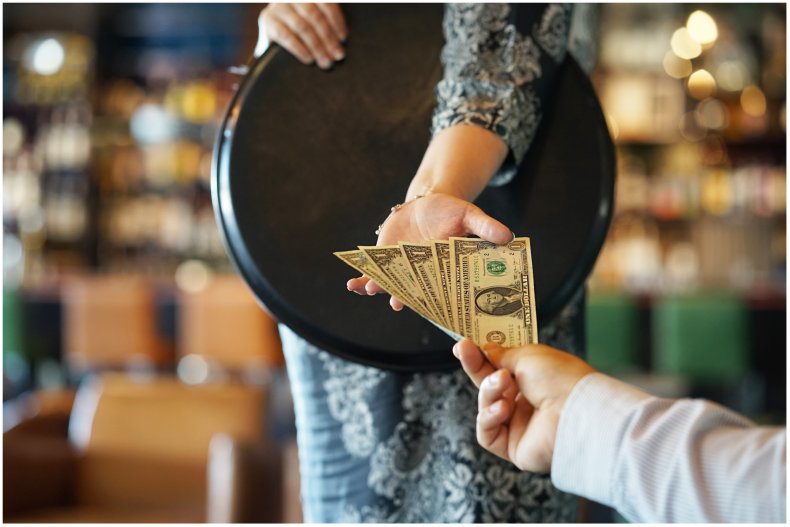 According to Tripadvisor, gratuities are rarely included in Canadian restaurants and it is customary to tip about 15 to 20 percent on the total bill before tax.
It is similar in the U.S. where customers are encouraged to tip between 15 and 20 percent before tax.
The post has attracted some 17,600 upvotes and 4,400 comments since it was uploaded Sunday.
Many of those who commented on the post slammed tipping culture and shared their own experiences about what they did when asked to tip.
One Reddit user said: "I love how the restaurants will say 'if we pay our servers more, the price of eating out will go up.'
"What do you think happens when you add a 25 percent tip, genius? The only difference is that it keeps the restaurant's costs low because you're paying their staff for them."
Another posted: "I've completely stopped tipping now, it's not my job to subsidize your employee's wages."
While a third commented: "I took my girlfriend out to a fancy French restaurant in downtown Toronto.
"First time going there. When the server was processing my bill, he selected 20 percent for me and handed me the terminal to punch my pin in!?! I said dude that's not how it works."
There were others, however, who saw no problem with tipping with one commenting: "God, this sub has just become whining about tipping daily. If you don't want to tip, f**king don't. Bunch of babies."
In response, mrs-monroe said: "It's the words they're using to influence people to tip more. You know there are lots of older people who would tip more based off of this."
Newsweek has contacted mrs-monroe for comment.
Tipping culture has regularly been slammed online with many claiming they no longer tip.
Earlier this year, a friend who refused to tip at a Greek restaurant in the U.K. was slammed for not offering even a couple of pounds.
Unlike in the U.S., tipping in the U.K. is not as commonplace and instead, a service charge is sometimes added.