Restaurant Bill With Tip Minimum Sparks Discussion on 'Tipflation'
A now-viral photo of one Redditor's restaurant bill has sparked an online discussion about "tipflation."
The photo was posted in Reddit's "Mildly Infuriating" forum on Tuesday by u/West_Rush_5684, who wrote: "Am I supposed to feel like a cheap a** for 'only' tipping 25 percent now?" The post has amassed over 40,000 upvotes and more than 7,300 comments.
What Is 'Tipflation?'
According to CBC News, the suggested tip amounts on some restaurant point-of-sale (POS) systems are increasing in a phenomenon called "tipflation." Elizabeth Carson, a restaurant reviewer for the station, said "prompts on credit card machines that previously asked for tips of 10 to 20 percent have now crept up to 18, 20 or 25 percent," and in some cases, up to 30 percent.
Though etiquette expert Lizzie Post said 15 percent is the customary tip amount for sit-down service, Carson theorized that some restaurants have begun asking for more because they noticed their customers are "willing" to pay more. However, Calgary-based restauranteur Jacquie Titherington believes this could do more harm to businesses than good.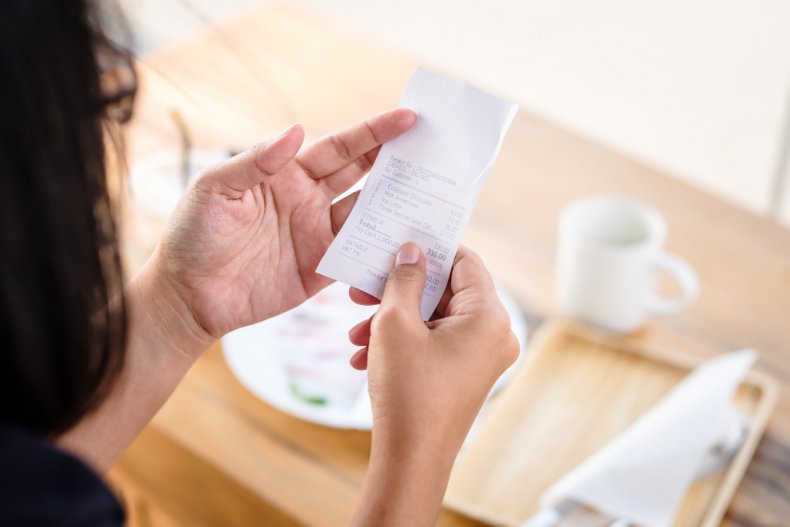 "I feel like it's pushing something that isn't necessarily going to work in favor of the employees because I think that when people see that, it might be a bit of a turnoff because it seems excessive," Titherington told CBC News.
Based on the reaction to u/West_Rush_5684's post, Titherington may be correct in assuming that people are "turned off" by higher tip suggestions.
'Mildly Infuriating'
In their post, u/West_Rush_5684 shared a photo of their bill from a local restaurant/distillery. Underneath the bill's total is a box that reads "add a tip," and the minimum amount listed is 25 percent. Other tip options included in the box are 30 percent, 35 percent and a "custom tip" amount.
Commenting on the post, u/West_Rush_5684 said they usually tip 20 percent for sit-down service. In this case, they paid the 25 percent tip; however, they felt the tip options were "ridiculous."
"I wasn't really against tipping 25 percent...I just thought their suggestions were ridiculous with that being the lowest one. The checkboxes should be a convenience feature, not make the establishment come off like a pushy panhandler," they said.
Redditors React
Some Redditors blamed the "ridiculous" tip suggestions on inflation and others slammed u/Wes_Rush_5684 for being bothered by them.
"You know inflation affects everything right?" u/xo_angeldiamond asked.
"This sounds like a personal problem. You are 100 percent in control of how much you tip," u/Fresh_Beet added.
However, many commenters called the tip amounts "excessive" and said "tipflation" is unnecessary.
"If inflation raises prices by 10 percent, a 20 percent tip also goes up 10 percent. There's no reason for tipflation," u/Fozzymandius said.
"Tip percentage doesn't need to ever increase...Tips have already increased because of inflation on the price of the meal," u/FetishAnalyst argued.
"Even as someone who works in food service, 25 percent is like...abusively excessive," u/Kydarellas added.
Newsweek reached out to u/Wes_Rush_5684 for comment.
Other Viral Moments
In January, a drive-thru customer received online support after stating in a now-viral video that "tipping culture has gotten out of control."
And last year, a photo of a restaurant flyer asking customers to tip went viral, sparking an argument about tip culture.