Restaurant Sends Blind Diner Braille Birthday Message in Heartwarming Video
The moment a restaurant went above and beyond to celebrate the birthday of a blind diner has gone viral on TikTok, gaining more than 4 million likes in a day.
The gesture showed that "true kindness still exists," according to the diner, Natalie Te Paa.
Te Paa was celebrating her birthday at London restaurant Luciano, run by Gino D'Acampo, a popular TV chef in the U.K.
"So I'm totally blind, and this is the moment I realized the lengths the restaurant staff went to in order to wish me a happy birthday," she wrote in an on-screen caption for the video, which can be seen in full here,
In the clip, Te Paa was sitting in the restaurant as the waiting staff placed a plate with a message on the table.
The friend behind the camera took Te Paa's hand and moved it to the plate to feel the message.
"They had the chef write 'happy birthday' in braille using melted chocolate," she added on-screen.
In the video, Te Paa is clearly in shock. "No freaking way," she responded after feeling the braille message on the plate. "They did not," she added in disbelief. "Are you kidding me?"
Te Paa's video ends with the caption: "So take heart, despite how broken the world is right now...true kindness still exists."
Giovanni Galluccio, general manager of Luciano, told Newsweek in a statement: "Our team is committed to ensuring that every guest's experience at Luciano by Gino D'Acampo is truly memorable. We're so pleased to have been able to contribute to making Natalie's birthday special and are touched by the warm comments received. It was our absolute pleasure to share in the happy occasion."
In less than one day, the video shared to her TikTok account @natbysight has gained over 4 million views, many of which have been met with an emotional response.
"I didn't plan on crying today, but here we are," wrote one user.
"I'm literally crying so hard right now. This is beautiful," added another.
Viewers weren't the only ones rendered teary eyed by the heartwarming moment, as Te Paa wrote in a comment that she was crying happy tears throughout the meal. "Between the filming of this night, I was in floods of tears," she wrote. "So blown away by this team."
TikTokers were also impressed, complimenting the staff in the comments. "Now that is good customer service," posted one user.
D'Acampo even commented on the video himself, writing: "Happy birthday bella."
Newsweek has contacted Natalie Te Paa for further comment.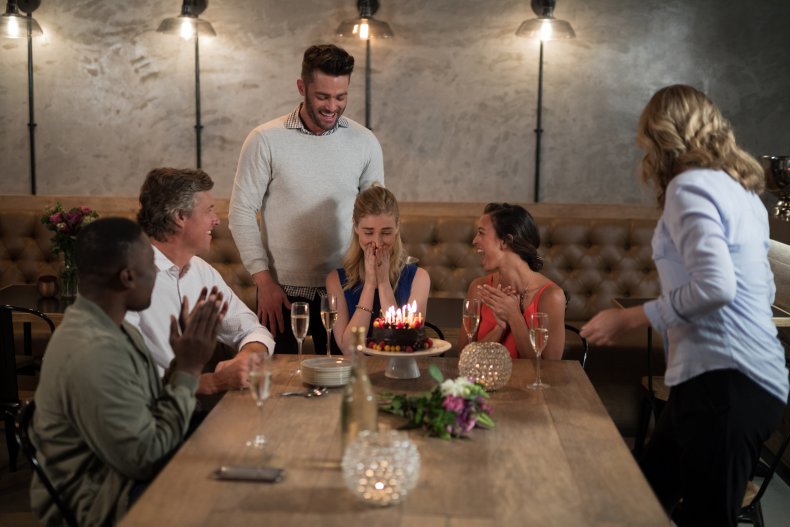 Update 8/18/21, 4:36 a.m. ET: This article was updated to include comment from Luciano's general manager.