The owners of a restaurant in Florida are not allowing customers wearing face masks to come into their establishment, saying they believed that face coverings are "dirty."
Outside the Crisp Creperie in Cape Coral, Florida, hangs a sign warning potential customers that those who enter wearing a face mask will be asked to leave, according to WBBH. The owners of the restaurant, Debi and Jack Hernandez, said "masks are dirty." Additionally, the owners believe the masks do not provide any benefit at all so they would rather not have them in their eatery.
"Masks are dirty. People don't wash them properly. People use the same disposable one for two years or whatever. You can see the black marks on their nose. They're filthy," Debi told WBBH.
Not only that, but Debi and Jack said they believe masks are damaging to their psychological health. Debi stated that simply looking at someone with a mask on affects them.
"We are also affected psychologically by having to look at somebody with their mask on," she said.
In addition, Debi said that the wearing of masks hinders them from performing their jobs properly.
"That's number one. We look at them and we can't see their faces. We can't see their smiles. We don't know, we can't understand what they're saying. There's all these different things that are affected when we're trying to work," she said.
Not everyone was in agreement with the owners' move. Instead, resident Jody Matthews told WBBH she believed it to be a form of discrimination against those who wear masks.
"I personally think it's wrong that they are discriminating against people," she said.
Debi, though, is in agreement that her restaurant is discriminating against customers with masks. But she still said they would rather not have masks in her restaurant.
"It's reverse discriminate [sic], I guess if you want to say it. We believe they don't do any good so we don't want them here," she said.
However, if people do not approve of their anti-mask rule, Jack said customers have the option of eating at a number of other places, according to WBTW.
"There are other places to go eat," he said. "They don't have to keep choosing this place."
It appears that people have taken his advice as one nearby cafe worker told WBBH they are benefiting from the Crisp Creperie's stance against masked customers.
"Over four or five more tables came in yesterday than we would normally have because of their mask mandate," said server Susan Reuben from nearby Cape Cafe.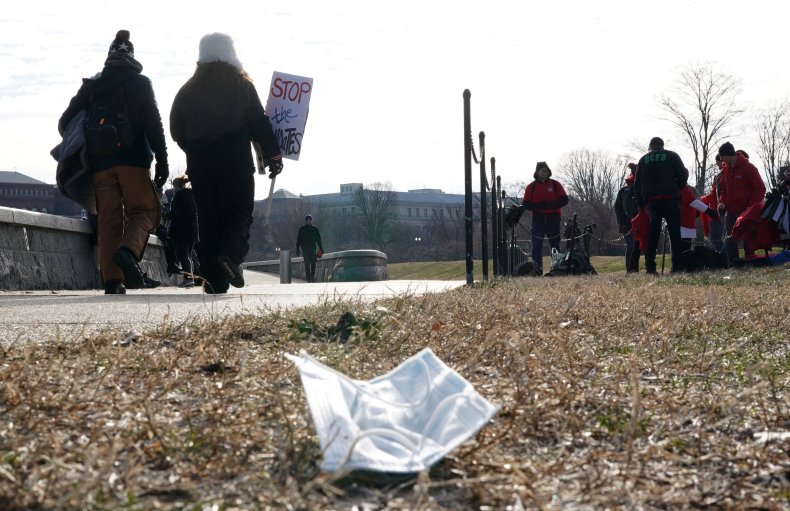 According to Johns Hopkins University, there have been almost 5.8 million COVID-19 cases since the beginning of the pandemic in Florida with nearly 69,000 total deaths related to the virus in the Sunshine State. However, Jack said he does not believe those numbers.
"Show me some proof that 68,000 people died from COVID," he said.
In response to Newsweek, Crisp Creperie issued the following statement: "We don't allow masks in our restaurant for several reasons.
1) They are extremely dirty and filled with bacteria
2) People do not change the disposable ones or wash the cloth ones properly or often enough
3) They do nothing to stop any virus. The entire world knows that deep down inside
4) Proof—a virus is one microgram big and the holes of a mask are eight micrograms. So you do the math—again they do nothing
5) We are no longer "pretending" there is a deadly disease out there. If there were, why in the world would you take your masks off to eat. The "virus " just doesn't bother you while you eat. Really?
6) We love to see our customers smiles and we love to hear their voices. Masks suppress both and dehumanize us for no purpose at all except to control of us
7) And finally and most importantly... the entire world is fighting for their right not to wear a mask. They're fighting for the rights to breathe the air. And we stand in support of them. Especially the children that are suffering wearing them all day in school for no reason at all.
PS - 99% of our customers LOVE our policy and the fact we our [sic] standing up. People are coming from all over Florida just to support us!"
Additionally, the Crisp Creperie wanted to clarify Jack's comment about the deaths in Florida. They issued the following statement: "What he was saying is that he doesn't deny people died but they could have died "with" Covid and not "of" COVID. We know that hospitals got paid $40,000 per Covid death. They might've come into the hospital for a motorcycle accident and died of their injuries but they tested for Covid with a faulty test ramped up to 40 cycles and then we're mark as Covid deaths. Or they might've died with three or four other comorbidities and if they tested for Covid they were marked Covid death. So the numbers are skewed and that's what he was saying. That's why he said- show me the proof."
Update: 2/23/22 6:46 P.M.: This article was updated to include the statement from Crisp Creperie.