Restaurant Offers Free Final Meals to Dying Dogs in Heart-Warming Gesture
A restaurant in Katy, Texas now offers a free last meal to dying local dogs in a gesture of goodwill.
"Katy Fort Bend Foodies" Facebook group owner Andrew Leeper was left touched and inspired after seeing a social media post of a restaurant customer ordering half a burger for their dying pet.
With the help of friend, chef and restaurant owner Waseem Hilal, the pair started Spike's Rainbow Dinner. All a customer needs to do is let them know at Chuckwagon BBQ & Burgers that their four-legged friend is nearing the end of its time on earth, and they will do the rest.
"If your pet is crossing the rainbow bridge, please bring in a 4x6 photo of them for this wall," requests the poster. "Call ahead and we will make sure their last meal is special on us."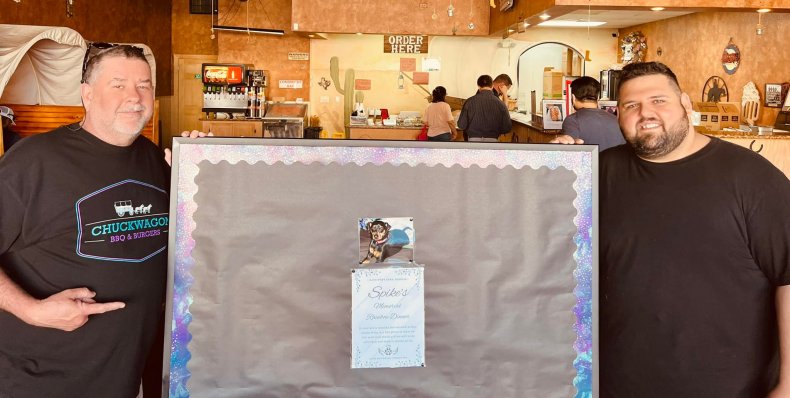 "We got the idea from a Facebook post my friend Andrew Leeper had shared from another BBQ restaurant friend of his where someone placed an online order for a burger for their dog's final meal. The restaurant threw in a beef rib for the dog as well," Hilal told Newsweek.
The board started with one dog at the very center—Spike, Leeper's own late dog that passed away just two months ago.
"Andrew's dog Spike had recently passed and we came up with the idea to provide the last meal for pups to send them off with a warm farewell. The board has been up for a little over a week now," explained Hilal.
The two men are asking for local owners with a dog in the passing phase to give the restaurant a call or come in in-person, with a picture of the four-legged friend. Half a pound of meat or a burger is given on the house, and the dog is immortalized on the board.
"The feedback has been nothing but positive words and people reaching out to tell us it's a heartwarming idea. I've had a few phone calls today with people from all over the state giving kind words and telling me they will give us a visit when heading in our direction," Hilal told Newsweek.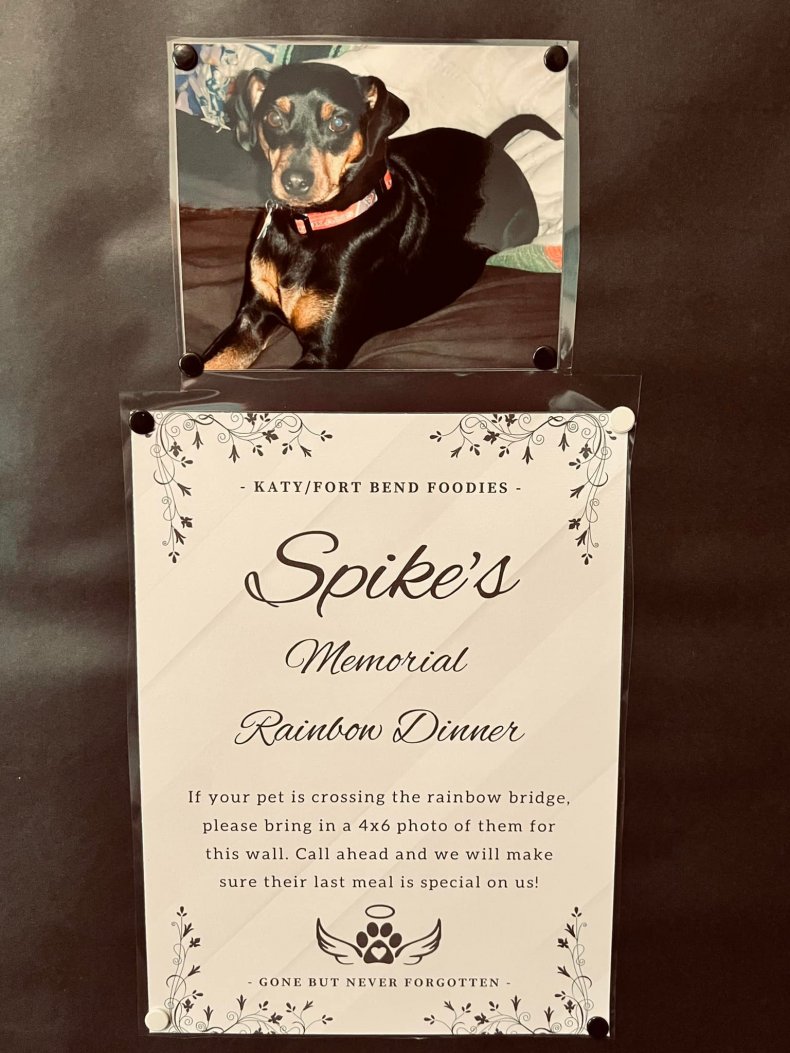 A last meal for a dying dog is an emotional time for all involved, and something owners are eager to do to make their last time together all the more special.
Last month, another dog owner went viral after sharing that she was giving her dying dog "all the human food" for her "best boy's last weekend."
Her 13-year-old dog Bleu was allowed to enjoy cheesy tacos, eggs, pizza and even fried chicken in his final days after losing his battle to an "extremely aggressive" form of cancer. His owner might have been unable to save him, but she was able to make his last time on earth that little bit more heavenly, with the help of some food.
Update 04/19/22, 11:21 a.m. ET: This article was updated to include comment from Waseem Hilal.