Restaurant Owner Confronts Health Inspectors Over Lockdown Rules in Viral Video
A California restaurant owner has clashed with health inspectors in a viral video as he is issued a citation for allegedly breaking rules surrounding COVID-19 regulations.
A video of Anton Van Happen, owner of Ventura's Nick The Greek restaurant, going head to head with two health inspectors was shared on Twitter by Jorge Ventura, a Daily Caller journalist, and has been viewed nearly one million times.
Van Happen's restaurant was ordered to close on Friday as he continued to serve diners outside despite California's regional ban on outdoor dining. Now, Van Happen has been issued a citation for continuing to operate despite the closure notice.
In the video, Van Happen can be seen telling the two health inspectors: "I've followed the rules, I continue to follow the rules, and you guys still, time after time, are giving me citations, telling me I have to close my business. What about my employees?"
Van Happen tells the health inspectors that he believes that did not break the rules, as: "I chose to protest by putting my tables outside [...] yet I never served one single person outside. I did all take out food and delivery, exactly what I was supposed to be doing. That's exactly what I did."
When told he was breaking the rules, Van Happen asks the health inspector: "Are you going to pay my rent? Are you going to pay my rent?"
The health inspectors tell the business owner that he is breaking the law by operating without a permit and tells him that he could have reopened the restaurant if he had followed the steps listed in the report.
Van Happen tells them that he followed the steps but that a supervisor made a mistake, but the health inspector claims this is not true.
Again, the restaurant owner asks: "Because what am I going to do if I close? Are you going to pay my rent?" When the health inspector says no, Van Happen says: "So if you're not going to pay my rent, I'm not closing."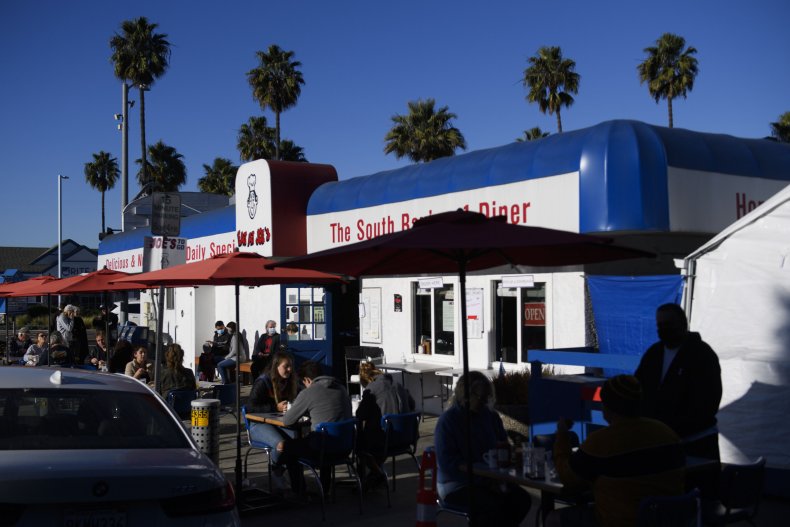 Nick the Greek is not the only restaurant to remain open despite the rules, as other restaurants in the area of downtown Ventura followed suit, claiming that there is not enough evidence to prove that outdoor dining is dangerous.
Last Tuesday, Los Angeles Superior Court Judge James C. Chalfant claimed there was no reasoning behind the ban and wrote: "By failing to weigh the benefits of an outdoor dining restriction against its costs, the County acted arbitrarily and its decision lacks a rational relationship to a legitimate end."
However, California Health and Human Services Agency Secretary Mark Ghaly said that the regional ban on outdoor dining was to prevent gatherings and limit movement.
Ghaly said at a press briefing: "The decision to include among other sectors outdoor dining and limiting that—turning to restaurants to deliver and provide takeout options instead—really has to do with the goal of trying to keep people at home, not a comment on the relative safety of outdoor dining."
The backlash against the ban on outdoor dining is partly down to how it has been deemed as safe over the past few months, or at least safer than indoor dining.
But at a news conference, L.A. County director of public health, Barbara Ferrer, said that as the rate of infectivity is so much higher than it was in the summer, "You have to look at all of the activities and say, 'We need to reduce risk as much as possible everywhere.'
"And that's why the decision was made, for three weeks, to ask that everyone not go to any outdoor dining—any dining at all—with people not in their household."