Restaurant Owner Faces Backlash Over 'Blame China' For COVID Sign
A restaurant in New Mexico is facing backlash after putting a sign on the front of their business that said "Blame China" for their lack of employees that resulted in a temporary shutdown.
The owner of Forghedaboudit Southwest Italian, Kimberly Yacone, told Newsweek that their restaurant in Deming, New Mexico "has been closed now for months as we can't get help. We blame the COVID-19 situation on the communist Chinese government and along with it the government giving excessive benefits to the non-employed to sit at home without having to even document looking for a job."
KRQE, a local tv station in New Mexico, first reported on the story. Speaking to the station, Yacone said that she and her husband, who co-owns the restaurant, "are not racist, we are not bigots. This thing came from China, it's a known fact."
Reviews on the restaurant's Yelp and Tripadvisor pages warn other customers to "read the warning sign." One reviewer wrote, "They were understaffed and blaming china for the virus that gave the unemployed an extra $300 that in their mind caused them to have no staff. While they were stressed it still couldnt hide the anger and hate."
Another review on Yelp said, "The food isn't bad but the owners are racists. I won't be back and am sorry I ate here."
Their establishment in Deming had been open for 8 years until the pandemic, and now, like so many other businesses in America, is having a hard time finding employees. A second location in Las Cruces was opened mid-pandemic and is reservation only because they cannot find enough workers there either, according to Yacone.
KRQE reached out to the American Civil Liberties Union of New Mexico, who said that the sign simply "replays the Trump administration's tactic of dodging blame for its failures by playing to racial antagonism toward Asian Americans. We've seen how signs like this inspire hate and violence against the Asian community."
When asked to comment on the ACLU's statement, Yacone told Newsweek, "They spin things to meet their narrative in order to catch bleeding hearts donations and press sometimes shooting from the hip without all facts in hand."
"What was said by the NM ACLU is outrageous because no one has said Chinese Americans are to blame. We along with thousands of our coast to coast following and loyal customers are all in on believing that this is a manipulation of our government at the highest level," said Yacone.
When KRQE asked if she thought the sign might incite violence against the Asian American community, Yacone said, "I don't think it does," clarifying again that the government is the one to blame.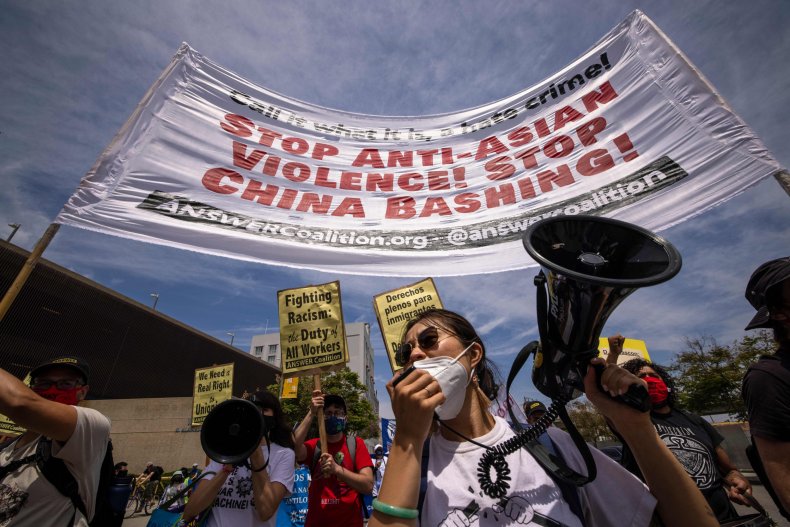 Attacks against the Asian community spiked in the U.S. in 2020. A campaign organization, Stop AAPI Hate, reported in March that there were about 3,800 anti-Asian hate incidents between March 2020 and February 2021 amid the COVID-19 pandemic, a record surge from the 2,600 they reported the year before.
"It's about China spreading disease throughout the world, nothing else," Yacone told Newsweek. "Someone needs to start working faster to help us and all legitimate restaurants across America now before we all close down."
According to KRQE, Yacone has no intention of taking the sign down.